Beers of the Catskills: There's plenty to choose from. Photo from the Facebook page of Cave Mountain Brewing Co. in Windham, whose proprietors are planning to expand into wholesale.
Craft beer drinkers of the greater Catskills region, rejoice: many new taps will flow this spring.
Between April and June, three new breweries are scheduled to debut, offering small-batch brews from the hands of two industry veterans and one newcomer.
Up first is Hunter Mountain Brewery, a microbrewery and restaurant created by longtime local brewmaster Nat Collins, co-founder of the annual TAP-NY Craft Beer & Fine Food Festival. Hunter Mountain Brewery, slated for late April, is now under construction in the former home of the Fireside Restaurant, along Route 23A between Hunter and Tannersville.
Over in Catskill, a new microbrewery on-site at Angela's Italian Family Restaurant is expected to churn out kegs by late May or early June, said proprietor Joey LoBianco. Like Collins, LoBianco is a local industry veteran; his family operates the 19-year-old Hyde Park Brewing Co. Restaurant and Brewery and, up until Jan. 1, ran the now-shuttered Skytop Steakhouse and Brewery in Kingston.
Also this spring, in Schoharie County, brewer Justin Behan will open his first establishment, a brewpub on Middleburgh's Main Street called Green Wolf Brewing Co.
In another development, a beloved brewpub in Windham is gearing up for a major expansion. The proprietors of Cave Mountain Brewing Co. are currently seeking space and funding to expand their production from a brewpub into a wholesale operation.
Community business leaders are pleased to see the craft beer industry taking off. "We're really excited there are more breweries opening," said Greene County Chamber of Commerce Director Jeff Friedman. "More growth in that area is great—it's very positive for the county to have businesses based on agriculture."
New York becoming a more beer-friendly state
Craft beer is undergoing a statewide renaissance spurred in part by legislation meant to stimulate development of breweries using local ingredients. Last week, Gov. Andrew Cuomo announced that the number of microbreweries and restaurant-based breweries had risen more than 130 percent since 2011. Statewide, there are 93 microbreweries and 23 combination restaurant/breweries, according to the state government's count. Those numbers include 26 newly licensed "farm breweries"; a dozen more applications are in the pipeline.
The New York State Brewers Association (NYSBA) puts the count of breweries and brewpubs even higher, at 146 in total. But NYSBA director Paul Leone likes to say that while the recent growth is "astounding," there's still plenty of room in the market.
Before Prohibition, Leone says, the Empire State's much smaller population supported 350 breweries – more than double the number currently operating in the state. Leone's group has been working with the governor's Taste NY initiative to establish "beverage trails" that will help direct tourism dollars toward beer, wine and spirits producers.
New venture from a longtime local beer veteran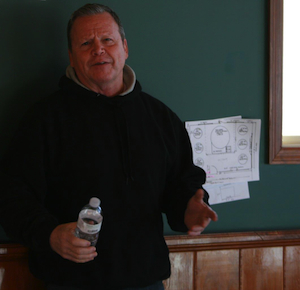 Left: Nat Collins of Hunter Mountain Brewery. Photo by Jennifer Strom. 
For those who know the history of the Catskills craft beer scene, the upcoming opening of the Hunter Mountain Brewery is particularly promising.
Collins was an early pioneer of the Catskills' beer scene. He founded Woodstock Brewing Co. in Kingston in 1989 and the annual TAP-NY Festival in 1997. (Woodstock Brewing Co. closed in 2003; its former building now houses Keegan Ales.)
The idea for the Hunter Mountain Brewery was born last year, when Collins agreed to help Greene County businessman Michael Osterer recruit a brewpub for a vacant building he owns. Collins drew on a large network of contacts developed over years of brewery consulting throughout the region, but eventually realized the perfect candidate was in the mirror.
"We couldn't find the right person, and somehow, it ended up being me," Collins said.
While Collins is respected across the region for the award-winning brews he crafted in Kingston, the new brewpub marks his debut as a restaurateur.
"Honestly, I just want to make beer; my passion is making beer," Collins said one bluebird day last week, giving a tour of his 90-seat dining room, which, along with a 90-seat deck, offers diners panoramic views of Hunter's slopes. "But there's nothing like this in this area, and I saw so much potential here."
Above: The future home of the Hunter Mountain Brewery on Route 23A, with a view of the slopes of Hunter Mountain. Photo by Jennifer Strom.
A newly constructed brewhouse carved out of part of the seating area will house a five-barrel system capable of brewing 10 kegs at a time. Offerings will include a Bohemian-style lager that's a general crowd-pleaser, but there will be plenty of options for more adventuresome drinkers.
"I'm known for big beers like porters and stouts—high flavors, high gravity," he said, the latter referring to percentage of alcohol content. In his Woodstock Brewing days, Collins collected awards for creations like Ichabod Crane, a pumpkin-spice holiday lager, and Braveheart, a Scotch ale.
On the food side, Collins has hired an experienced team, including John Jones, who came from Van Winkle's to serve as general manager. The menu will feature American comfort food: burgers, steaks, soups and salads, along with pizza and wings.
Collins envisions a lively spot that's "not just another beer joint" but also "not a 5-star restaurant." He leased several surrounding acres for overflow parking and outdoor events such as weddings. Long-range plans include a drive-up window from which skiers can collect orders to go, without having to get out of their gear or their cars.
"It's going to be a restaurant with a good brewery, and a brewery with a good restaurant," he said.
That's the vision for Angela's as well, where LoBianco's new brewery will produce beer for the 35-year-old pizza and pasta restaurant on-site, as well as wholesale kegs for other establishments. For LoBianco, the chance to produce his family's flagship Winkle Lager and other beers for outside sales is "like a dream that's been a long time coming."
TAP-NY bigger than ever
Around the time that Hunter Mountain Brewery opens, Collins also will be hosting the annual TAP-NY festival, which he owns with co-founder Bill Woodring. The festival, which has called Hunter home for 15 of its 17 years, started with a crowd of a couple hundred and a handful of beers. This year's event, scheduled for April 26-27, is expected to draw more than 6,000 people. Vendors include nearly 100 breweries, as well as several hop-growers, malting companies, distilling companies and cideries—all from within New York State.
In addition to showcasing craft beer and artisan food produced throughout the state, the festival serves as an informal conference for the New York State Brewers' Association, where beer-makers from Utica to Brooklyn gather after hours to sample each other's creations, network and share ideas.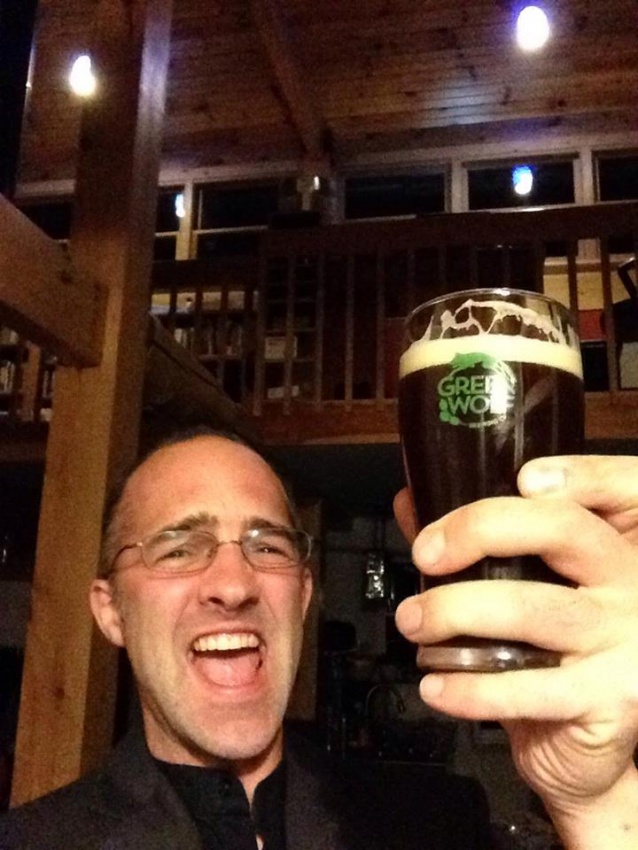 Left: Green Wolf's Justin Behan raises a celebratory glass. Photo from Green Wolf's Facebook page.
This month, in yet another indication of the momentum mounting around craft beer, another professional group is organizing. The Farm Brewers' Association of New York will hold its inaugural meeting Feb. 16, said Green Wolf's Behan, one of the brewers leading the effort.
"As the new farm brewery license is written, it really calls out for healthy communication among farm breweries—for all of us to work together to promote New York beer and New York farmers specializing in hops and barley and other cereal crops that go into brewing," Behan said.
The time is right for a new crop of craft breweries in the Catskills, LoBianco said.
"The attention of craft beer right now is tremendous," he said. "People's tastes have changed and evolved, and people are valuing quality over quantity. It's like a second wave of craft beer, and this time, the wave is really sinking in."