Columbus Day Weekend is coming up, and the Catskills are making the most of summer's last hurrah.  
If you're a Catskills local, you've been living in a slow-mo fireworks display for a couple of weeks now, as maples, beeches, birches and oaks erupt in a dazzling riot of fall color. This weekend brings peak foliage to the lower elevations of the Catskills and the Hudson Valley -- and while the high-elevation slopes are just a little past peak, there is still plenty of brilliant color all around.
Lark in the Park, a ten-day, Catskills-wide celebration of the great outdoors, wraps up on Monday. Between now and then are dozens of guided hikes, paddles, outdoor volunteer opportunities and more, ranging from family-friendly woods walks to off-trail bushwhacks for experienced outdoorsfolk. Choose your own adventure from our special Lark in the Park calendar. 
This weekend is also the last chance to go boating on one of New York City's reservoirs this year. Four of them -- the Cannonsville, Neversink, Pepacton and Schoharie -- are open to paddlers and sailors through sundown on Monday, Oct. 13. You'll need a steam-cleaned boat and a permit from the NYC Department of Environmental Protection; see our guide to boating the reservoirs for more information. (If you paddle on the Pepacton, you can earn our coveted Catskill Reservoir Paddler Badge.)
Also on tap for the long weekend are a slew of festivals celebrating local food, live music, the arts and more. Here's our guide to the festivities. 
Above: The Trio de Pumpkintown, a folk group slated to perform at the Roxbury Arts Group's FIDDLERS! event on Sunday, Oct. 12, performs "Boston."
DELAWARE COUNTY
Plattekill Mountain in Roxbury is holding its annual Plattepalooza this Saturday: a family-friendly affair featuring apple pressing, chairlift rides for leaf-peepers, BBQ, mountain biking, live music and more. 
Also in Roxbury: FIDDLERS! (All-caps and exclamation point definitely included.) This Sunday is the Roxbury Arts Group's 21st annual day-long celebration of fiddling and folk music. This year's headliner: Neo-traditional folk icon Tim Eriksen, who will be leading a shape note singing workshop at the event, and his Trio de Pumpkintown.
The annual Taste of the Catskills festival returns to Maple Shade Farm in Delhi this Saturday and Sunday, with live music, local food tastings, Farm Olympics, kids' activities, cooking and vintning workshops, and a special farm-to-table dinner. This year's lineup is especially star-studded: Musician Natalie Merchant and filmmaker Jon Bowermaster will be on hand to receive awards from Catskill Mountainkeeper. And if you've been looking forward to trying Brewery Ommegang's new Game of Thrones beer, an abbey dubbel ale named Valar Morghulis, the brewery will be on hand pouring the new ale along with several others.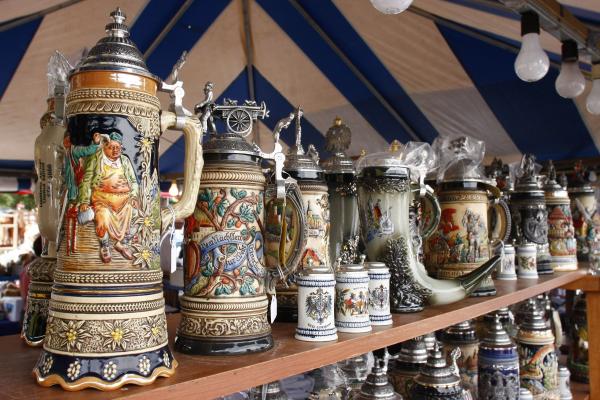 Traditional Oktoberfest beer steins. Source: Great Northern Catskills website.
GREENE COUNTY
Oktoberfest at Hunter Mountain just keeps getting bigger. Now spanning four weekends in the fall, the festival is in full swing this weekend, featuring German food, beer and music plus a slew of family-friendly mountain activities. This weekend, there's also a Eurocar rally on the mountain. Free admission. 
On Saturday at dusk, Main Street in Tannersville will be lit up with a ghoulish glow for the village's annual Great Pumpkin Walk. BYOP (Bring Your Own Pumpkin); prizes will be given for scariest, funniest, most creative and People's Choice.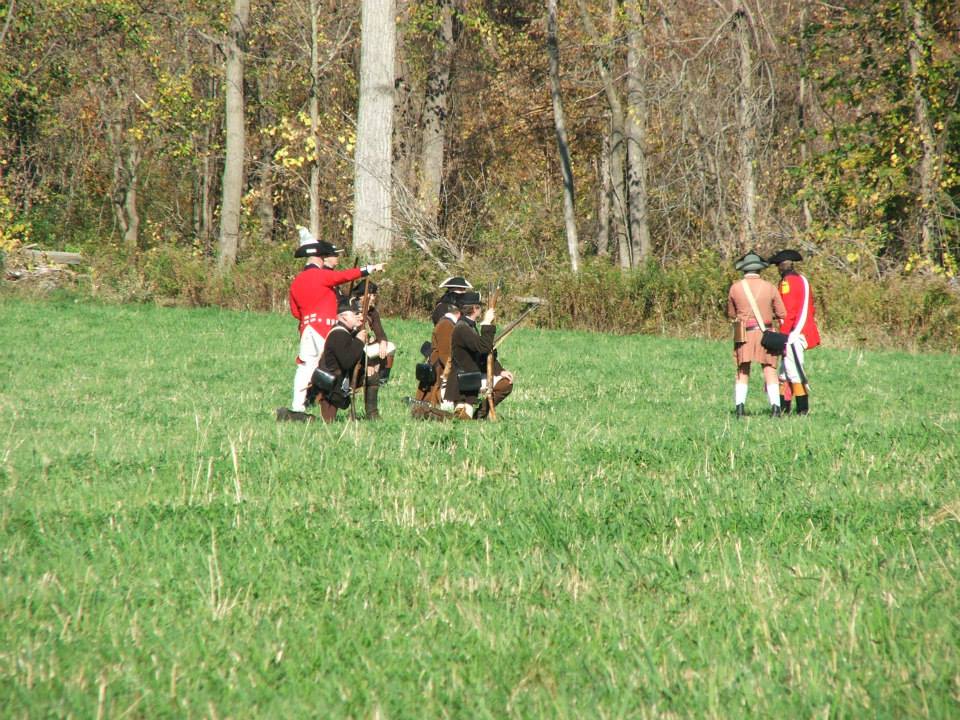 Above: The Revolutionary War comes to life at the Old Stone Fort in Schoharie on Columbus Day Weekend, 2013. Source: Old Stone Fort's Facebook page.
SCHOHARIE COUNTY
Carl Kopecky, director of the Old Stone Fort in Schoharie, is a guy who thinks big, especially when it comes to the county historical society's 125th anniversary. "When we decided to do it, we said, 'Let's invite everyone we know with a cannon,'" he told the Times Journal recently. True to their word, Schoharie County's history buffs will be celebrating the annual History Fair at the Fort on Saturday and Sunday with a program that includes military reenactments, living-history demonstrations, and a performance of Tchaikovsky's 1812 Overture featuring actual cannons. 
Other local organizations and businesses throughout Schoharie County will be celebrating local "history and harvest" all weekend long. Keep an eye out for brightly-colored weathervane roosters that mark special celebrations, and don't miss the village of Schoharie's Pumpkin Festival on Saturday, now back for the first time since the Irene floods washed through town in 2011. Also on Saturday, nearby Middleburgh hosts a Fall Festival Parade celebrating "Schoharie County Sloughters" -- a word for a truly local yokel, once considered a slur, that is now worn more as a badge of pride.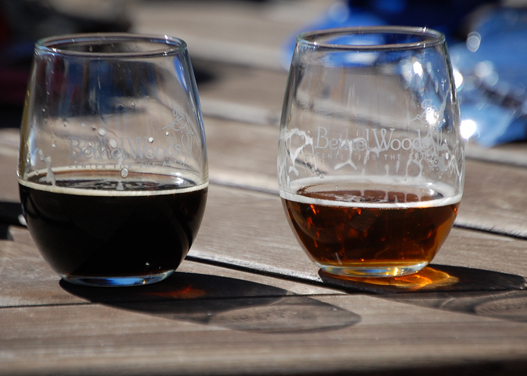 Craft beer takes center stage at the annual Craft Beer Festival and Chili Cook-Off at Bethel Woods.
SULLIVAN COUNTY
There's a nip in the air lately. Perfect weather for hot homemade chili and a glass of craft beer to wash it down with. On Saturday, Bethel Woods celebrates the season with its annual Craft Beer Festival and Chili Cook-Off, featuring over 20 local craft brewers and tastings from local food vendors as well as (of course) plenty of chili. 
This Saturday marks the debut of the Callicoon Art Walk. Galleries and businesses throughout the little hamlet on the Delaware will host local artists and their works; visitors can take an Art Walk map and wander through the exhibitions at their own speed. There's an afterparty at the Callicoon Brewery -- or those with a yen for farm-to-table dining can head to the nearby Villa Roma Resort, which is hosting a special farm dinner to benefit Sullivan County Cooperative Extension.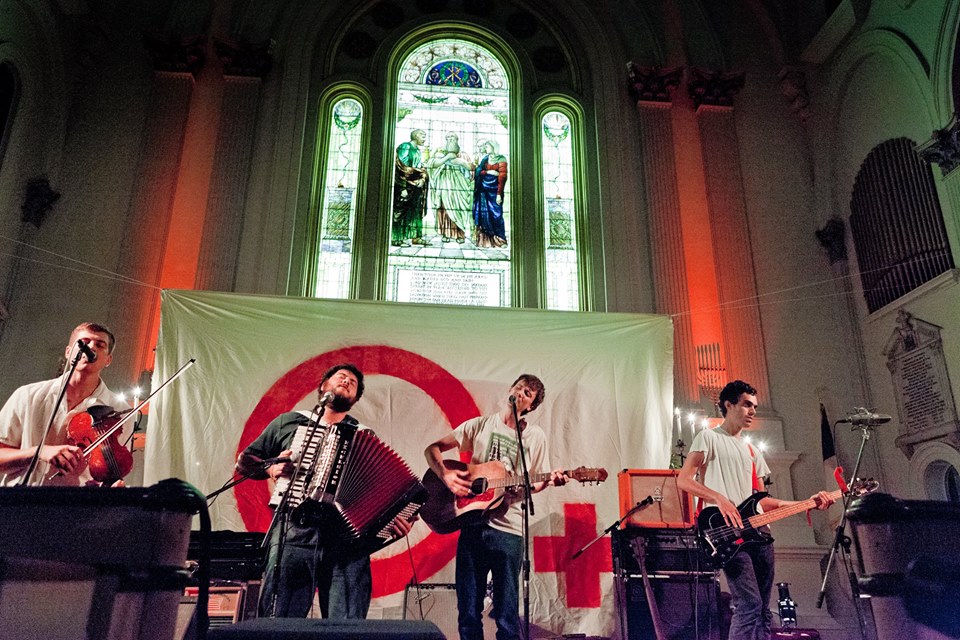 Above: The Felice Brothers playing at the Old Dutch Church in Kingston at the 2012 O+ Festival. Photo by Eric Anthony Johnson. Source: O+ Facebook page.
ULSTER COUNTY
Artists and healthcare: Two things that don't go together as much as they ought to. Kingston's annual O+ Festival (pronounced "O Positive") is working to change that. The fest, founded in 2010, was started with help from a local dentist who offered to fix his favorite bands' teeth for free if they agreed to play in his town. Now in its fifth year, O+ brings artists, musicians and healthcare providers of all stripes together for a three-day celebration of art and wellness in Kingston's Stockade District. 
Belleayre Mountain's Fall Festival and Craft Fair is back on this weekend, after a one-year hiatus that caused some grumbling in the area. Head up the mountain for live music, crafts and antiques, rock wall climbing, skyrides, deals on ski gear, a fishing derby and more.
Got another favorite Columbus Day Weekend event in the Catskills? Let us know with a comment below.