Above: Maple syrup on pancakes at Buck Hill Farm in Jefferson. Photo by Heather Phelps-Lipton. 
Shake off the late-winter blahs and come celebrate Maple Weekend--actually two weekends of open houses--in the sugar shacks of the Catskills. The first of the two weekends of maple events begins tomorrow, Saturday, March 19 and runs through Sunday, March 20. The second weekend is on April 2 and 3.
Last year's maple syrup crop was outstanding, with 601,000 gallons of the sweet sticky stuff flowing from New York producers, according to the New York Times.
This year, anything can happen; the crazy weather has resulted in sap flowing in February, and producers are hoping they'll get the right mix of freezing nights and warmer days for another banner year. Three out of the last five have been record-breaking, and the beginning of 2016 was promising as well.
But the last few weeks of unusually warm weather hasn't been good for the maple business, according to the Daily Star, which interviewed Catskills maple producers who say that the warm temperatures might end production early this year.
One thing is sure, maple syrup is one of the Catskills' most important exports. New York is the country's second-largest producer of maple syrup, and much of that syrup comes from the Catskills. The mountains are home to many sugarhouses, from large operations with state-of-the-art evaporators that use reverse osmosis to little shacks that still use the old-fashioned boiling method.
Maple syrup is available all year long, but the tapping season lasts for just a few weeks in February and March, when frosty nights and sunny days get the sap moving.
The best way to watch a sugarhouse in action is to visit one. The sights, sounds and smells of sap boiling in the sugarhouse mean that sweetness, like springtime, is just around the corner.
Listed below are maple weekend events that are within the Watershed Post's coverage area; a statewide list of all 160 locations can be found at mapleweekend.com. 
Unless otherwise specified, the syrup-crafters listed below will be welcoming company on all four days of Maple Weekend: March 19 to 20, and April 2 to 3 from 10 a.m. until 4 p.m. Many visits and tours are free; there may be additional charges for breakfasts, pony rides and other treats.
DELAWARE COUNTY
Come visit Jake and Ryan at Tree Juice Maple Syrup, an ingenious maple syrup CSA. They're welcoming visitors on Rider Hollow Road in Arkville on March 19 and 20 and April 2 and 3 from 10 a.m. to 4 p.m.
Madugno A4 Maple in Deposit will be welcoming visitors with saphouse tours and hands-on candy making.
Above: The sign at Buck Hill Farm in Jefferson. Photo by Heather Phelps-Lipton. 
In Margaretville, you can check out the small-scale family operations and maple-sugar-patty making at the Kenneth Burger Farm.
Dar-View Farm is a family-run dairy operation that's been in Delancey since 1929 that has, so to speak, branched out into sap for the past six generations. Bothers Brad and Charles Darling cordially invite you to tour, sample and pet the critters.
When brothers Matt and Micah Scobie lost their maple-sugar-hobbyist father a few years ago, neighbor Tom Kaufman helped them get organized as Brookside Maple, also in Delancey. Come see their new addition and equipment; the brothers will be welcoming guests around their wood-fired evaporator throughout Maple Weekend.
They could hardly have better mentoring. Kaufman is proprietor of the international and state-of-the-art Catskill Mountain Maple, also in Delancey, where they're serving up a full breakfast for an at-will donation in their heated showroom until 1 p.m. on all four Maple Weekend days. They invite you to tour, sample and make your own candy.
Come up to Franklin and learn about the fascinating process of reverse osmosis. The folks at North Franklin Maple Syrup will be boiling and canning up a storm and serving breakfast both days from 8 a.m. until 1 p.m.  Besides the syrup, sugar, cream, and candy, they've got maple popcorn, maple cotton and fudge.
They've got 20,000 taps and 200 miles of tubing on five acres up at Roxbury Mountain Maple, so it's a good thing they've got eight kids who go hands-on in the operation. How sweet is that? Come to Hobart, find out for yourself and play with the goats; they're open 12 p.m. to 6 p.m.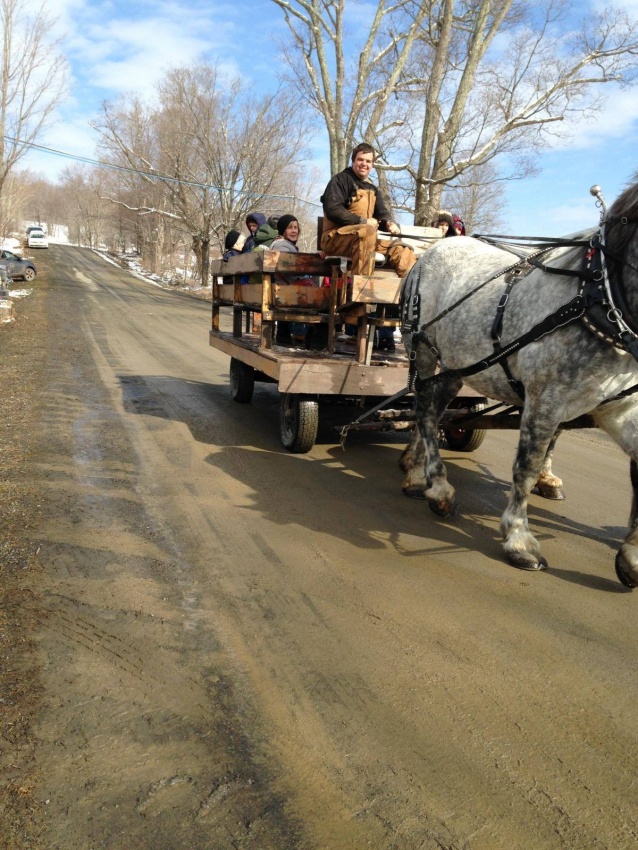 Above: Horse drawn wagon rides at Shaver Hill Farm will be provided by Seth and Alisha Finch of Finchs Percherons. Photo via the Shaver Hill Farm Facebook page. 
At Shaver Hill Maple Farm in Harpersfield, they'll show you how they tap the trees and give you a horse-drawn tour of the sugarbush. David, Dennis and Dwayne Hill are continuing a family tradition that dates back to 1912. Breakfast will be served all four days, 9 a.m. until 3 p.m.
GREENE COUNTY
On Saturday, March 19, come out to Cornell Cooperative Extension's Agroforestry Resource Center in Acra between 10 a.m. and 2 p.m. for Maple Fest: Celebrating the Wonderful World of Maple Syrup. Taste-test the wares of the Greene County Maple Producers Association and learn all about the science of sweet syrup, then and now.
SCHOHARIE COUNTY
In Jefferson, Buck's Maple Barn invites you to experience "the perfect mix of modern processing meets traditional method," and top it off with a soft serve maple ice cream cone. Weather permitting, they'll have pony rides.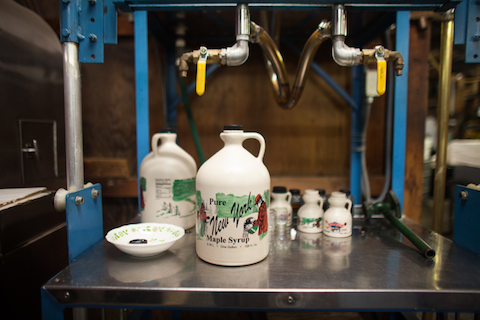 Above: Maple syrup at Buck Hill Farm in Jefferson. Photo by Heather Phelps-Lipton. 
Buck Hill Farm in Jefferson, yet another multigenerational family operation, will be offering a la carte country breakfast 8 a.m. until 1 p.m., offering samples and showing off their vast selection of maple yummies and other specialty foods. Weather permitting, they'll be boiling up a brand new batch to show you how it's done.
At Thompson's Sugar Shack, also in Jefferson, Dan and Missy will welcome you on March 19 and 20, 10 a.m. until 2 p.m., and explain how the maple-syrup hobby they resurrected from childhood memories grew into the creation of a wide variety of different products over the course of the past 12 years. Try out the results over pancakes. Or taste their fresh maple doughnuts, caramel corn, brittle and cheesecake.
In Cobleskill, Maple Hill Farm Enterprises will be celebrating the "first and sweetest harvest" with comprehensive tours of their major family operation, starting with Clysedale-powered hay rides from sugarhouse to sugarbush. Experience the joy of maple jack wax over ice or snow while imbibing wonderful views of the Northern Cats.
At Stone House Farm in Sharon Springs, Tim and Patti Everett will be pouring syrup on the pancakes from 8 a.m. to 1 p.m.; there are tempting free samples for dessert and wagon rides to the sugarbush if weather permits.
When Thomas Slater and his partner first started tapping maples twelve years ago on the family farm in Central Bridge, venturing out with headlamps in the dark, they asked each other what kind of person would do such an insane thing, and thus was born Two Saps Syrup. They've got a new rustic sugarhouse to show off and will be making fresh maple syrup and cream that you're cordially invited to come and taste. 
SULLIVAN COUNTY
Nestled between the Rondout Reservoir and the Sundown Wild Forest in Grahamsville, the Catskill Mountain Sugar House is a large operation run by the Gargliano family, who've been local for seven generations. Come see their new evaporator in action, enjoy interactive activities and taste all sorts of maple goodies. 
In Parksville, the latest of four generations of sugar tappers will be hard at work at Justus Asthalter Maple Syrup, Inc. Grandpa Dutch would be proud: his descendants have been named producers of the "#1 Maple Syrup" by the River Reporter three years running. They'll treat you like family and proudly show you how it's done.
ULSTER COUNTY
Frost Valley YMCA celebrates Maple Weekend at its gorgeous Claryville campus, with comprehensive education on the subject of tree-to-table goodies and ample samples. New twists for 2016 include reverse osmosis and sugar on snow. They'll be giving tours every half hour throughout both weekends; you're invited to register and stay the whole weekend if you'd like.
Corey's Fall Harvest Farm in Highland will be celebrating the sweet spring harvest with sugarbush and sugar shack tours.