Above: Sap buckets in the sun. Photo by Rebecca Andre of Mountain Girl Photography and Design. 
"A sap-run is the sweet good-bye of winter. It is the fruit of the equal marriage of the sun and frost." - John Burroughs, "Signs and Seasons," 1886
Commercial sugarhouses, mom and pop sugar shacks, homesteaders and hobbyists alike are busy catching up to the flowing maple syrup during this year's early—and prolific—sugar season.
Most years, maple tapping does not begin in the Catskills until late February, with the highest syrup production happening towards the end of March or early April, according to Andrew Campbell, who managed the Hubbell Family Farm in the Delaware County village of Margaretville.
But this year, an unseasonably warm week early in February gave a head start to local maple production.
"We tapped the first week in February," said Toby Hubbell.
Above: Sugar shack at Hubbell Family Farm, photo from Hubbell Family, used with permission.
The Hubbell family has been sugaring since the late 1800s, employing primitive methods to boil sap into syrup directly in the woods using strategically placed sap arches, stone laid fireplaces and metal pans to boil.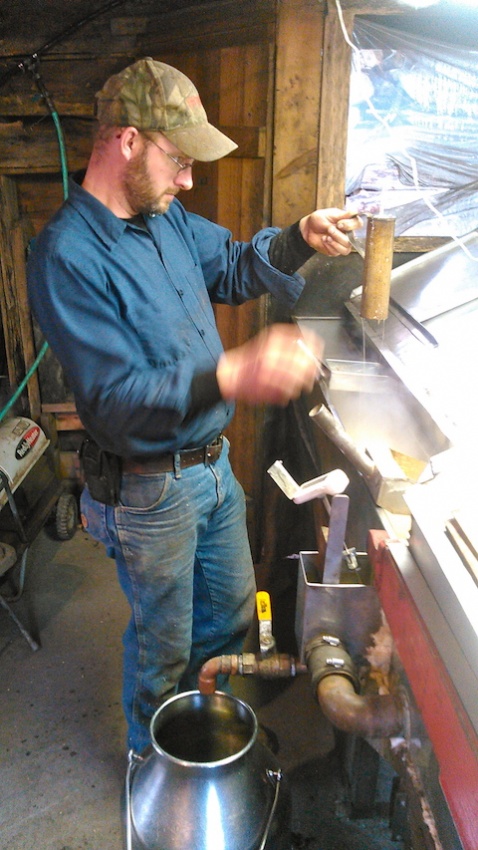 Above: Toby Hubbell inside the Hubbell Family Farm Sugar Shack, photo from Hubbell family, used with permission.
The family's sugaring process has evolved from generation to generation. In 1933, the family installed its first evaporator, which it used until 1973. When that one gave out, a new evaporator was installed in the former ice house, and is still in use today. Last year, when the family installed a vacuum pump to draw sap from the trees on the mountainside through plastic pipelines, maple production doubled.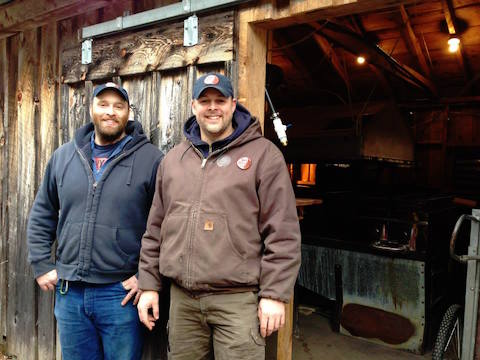 Above: Jake Fairbairn and Ryan Annetts of Tree Juice Maple Syrup. Facebook photo used with permission.
Jake Fairbairn and Ryan Annetts, the owners of Tree Juice Maple Syrup of the Delaware County hamlet of Arkville, are also anticipating a record-breaking year.
By the end of February, they had tapped nearly 2,500 trees and made 280 gallons of syrup. 
"This is one of the earliest years on record," Fairbairn said. "Last year, we didn't start tapping until the first week of March."
Fairbairn and Annetts founded Tree Juice in 2012. Using a reverse osmosis process, they remove about 75 percent of the moisture from the raw maple sap.
Next, the liquid is boiled in a wood-fired evaporator. Once it reaches syrup consistency, small amounts are filtered and bottled as pure maple syrup.
Tree Juice sells its maple products in local stores and in shares as a community-supported agriculture (CSA) program. This year, the company plans to launch a Tree Juice maple water product and a maple spread.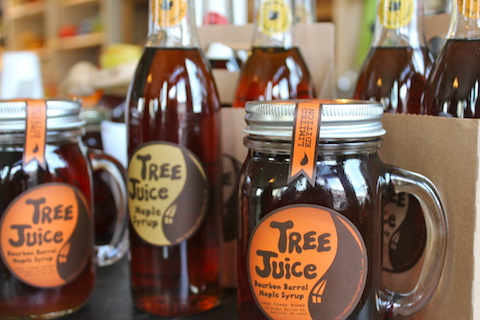 Above: Tree Juice products. Photo by Rebecca Andre.
Want to make your own maple syrup? Click here for a step-by-step guide to small-scale backyard maple production.