Above: A promo for Haunted Huguenot Street, New Paltz's annual spookfest, featuring "Mrs. Gertrude Deyo-Brodhead's infamous Murder Mystery parties at the Deyo House." Tours, spirit readings and ghost stories all weekend.  
It's the darkening evening of the year, and the veil between the worlds has thinned. Venture out into the mountains and valleys for some resonant Halloween fun, costumed or otherwise, beginning this weekend. There's a little of everything going on, whether you're looking for pumpkins and not-too-scary spirits for the little guys, contemplative historic ghost-walks, or smokin' hot dance parties into the wheeee hours.
Here's our guide to the fearsome and frolicsome times for Oct. 24 - Oct. 26. We'll have another one next week, to cover the many festivities scheduled across the Catskills for Halloween itself. 
DELAWARE COUNTY
On Saturday, Oct. 25, the Jack-O-Lantern Jamboree takes over Maple Shade Farm in Delhi. They'll have pumpkin-carving stations, carving demonstrations, children's entertainment, a jack-o-lantern contest, a giant pumpkin display, local produce & products, crop art, animals, outdoor recreation, crafts & food. Special exhibits will feature the history & facts about pumpkins.
The Harvest Moon Ball at the Andes Hotel in Andes on Oct. 25 is a "haunted hoedown for the entire family" with music, dancing, costume contest, piñata, cash bar and finger foods. The family hoedown takes place from 7 p.m. to 9 p.m., after which the Zombie Farm 2 Halloween Costume Party takes over the hotel, with "a spook-tacular good time" featuring a contest for the older folks and dancing all night long to Round House Rockers.

Visit the Delaware County Historical Association digs in Delhi at twilight on Oct. 25 and experience a guided lantern tour of the historic 1797 Gideon Frisbee House. The more eerie elements of the house will be highlighted, including the "coffin door," the "break-neck" rear stairway, and the narrow room in which a "presence" is said to lurk. Tours will begin at 5:00 p.m., 5:30 p.m. and 6:00 p.m. The Frisbee Family cemetery will also be open for guests to explore.
The Orphic Gallery in Roxbury is hosting a Motown Dance Party Oct. 25 from 7 p.m. to 11 p.m., There will be prizes for the most original, frightening and outrageous costumes.
A haunted house so terrifying that young children and "the faint of heart" are advised to avoid it will be taking over the Delaware Inn in Stamford on Friday, Oct. 24 and Saturday, Oct. 25. Volunteers from around Delaware County have been recruited to give attendees a lifetime of night terrors. Part of the proceeds will go to support the Stamford Fire Department. Tours go from 4:30 p.m. to 8:30 p.m. each day. 
GREENE COUNTY
The Bronck Museum of the Greene County Historical Society in Coxsackie is hosting A Great Sorrow: An early American funeral, with tours beginning at 4pm, 4:45pm & 5:30pm on Oct. 25. 
Come to Brookside Campground in Catskill for A Monster Mash Party from 7 to 10 p.m. on Oct. 25. The fun is geared to children ages 3 to 100 and includes music, dancing, snacks, a piñata smash, a candy hay search, a fire truck ride, bobbing for apples and a haunted house.
Tannersville will hold its annual scarecrow contest and parade on Sunday, Oct. 26. Scarecrow registration begins at 12:30 p.m. at Maggie's Krooked Café, and the parade steps off at 1 p.m.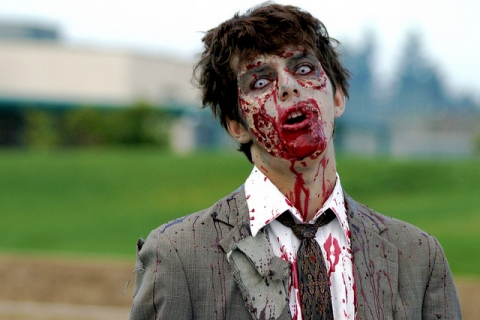 Above: Photo by Daniel Hollister of ThatZombiePhoto.com. 
SCHOHARIE COUNTY
An outdoorsy and athletic way to celebrate, the Zombie Run and Haunted House at the  Blenheim-Gilboa Visitor's Center  takes place on Saturday, Oct. 25 in North Blenheim. You can choose whether you want to be a runner or a zombie for the 5k between the Visitor's Center and Mine Kill State Park. The run takes off at 9 a.m., and the kid-friendly haunted house and after party start at noon.
In Schoharie you'll find Night Terrors Haunted Farm offering a Haunted Hay Ride and Haunted Corn Maze. They're open Friday and Saturday, Oct. 24 and 25, 7 p.m. to 11 p.m. "You'll feel the presence of the many restless souls waiting in the darkness," they promise. "You can run but you'll never hide from those that have been waiting for your visit."
Join science educator George Steele for a Full Moon Owl Prowl at the Landis Arboretum in Esperance on Oct. 25 between 8:30 and 10 p.m.. Discussion will be followed by an expedition into the woods.
SULLIVAN COUNTY
The Liberty Halloween Parade will be held on Saturday, Oct. 25 at noon. Line up is at 11:15 a.m. behind the Elks Lodge; costume and float judging is at 11:30 a.m.. They'll have free candy, cider, and doughnuts; the rain date is Oct. 26.
At Cunningham Family Farms in Swan Lake, they'll be welcoming all and sundry for flashlight night in the maze and moonlight hayrides starting at 8 p.m. on Oct. 25.
There's a costume contest and party happening at the Delaware Community Center in Callicoon on Oct. 25 from 8 p.m. to 11 p.m. Bring your own eats and drinks; they've booked a live band.
At Henning's Local in Eldred they'll be dancing all night, starting at 9 p.m. on Oct. 25. They've got a squad of DJs who'll keep you rockin' at this masquerade. There will be zany games and tasty treats, and the whole thing benefits nonprofit radio station WJFF.
ULSTER COUNTY
Haunted Huguenot Street returns to New Paltz on both Halloween weekends (Oct. 24 to 25 and Oct. 31 to Nov. 2), with macabre interpretive nighttime tours, murder mystery parties and a discussion of how ghost stories become part of a place's lore. Tours will depart from the DuBois Fort Visitor Center hourly beginning at 4 p.m., with the final tour leaving at 8 p.m., on the Saturdays and Sundays involved. 
The Hurley Heritage Society is hosting a Ghost Walk of Main Street Hurley and the Cemetery on Friday, Oct. 24 at 7 p.m.
The Rosendale Theatre will screen Nosferatu: Symphony of Horror at 7:30 p.m. on Friday, Oct. 24. 
The Woodstock Library will host a Fairy Workshop with Jill Olesker for ages 5 to 7 on Saturday, Oct. 25 from 2 to 4 p.m. Kids will make gourd fairy houses suitable for a "Halloween Journey."
Down in Ellenville, the Cooperative Nursery School is holding a Halloween Harvest Festival on Sunday, Oct. 26 from 12 to 4 p.m. They'll have a costume contest, apple pie and chili, Halloween crafts, face painting, pumpkin painting, haunted house and storytelling.
The Great Pumpkin Patch Express experience is a special ride on the Catskill Mountain Railroad to visit the "Sincere Pumpkin Patch" where you'll meet Peanuts characters and enjoy a fest featuring live music, storytelling, tractor rides, pumpkin decorating, trick-or-treating, and a reading of the Charles Schultz classic "It's the Great Pumpkin, Charlie Brown!" The Pumpkin Patch Express experience is about an hour long. All trains depart from Westbrook Station at Kingston Plaza, and run round trip, every hour on the hour, 12 p.m. until 3 p.m. on Oct. 25 and 26. 
Correction: Port Jefferson's Harvest Fest has been removed, because it's on Long Island, not in Schoharie County.