St. Valentine, it might be remembered, got into a heap of trouble for marrying couples in defiance of the government, which had decreed that young men remain single so that they'd make better soldiers for the state. No matter your feelings about Hallmark-card consumerism, that's a dude worth commemorating, and hey, doing something sweet for or with your honey is hardly a burden.
So celebrate some romance, y'all. We've put together seven ideas for making sure your Valentine's Day in the Catskills is a great one.
1. Stay In.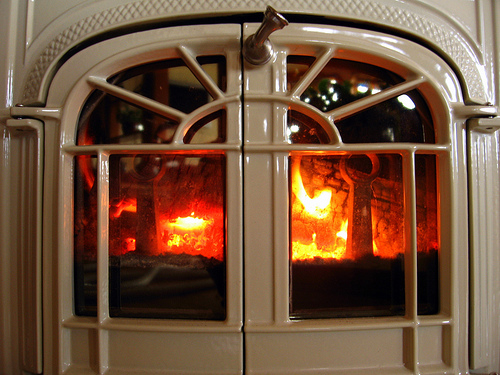 Is anything cozier than a night in the mountains in front of the woodstove? Photo by Flickr user Amy; published under Creative Commons license.
If you'd like to stay in and celebrate (which has much to recommend it, after all), give Ate O Ate Food Truck in Roxbury a call and reserve your gourmet picnic basket, choosing from an enticing menu. After you pick it up, snuggle in and turn on HGTV at 6:30pm to feast your eyes on A Love Letter to Life in the Catskills, a special Valentine's Day edition of their "Selling New York" series that features Sullivan County homebuilder Catskill Farms.
2. Head For The Saloon.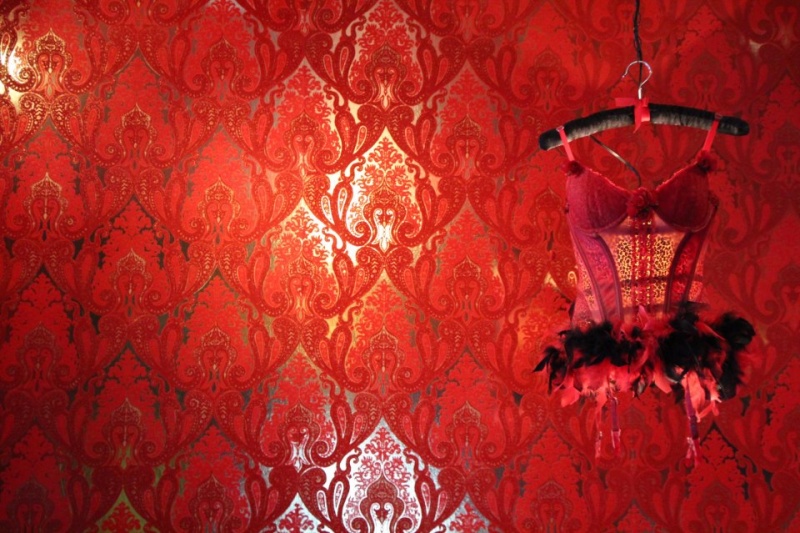 Three words: Va va voom. Detail of Miss Kitty's Saloon Suite at the Roxbury Motel.
As of Wednesday, there's still time to reserve the down and dirty vintage hot-cha ambiance of the Miss Kitty's Saloon Suite at the Roxbury Motel. Pack up your favorite outlaw (and maybe one of those aforementioned picnic baskets) and spend V-Day lounging amongst red paisley walls and hanging bustier lighting. Wine available in your room for an extra fee; the loaner cowboy hats in the living room are gratis.
3. Buy Local.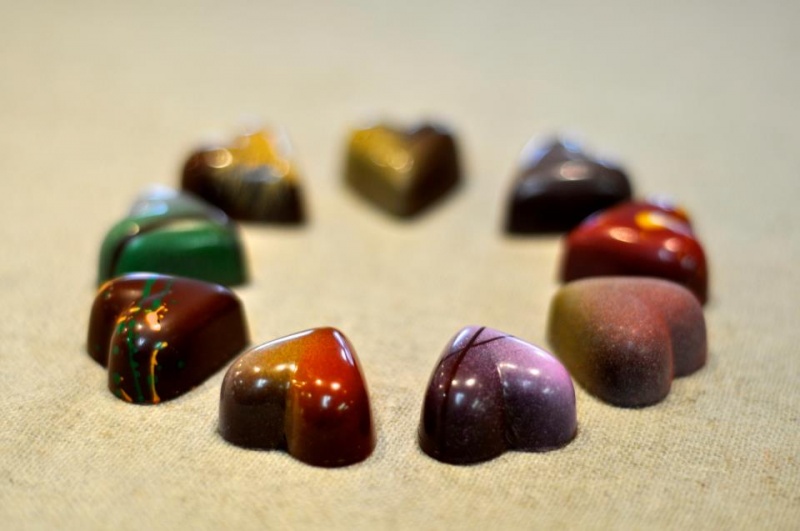 In case you were looking for something to swoon over: Fruition Chocolate's exquisite handiwork.
Looking for a last minute one-of-a-kind gift or fresh ingredients for that special dinner? The Greater Stamford Area Chamber of Commerce is sponsoring a Pop-Up Farmer's Market for this very purpose, to be held from 3:30 to 6pm at the Frank W. Cyr Center. Flowers, wine, table decorations…not to mention, great local eats from over 30 vendors. Local pianist Don Dales will be on hand taking your requests for classic love songs.
On the other end of the mountains, you can get some very special sweets for your sweetie -- or, for that matter, yourself -- at Fruition Chocolate Works on Route 28 in Shokan. They'll be open until 6pm to indulge your last-minute gifting whim.
4. Dine Out.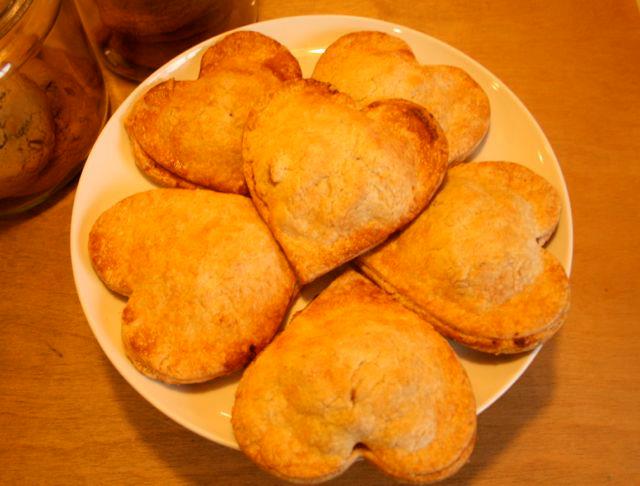 Om nom nom: Apple Raspberry Heart Pies from Eureka Market. 
Many local restaurants will be sporting special Valentine's Day menus on Thursday. Here are a few of our faves, from swanky to casual.
The locally-legendary Peekamoose Restaurant and Tap Room in Big Indian is hosting a special Have a Heart V-day dinner. You'll dine on elegant food in stylish surroundings while helping to support the Heart of the Catskills Humane Society. Plus, no dishes to wash.
In Schoharie, the Apple Barrel will be serving its exquisite-sounding Valentine's menu Thursday, Friday, and Saturday, with live entertainment on hand each night. They recommend reservations; make sure to have them set aside some chocolate-covered strawberries and roses, and leave yourself time to explore their selection of jewelry, candles and other romantic goodies.
For their special Valentine's Day dinner on Thursday, the Eureka Market in Grahamsville promises a casual atmosphere, complete with a couple of special menu items, candlelight and "smoochy" music, and free dessert. Reservations are strongly suggested here too.
The Backroom at Hogan's, a new kid on the block that serves decidedly upscale food in the back room of an Andes convenience store (!), has a special three-course $35 menu with a champagne toast for the occasion. When's the last time you had prix-fixe at a gas station? Don't let the humble surroundings fool you: Chef Chris McGee knows what he's doing.
5. Act Up.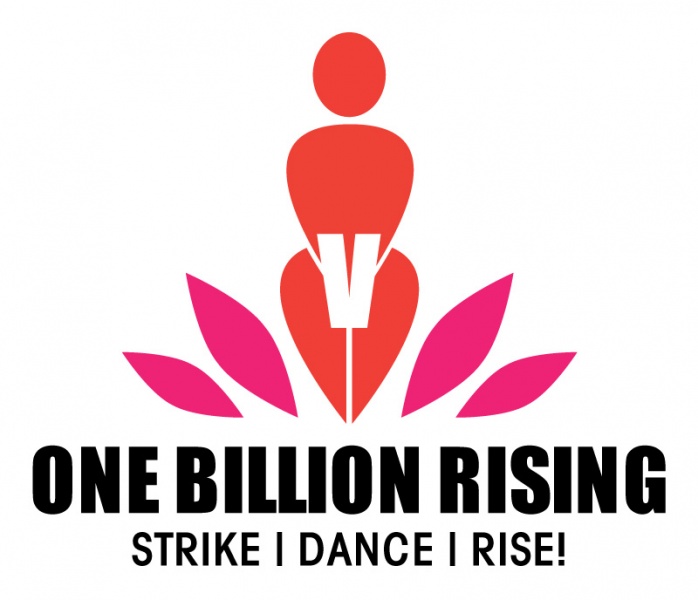 If activism is more your speed than canoodling, try celebrating at a local One Billion Rising event. The movement, aimed at stopping rape and violence against women, got its name as a rough estimate of the number of women who experience rape or intimate partner violence in their lifetimes. One Billion Rising has several manifestations in our area, including:
Catskills Rising will be a fierce and festive music and dance gathering at Menla in Phoenicia.
Rising will also be in progress all afternoon on Thursday at the BSP Lounge in Kingston, with music, dance and speakers from noon till five. (Thursday evening, the BSP will also host a Lonely Hearts Ball featuring The Pleasers and a Broken Hearts Storytelling Contest; tellers of the most heartbreakingly awful breakup tales will be crowned King and Queen. Where else you gonna win a prize for that?)
And in New Paltz, the Rising will begin at 3pm with a flash mob. They're closing Plattekill Avenue for an outpouring of exuberant activism, after which there will be sound healing, African drums, and much dancing.
In Rosendale, the good ladies of TMI (Too Much Information) are taking over Market Market for a T.M.I.dol Story Slam on the theme "Love Heals." The fun starts at 9pm -- you can sign up for one of the ten story slots, or just enjoy and vote on your fave. Expect the unexpected.
6. Have a Heart (Or Two).
Sculptor Ze've Willy Neumann has a heart. He's got several, actually.
In Saugerties, sculptor Ze've Willy Neumann is throwing open his studio at 42 Livingston Road from 5 till 9pm, in celebration of his timely completion of a bit of installation art he calls the Love Knot. Come celebrate the six-foot-high pair of plywood hearts before they're shipped off to their final destinations in Woodstock and Saugerties. (Hat tip to blogger Beth at Upstate Oddities for the heads-up.)
7. Get (Re-) Hitched.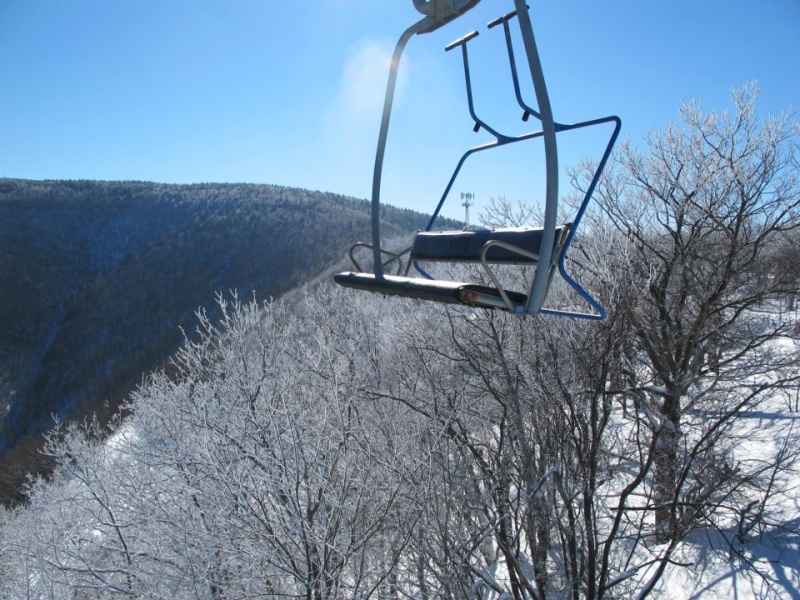 A ski lift made for two on Hunter Mountain.
Married couples with lift tickets or season passes to Hunter Mountain are invited to gather at the summit at 10:30am for a group ceremony, renewing their vows with Reverend Karen Monk of the Kaaterskill United Methodist Church officiating. The ceremony will be followed by a joyous celebratory whoosh down the mountainside.