Above: Bartender James Reber makes a Moscow Mule with freshly-squeezed ginger at the Woodnotes Grille. Photo by Julia Reischel.
The Emerson Resort and Spa, once known as Catskill Corners, was built in 1996 in buildings that once housed a dairy farm along Route 28 in Mount Tremper, a hamlet in Ulster County.
The main attraction dreamed up by the resort's owner, eccentric local developer Dean Gitter, was "The World's Largest Kaleidoscope," a 56-foot-tall functioning kaleidoscope that offered visitors a psychedelic experience.
If you drive by the Emerson today, you may not notice the kaleidescope, which looks like an ordinary silo. But you will notice the two large mountain lion sculptures that drape themselves over the sign at the resort's entrance. At night, the eyes glow.
Roadside kitsch is in the Emerson's DNA. But Emily Fisher, who bought out Gitter's shares in the Emerson in 2012 to become the resort's sole owner, has given the entire campus a complete makeover in time for its 20th anniversary, which it celebrates this summer.
The watchword this time around is "elegance," trading out the rococo Indian and Moroccan design flourishes for neutral whites and grays that emphasize the view of nearby Mount Tremper's peak and the Esopus Creek.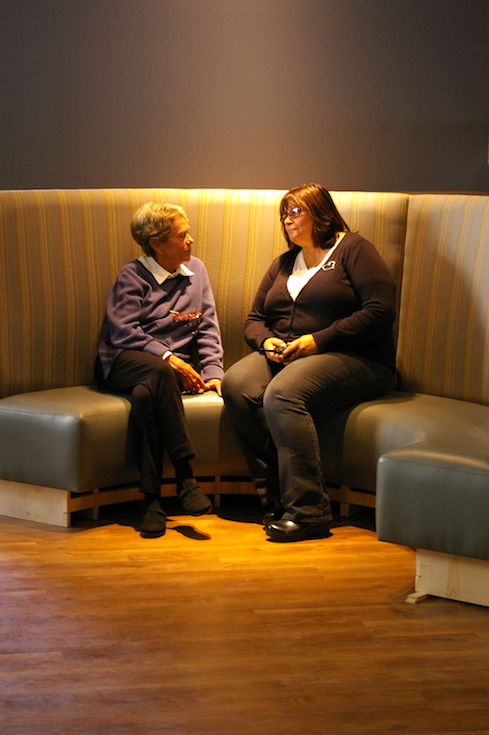 Above: Emily Fisher, left, the Emerson's owner, and Naomi Umhey, right, the Emerson's CEO, in the redesigned Woodnotes Grille. Photo by Julia Reischel.
"We've taken out everything Indian," Fisher said, "except the spa. We decided to make it just a light touch of Indian. Things were beginning to look tired and worn."
The quieter interior will shift the focus to the beauty of the resort's natural surroundings, said Rosalyn Cama, the Connecticut interior designer who oversaw the redesign.
But the Emerson is still packed with luxury: much of the furniture was specially designed for the space, and commissioned works of art line the hallways. Chandeliers abound.
"People want to go into nature, but they want their comfort," Cama said.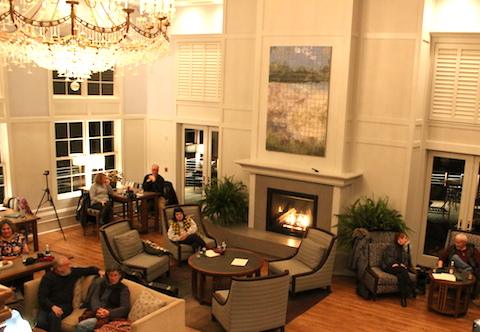 Above: The redesigned great room at the Emerson Resort and Spa during an open mic night. Photo by Rebecca Andre.
The redesign has been a massive project. Since the spring of 2014, the Emerson has renovated its inn rooms, its lobby and great room, one of its two restaurants and its spa, which will reopen in June. The kaleidoscope remains, and will celebrate its two decades as the Catskills' oddest roadside attraction in July with a series of events and a new show.
The heart of the redesign is a new restaurant, Woodnotes Grille, located in what was once an eatery called the Phoenix. The space has been completely gutted and redone, as has the menu, in a bid to serve both the growing number of foodies exploring the Catskills restaurant scene and the resort's local neighbors.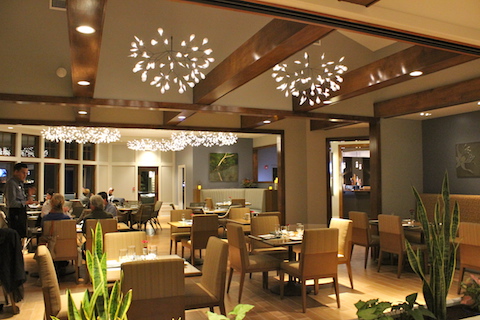 Above: The dining room at Woodnotes. Photo by Rebecca Andre.
"Indigenous Catskills"
"We're going to be as local and farm-driven as possible," said Greg Gagne, Woodnotes' manager, who is a longtime Hudson Valley restauranteur. Gagne is also a local farmer: with his family, he co-owns a farm in New Paltz called Porco Homestead.
The chef is Brian Wren, who has done stints at Tuthilltown Spirits Distillery in Gardiner and the Herbfarm, a restaurant that was one of the pioneers of the farm-to-table movement in the Pacific Northwest.
Gagne and Warren's vision for Woodnotes to craft a menu that is "indigenous Catskills," with ever-changing seasonal dishes built around ingredients that are sourced locally.
In the spring, for example, vernal vegetables like peas, spring greens and scallions appear in many dishes (in the spring pea and prosciutto quesadilla, for example) as garnishes, sides and on the "veggie board," an appetizer that showcases three seasonal vegetables.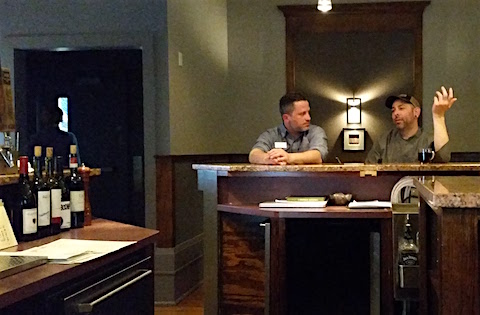 Above: Greg Gagne, left, and Chef Brian Wren, right, at the bar at Woodnotes Grille. Photo by Julia Reischel.
Tavern staples anchor the menu. There's the Woodnotes Burger ($14), made with beef from the Hudson Valley Cattle Company and served with charred onion, Gruyère cheese and house cut fries, and Catfish 'N Chips ($18), served with cajun remoulade. A grilled New York strip steak ($24) comes with garlic mashed potatoes and broccoli rabe; the grilled pork chop ($23) is accompanied by chard, cheesy grits and chutney; and the crispy skinned duck ($22) comes with beet spaetzle.
Wren and Gagne have built a smoker out back to smoke their own meats and fish, coming up with oddities like "pastrami-smoked salmon," which is served in a "Pastralmon" sandwich. They have also created vegetarian dishes that take center stage on the menu and, when they arrive, emit whiffs of savory scent that makes even ardent nearby meat eaters curious.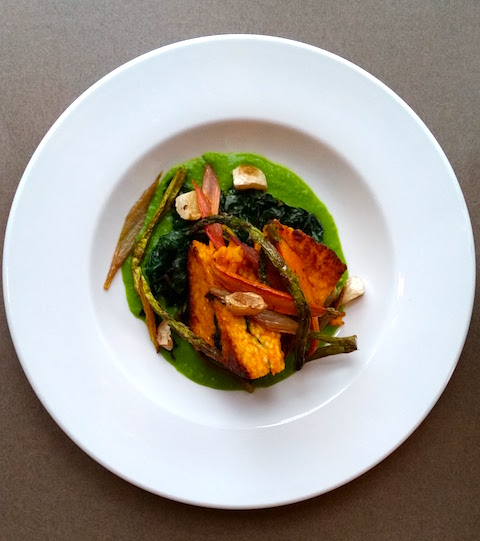 Above: Carrot and kale risotto with sautéed chard, roasted root vegetables and green spring pea puree. Photo by Julia Reischel.
The standout veggie item on the menu is the carrot and kale risotto: a set of dense, orange triangular wedges suffused with fresh carrot juice perched atop sautéed chard and topped with a vibrant green spring pea puree and roasted root vegetables, including delicately charred asparagus. It's a vivid, colorful plate that manages to be unpretentiously filling and just as satisfying as a burger.
Another original vegetarian dish is a salad made with chick peas and farro, a nutty round grain, mixed with golden raisins, carrots, almonds, red wine vinaigrette and topped with a dollop of lemon yogurt.
At the bar, the drinks are ambitious, made with hand-chipped ice cubes and juices that are freshly squeezed and stored in formidable apothecary bottles. A notable concoctions is the Corpse Reviver, made with local Delaware Phoenix Distillery absinthe, and a Moscow Mule that includes fresh-squeezed ginger juice instead of the standard ginger beer.
Above: Woodnotes Grille. Photo by Julia Reischel.
The goal at Woodnotes is to do more than just serve the Emerson's overnight guests. Fisher, with the help of Gagne and Wren, are aiming to make the restaurant a destination in its own right, both for foodies in search of cutting-edge culinary artistry and for sthe Emerson's neighbors, whom they hope will use the restaurant as extension of their living rooms.
"The prices cannot be over the top," Fisher said "If we want people in our community to come here twice a month, we have to have things on the menu that aren't filet mignon."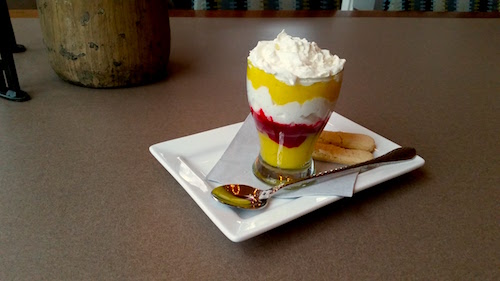 Above: A blood orange, lemon curd and raspberry coulis parfait, served with whipped cream and ladyfinger cookies. Photo by Julia Reischel.
"Local jobs"
The goal of the Emerson, and its stem-to-stern revamp, is to make sustainable local jobs in the Catskills, Fisher said.
"Jobs are so important here," she said. "My main goal is to support the community and offer jobs. That's been my main motivation."
In many ways, the Emerson offers the gold standard model of local employment. Many of the resort's 120 employees have worked there for decades. Some have been sent to college with scholarships paid for by the Emerson.
"We have a lot of longterm employees," said Naomi Umhey, the Emerson's CEO. "I'm here almost 20 years. We all live within a 15-mile radius."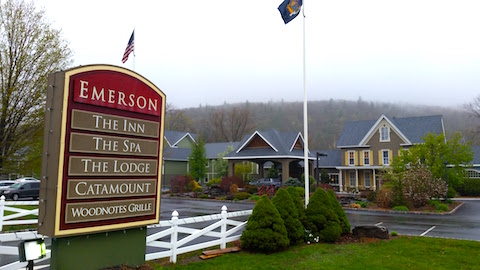 Above: The Emerson's sign. Photo by Julia Reischel.
As the Catskills experience a renaissance, Fisher and her staff are watching the launch of new nearby businesses such as the Foxfire Mountain House, which opened across Route 28 from the Emerson earlier this year, with delight.
"The more businesses that come in, the more I feel that I've fulfilled my mission," Fisher said.
The Emerson Spa and Resort is a Watershed Post advertiser.