Above: Souvenir pennies made by the new machine in Phoenicia. Photo by Brett Barry. 
Kitsch-lovers rejoice! You can squish one of four Catskills-specific designs onto a souvenir penny in the Ulster County hamlet of Phoenicia using a hand-cranked machine that has been installed on Main Street.
The machine, which was manufactured by a company in Colorado, can emblazon pennies with one of four Phoenicia-specific designs: a Catskills black bear; a "Quill Gordon" fishing fly; a map of Ulster County and the logo of the Phoenicia Diner. The process is manual, using a hand crank and some elbow grease, and costs 50 cents per penny.
The project is the brainchild of Brett Barry, a Phoenicia resident who owns Silver Hollow Audio, an audio production that is also the force behind a series of audio tours and books that celebrate the Catskills region: "Afloat & Afoot by John Burroughs"  and "The Route 28 Catskill Mountains Scenic Byway Driving Guide."
Barry has been hoping for years to give the Catskills its own souvenir penny machine.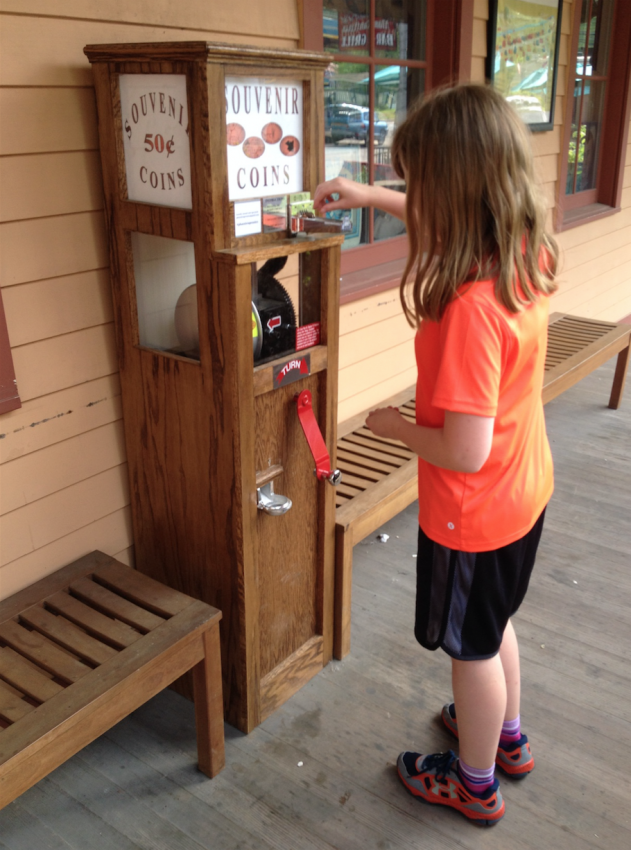 Above: The souvenir penny machine in action. Photo by Brett Barry. 
"I'd seen these for years in our travels, and we always love squishing souvenir pennies, so for a couple years now, I'd been hoping to get one going locally," Barry wrote in an email to the Watershed Post.
Silver Hollow Audio put up the $3,000 to pay for the souvenir penny machine, according to Barry.
"My hope is that it pays for itself—although at 50 cents a penny, that may take a while," he wrote.
Barry and the penny machine company worked to create the black bear and fishing fly logo designs. The fly isn't just any fly; the Quill Gordon is a classic Catskills fly, invented by fly fishermen on the Esopus Creek and seen on the Jerry Bartlett Angling Collection website.
The design for its appearance on a penny is based on a photograph by Phoenicia fishing guide and photographer Mark Loete, who launched an exhibit of elegant fishing fly photographs earlier this year. 
Two of the penny designs were paid for by sponsors: the Phoenicia Diner, which sponsored its station-wagon-going-camping logo; and Ulster County Tourism, which sponsored for the Ulster County map design.
Phoenicia's souvenir penny machine was installed on April 27 on the deck between the Ice Cream Station, Winn Morrison Realty and The Mystery Spot.
Below: The four souvenir designs offered by the penny machine. Photo by Brett Barry.