Above: The Flager in South Fallsburg in the 1950s Catskills. Image from 1950s Unlimited via Flickr.
To the wider world, the Catskills mean just one thing: The Borscht Belt, with its famous Jewish resorts that inspired the movie "Dirty Dancing."
But Grossinger's, Kutsher's and the Concord only take up about two-and-a-half chapters of "The Catskills: Its History and How it Changed America," a new book released by Knopf on Oct. 27.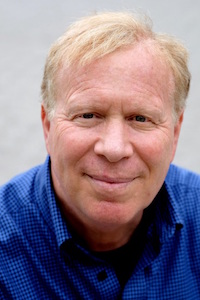 That surprised even its author, veteran entertainment journalist and writer Stephen Silverman.
Left: Stephen Silverman. Photo via the Catskill Mountain Foundation.
Telling the story of the Catskills required five years of research and 450 pages. It's the longest book Silverman had ever written.
"This is 150,000 words," Silverman said. "You're talking to somebody who is used to writing 200 words for People Magazine."
By heft alone, it's a coffee-table book—a big, glossy hardcover brick stuffed with four centuries of Catskills lore.
It's lavishly illustrated and intended for a mainstream audience that is once again rediscovering the region. (As the book shows, the Catskills have been discovered and re-discovered roughly every 50 years since the 17th century.) 
There's the well-known history, like the story of how Jennie Grossinger created a world-famous Jewish resort out of her family's Sullivan County boardinghouse. There are quick biographical sketches of the lives of must-mention 19th-century celebrities Jay Gould and John Burroughs. And there's a snappy account of how Washington Irving wrote the legend of Rip Van Winkle.
But the best parts mine a rich vein of more obscure Catskills stories.
Promenading tourists find a gangster stabbed to death and strapped to a slot machine floating in Sullivan County's Swan Lake in 1937.
Father Divine, the charismatic leader of the integrated Universal Peace Mission Movement, brings thousands of followers Ulster County in the 1930s.
Mark Carr, an enterprising farmer, invents the idea of commercial Christmas tree sales in America.
At Casa Susanna, a 1950s retreat in Jewett, a small colony of cross-dressers learn how to apply makeup and walk properly in a pair of pumps. 
"Illegal liquor. Religious cults. Gangsters. Left-wing children being raised on communist work songs," Silverman said. "You had restricted hotels that had signs that read, "No dogs and no Jews," and then you had Jews. Murders took place. Religious salvation took place. There was the bluestone mining and leather tanning. It was a lively place."
Sojourner Truth, Pete Seeger, Mark Twain, Zero Mostel, Wilt Chamberlain and Eleanor Roosevelt all make appearances. So do ashrams and Hare Krishnas, millionaires and the Mafia.
Silverman says that his favorite chapter is about the underground network of bootleggers that littered the Catskills with corpses during Prohibition and boasted characters with names like "Legs" Diamond, Waxey Gordon and Dutch Schultz. (Schultz's buried treasure is rumored to remain somewhere underneath Phoenicia today.)
"What is this madness that attracted all these weird people?" Silverman said. "It was the proximity to New York City, yet it was far enough away that it was secluded and they could do anything they wanted to do. And they did it." 
"The Catskills are hot again"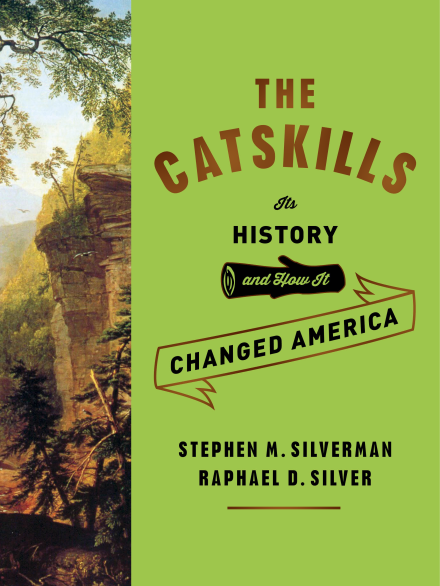 Silverman's book begins at the beginning—with Henry Hudson's 1609 discovery of the Catskills and the Hudson River—and proceeds exhaustively through four centuries, hitting the Livingstons, tanning, bluestone mining, the Anti-Rent Wars, the grand Victorian-style resort hotels, bungalow colonies, the 1969 Woodstock music festival, the post-"Golden Age" Catskills of abandoned hotels and falling-down barns and yet another round of regrowth in the early 21st century.
Some contemporary history gets a look, including the 1990s fight over the controversial Belleyare Resort in Shandaken and the contentious battle over fracking that ended last year when Gov. Andrew Cuomo outlawed the practice in New York. Hurricane Irene and the Constitution Pipeline both get their due. 
But despite the thoroughness, "The Catskills" is not a textbook. Silverman started People Magazine's website and has written many books about Hollywood. He keeps it breezy and fun.
"I did not want to make it boring," he said.
In his introduction, he calls the book "an effort to capture a sense of the color, charm, and even lunacy that for the past four hundred years have characterized the Catskill Mountains and the people attracted to them."
Originally, the project was meant to be a companion to a documentary about the Catskills created by director Joan Micklin Silver and producer Raphael D. Silver. The Silvers conducted much of the research, including interviews with the late Pete Seeger, that Silverman uses.
But Raphael Silver died in 2013 before the movie could be made, and the documentary was scrapped. So Victoria Wilson, an editor at Knopf who has a home in Sullivan County, tapped Silverman to do a stand-alone book.
"She kept insisting, 'Stephen, the Catskills are hot again,'" Silverman said.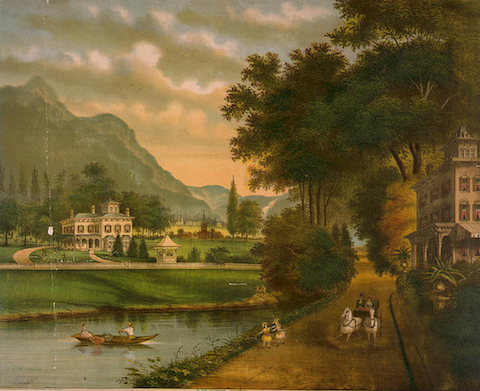 Above: An 1887 chromolithograph print of "The Catskill Mountains, New York," by J. Hoover, Philadelphia. Image via the Library of Congress.
Silverman is the latest in a long line of city people who have fallen for the Catskills—he's a full-time Manhattanite, but he's spent many hours with friends in the region who have country houses in Woodstock and Callicoon.
He spent years digging into the Silvers' notes and researching Catskills history in libraries, archives and particularly old newspapers.
There were many surprises. The biggest shock, he said, was the fact that though the Catskills were a haven for mid-century Jewish culture, the region was "an anti-Semitic bastion in its early days."
"It really hit me between the eyes," said Silverman, who is Jewish. "There were signs on hotels that said, 'Hebrews will knock vainly for admission.'"
Silverman will be visiting the Greene County town of Hunter on Saturday, Nov. 7 to talk about his book, sign copies and take questions. Head there to hit him with your burning queries about Catskills trivia large and small.
Stephen Silverman discusses "The Catskills: Its History and How It Changed America. Saturday, Nov. 7, 1 p.m. The Catskill Mountain Foundation. Doctorow Center for the Arts. 7959 Main Street, Hunter. Call 518-263-2050 for a reservation. catskillmtn.org.