Image by Dan Moyle, via Flickr. 
Real estate sales are up all over the Catskills, according to realtors across the region who say that rustic, country and move-in-ready homes are attracting buyers.
But while the number of sales are up, the price of what's selling is going down.
Realtors say that is because the most interest is coming from savvy bargain hunters from New York City who are searching for an upstate escape where they can relax and maybe even earn a few bucks.
"Finding that special, unique property is what the buyer is looking for now," said Jennifer Grimes, the owner-broker of Country House Realty in the Sullivan County hamlet of Grahamsville. 
"Sullivan is a good buy," Grimes said. "I started here as a weekender myself in 2005, and while the area has evolved dramatically, prices are still incredibly low."
Sales up, prices down
Realtors warn that statistics can be misleading when it comes to Catskills real estate transactions. While the number of home sales in Sullivan, Ulster and Delaware counties are up in 2015 over 2014, the average price of a sale has gone down.
In Sullivan County between April and Jun 2015, 32 more properties sold than they did during the same period in 2014. However, the average price of a sale went down from $166,396 a year ago to $132,460 in 2015, according to the Sullivan County Board of Realtors.
In Ulster County, the number of units sold between April and June 2015 is up over the same time period last year, according to Faye Storms, an associate broker with Ruth Gale Realty in Phoenicia and the secretary-treasurer of the Ulster County Board of Realtors. 
"But the average price is down five percent," Storms said.
Storms attributes those numbers to the fact that less-expensive properties are selling more than high-end estates.­
"Over-$600,000 lots sold well last year and brought up the median price," she said. "This year, most sales are under $200,000."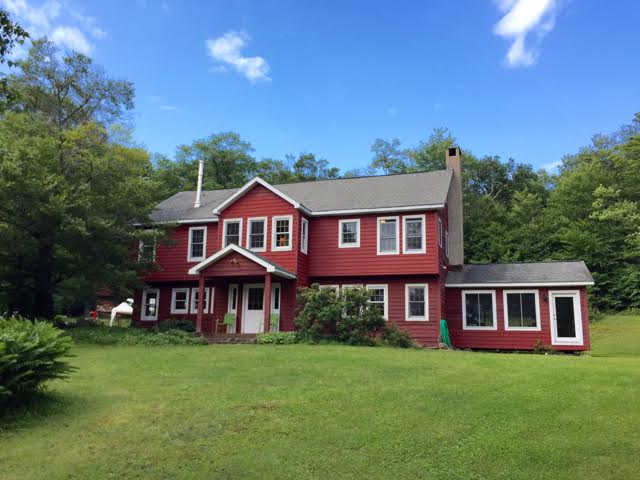 Above: Three weeks after being listed, this Sullivan County house had a full-price cash offer of $349,000, according to realtor Jennifer Grimes. Photo courtesy of Country House Realty.
Eric Wedemeyer, the principle real estate broker and owner of Coldwell Banker Timberland Properties, which has four offices in the watershed area, agreed. (Full disclosure: Janel Bladow, the author of this story, is a part-time real estate agent with Coldwell Banker.) ­ 
"We had a decent sales year last year," Wedemeyer said. "I anticipate better numbers this year. More and more, demand is generally shifting toward middle- and higher-priced homes."
But Jean Orr, a broker with Keller Williams Upstate New York Properties in Margaretville, sees a pick-up in volume, not sales.
"Sellers dumped a large inventory on the market recently," Orr said.
The $100,000 to $300,000 sweet spot
All four realtors agree that the property selling in the Catskills is in the $100,000 to $300,000 range, and if it's "special," there's someone out there to buy it.
"I'm in the second home niche and have to turn sellers away who don't fit," said Grimes, who also owns Red Cottage Vacation Rentals in Grahamsville.
"Buyers are not looking for suburbia but for eclectic charm, old beams and quirky nooks--not vinyl sided boxes," she said. "They don't want new and fancy. The property has to say 'country,' 'rural,' and not be a huge renovation job. Quirky catches people's attention."
Storms, who had three bidding wars in her Ulster County sales area this spring, said that all her clients want the same thing.
"Rustic, rustic, rustic; typical cabin in the woods or bungalow with privacy; stream, woods and ten minutes from town," she said. "Also, anything contemporary; modern goes fast. As long as it's clean, redone, high-end, it gets sold fast."
"Buyers are going for quality, not quantity," said Wedemeyer, adding that it's style, not size, that buyers are after. "If the house isn't unique, it's not selling.
"What's selling are homes that are unique or remodeled," he said. "What's moving is in the $150,000 to $300,000 range, if it's reasonably priced. And there's been no price increases to speak of. The area is very reasonable."
Bargain hunters
Many buyers think they can get a deal for under $100,000, and a lot of times they can. But it requires research, patience and often elbow grease.
"I had a property listed for $99K and must have gotten 50 calls," said Storms. "People are looking for inexpensive but expecting a lot. A lot people are looking in that range, but I have to educate them. What's available in that price range is either in the flood zone, needs work, has mold or has a huge issue."
Bargains are still to be had thanks to the economic recession that began in 2008. The hills are now slowly recovering and the area is being rediscovered.
Above: This small house on a small plot of land was one of realtor Faye Storms' most popular recent listings. It sold for $159,000 after being shown 55 times. Photo courtesy of Ruth Gale Realty.
"The great recession of 2008 to 2012 saw prices in the area drop 20 to 25 percent," Wedemeyer said. "Prices are still low. There's been no price increase like other places around the city."
Orr believes that the upstate market has to unload some of its inventory before prices will go up.
"Even though we have more sales, prices haven't risen," she said. "We need to get some inventory liquidated before we see prices go up. The recession has gone on for a while. So a lot of people who held onto their properties now have them on the market."
"The recession made my rental business and, as a result, my real estate business," said Grimes. "People who owned a second home needed money to carry city and country houses and so they rented theirs. The rental market was bumped up by people who generally would take planes. They tried upstate, stayed closer to home and discovered they loved renting homes, especially families. They settle in, have a barbecue. This is a great, relaxing way to spend a vacation."
Green is gold
It's the Catskills experience buyers are after: year-round fresh air and outdoor fun. The closer the property is to state land, hiking trails, lakes, streams and ski centers, the faster it sells.
"Green is in and makes us a great destination," said Wedemeyer. "We have fresh air, clean water, and are energy efficient for the most part. The mountains are a good year-round escape. We're seeing more and more people considering mountains over the beach. The Hamptons have become extremely expensive. Thinking of safety and convenience, the Catskill Mountains are a quick place to escape to."
Brooklyn loves country
So who are these buyers? And where do they come from?
Storms notes that nine out of 10 of her buyers are from Brooklyn.
"I think they went to Brooklyn because it was less expensive than Manhattan and trendy, but when they went to buy, prices were beyond their reach," Storms said. "So instead they are buying a home they can breathe in, investing here where they can afford to and staying in their small apartments."
Orr of Keller Williams agrees. "In a prior market, buyers wanted the perfect place. Brooklyn hipsters are willing to buy a fixer-upper," she said. "I see interest rates going up in this fall, so an excellent time to buy is now."
A new study from StreetEasy.com, a New York City real estate listings website, supports this theory. StreetEasy found that bidding wars in Brooklyn in the second quarter of 2015 lead to homes in nearly half of the borough's neighborhoods being sold for more than sellers sought for them.
"It's the Brooklyn-Catskills love affair," said Grimes. "I have couples and singles, very outdoors-oriented, into hiking, cycling and going to a lake."
Grimes said that she has been out in Livingston Manor and has run into former renters who then bought a place of their own.
"Now they come up here and meet people and find out that they live only a few blocks from one another in Brooklyn," she said.
Younger, smaller and ready for Airbnb
Wedemeyer also sees a younger demographic, and those young people going for smaller homes.
"Bigger is not necessarily better right now," Wedemeyer said.
He adds that retirees are going for smaller houses, too, where they plan to spend the summer and then "head south for the winter."
Storms recently sold an estate with two houses to an older couple from California so that the ex-wife could also come up and spend time with the grandchildren.
"I'm seeing more of that," she said. "Family compounds with older parents with their grown kids and their grandkids, especially families out of Brooklyn."
Another growing trend all three realtors note is that buyers are purchasing a second home as an investment property.
"The trend is looking for a business deal," said Storms. "Something they can own and rent on Airbnb."
Storms also says that it's not just the rural parts of Ulster County that are seeing a sales surge. Because of the higher prices in Hudson and other urban areas, hipsters are now coming to Kingston.
"Kingston is getting a very young crowd, tons of artists," she said. "It's a mini-Brooklyn, with lofts and easy access to the thruway."
"From fried to farm-to-table"
A change in the perception of the Catskills fueled by the growing interest in local food is also bringing in buyers, the realtors say.
"Historically, there were not a lot of amenities in the area, but that's changing rapidly," said Grimes, who owns her own local grocery and restaurant in Grahamsville. "We have more farmers' markets and more country stores selling local goods."
Grimes said that Catskills restaurants have "gone from fried to farm-to-table, and that's a good thing."
"I see next year being even better," Wedemeyer said. "Nice things are going on. The future is good for the Catskills. Its time has come."
Full disclosure: Janel Bladow sells real estate part-time for Coldwell Banker Timberland Properties­