Above: The original 1960s mechanical pin-setter machines and surface ball-returns of Margaretville Bowl. All photos by Julia Reischel.
Walking into Margaretville Bowl is walking onto the set of "Mad Men."

The eight-lane alley opened in 1960 with brand-new pink-and-chrome Brunswick fittings throughout. Half a century later, the vintage ball returns, mechanical pin-setters, and lockers are still immaculate. It's a '60s time capsule, right down to the eight-foot-tall plywood bowling pin that rotates in the breeze on a pole outside.
Now Margaretville Bowl is for sale, and all those beautiful vintage fittings are up for grabs. Or for ripping out, depending on the buyer's whims -- a recent ad for the property described it only as a commercial space, without mentioning the building's one-of-a-kind interior.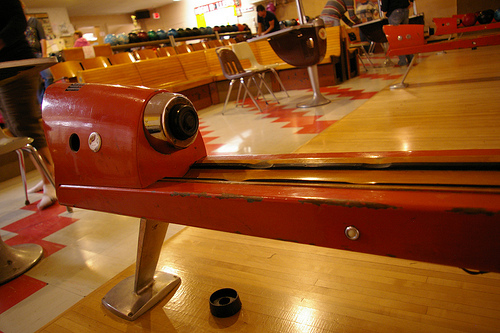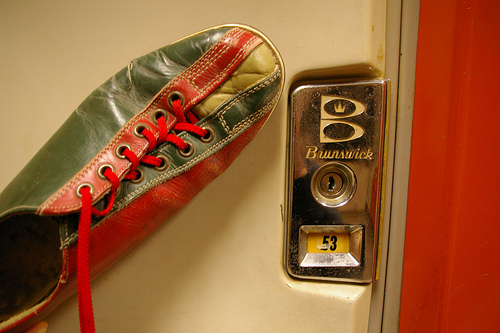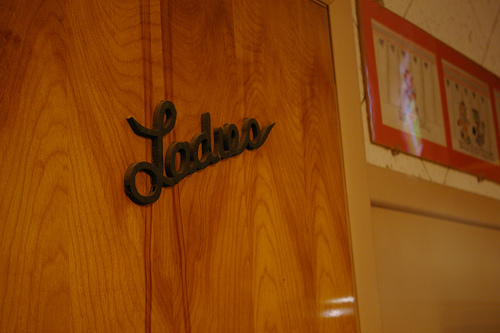 Producers and Hollywood types have used Margaretville Bowl to create a jukebox-and-milkshake vibe.  It was the set of a music video for the Fall Out Boy song "Sugar, We're Going Down," and it appeared in an Old Navy commercial, according to owner Michael Finberg, who has run the alley for 26 years.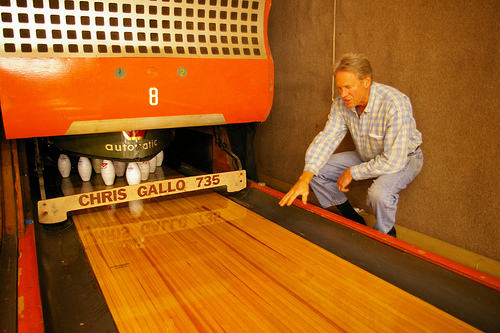 Above: Michael Finberg, the longtime owner of Margaretville Bowl.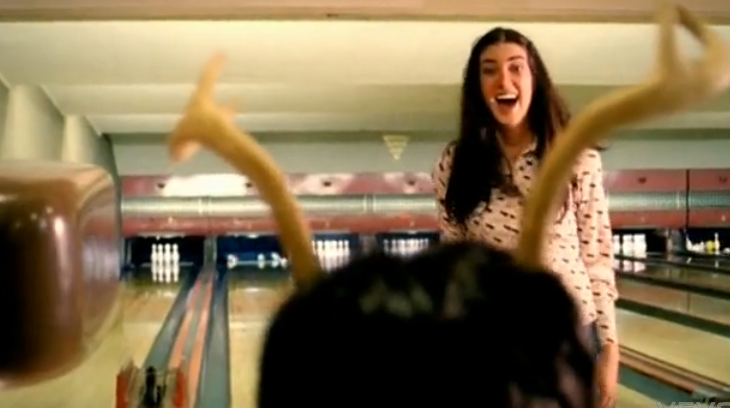 Above: A still from "Sugar, We're Going Down," a video by Fall Out Boy that was shot at Margaretville Bowl.
Finberg is ready to retire from bowling alley management. The business is a "turn-key operation," he said. If the building's new owner opts to keep the bowling alley running, it would come with a built-in audience of regular league members who pack the lanes on weekday nights.

The bowling alley has been a staple of town life in Margaretville for generations. The wooden sweep at the end of every line sports the name of a local record-setter.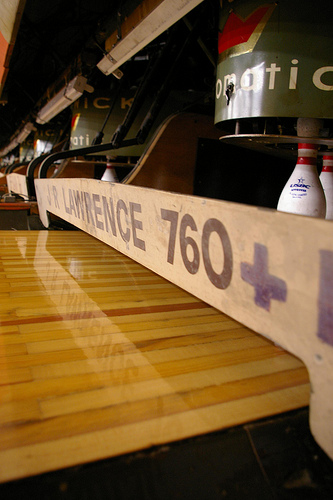 Above: Local bowling legends are immortalized on the pin-setting machines.
"This is a 51-year community asset," says Finberg. "People have met their spouses here. It's a little microcosm of our community."

But the industry is changing, Finberg says. Youth league and adult league numbers are down, and alleys across the country are introducing new perks, like "cosmic bowling," which turn them into nighclub-like venues. Finberg has plans to follow suit by installing backlights for a cosmic-bowling effect soon.

But he's hoping someone with a deep love for chrome and enamel will buy the place first.
Below: A slideshow of photos of Margaretville Bowl's original 1960s interior. 
Bottom: "Sugar, We're Going Down," a video by Fallout Boy that was shot at Margaretville Bowl.