Above: Throwing a rock into Cooper Lake in Woodstock. Photo by Flickr user Panda Snaps, shared in the Watershed Post Flickr pool. 
Labor Day is upon us in all its bittersweet glory, and the Catskills are rising to the occasion with festivities celebrating the harvest, family, baroque opera, women's jazz, Iroquois Indians, Irish heritage, improv, toilets and more.
Yes, we said toilets. Read on to find out more in our county-by-county round-up of Labor Day events across the Catskills.
DELAWARE COUNTY
Gather the bounty of the harvest for your personal feasting pleasure at the pre-Labor Day Holiday Pop Up Farmers' Market, taking place rain or shine at the Stamford Railroad Station on Thursday, Sept. 3 from 3:30 p.m. to 6 p.m. You'll find a splendid selection of baked goods, preserves, meats, produce and wonderful handmade Catskills things.
Above: Toilets and toilet-themes fun is in offer at the "Game of Thrones" event on Friday in Stamford. 
And that's not all Stamford has to offer this holiday weekend. In what may be the first ever formally toilet-themed amusement the Catskills have ever witnessed, the folks of the Western Catskills Community Warehouse have created "Game(s) of Thrones" to flush away the stickiness of summer. Try toilet horseshoes and toilet paper tic-tac-toe on Friday, Sept. 4 from 10 a.m to 4 p.m.
They'll be rockin' in Roxbury all weekend long. On Saturday, Sept. 5, come to Music on the Mountain: Series #3. Last year's Labor Day kickoff of this event was so much fun that the folks at Plattekill Mountain decided to throw a free concert every month all summer long. This weekend, the first 75 people get a free Plattekill pint glass. Feast on a sumptuous mountain pig roast and good rock 'n roll from 3 p.m. to 6 p.m. and send off summer 2015 with a sunset chairlift ride above the rolling hills.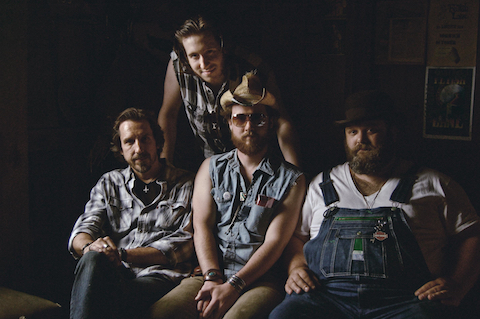 Above: The Woodshed Prophets play in Roxbury on Sunday. 
The next day, the entire town jumps in with Roxbury Revelry. Cheer for Vintage Baseball, cheer some more for the sack racers and indulge yourself in a craft beer or two and some fresh local eats. It's a classic American country fair with an artisanal Catskills twist: tour the historic district, watch plein air painters at work, dance barefoot in the grass to the Woodshed Prophets and finish off with fireworks. Sunday, Sept. 6, 1 p.m. to 9 p.m..
Head up to Bloomville on Sunday, Sept. 6 for the Dairy Field Music and Art Festival. The hillsides will be ringing with infectious reggae from Terry Blaine, 70s rock from Stamford-based Logan's Express, an Albany-based quintet called Bright Dog Red that fuses "electronica, jazz, hip hop, and psychedelia" and the ambient jam of Delhi collective Dub Ground. The Turquoise Barn Gallery will be open for your visual bliss. Sturday, Sept. 5, 12 p.m. to 7:30 p.m.
At the West Kortright Fair 2015, happening in East Meredith on Sunday, Sept. 6 from 12 p.m. to 6 p.m., they'll be mixing up the agri with the cultural for the tenth annual Labor Day "party extraordinaire." Foot-stompin' live music from Jay Ungar and Molly Mason, local food and local makers, rummage finds, beer tasting and kid stuff are all on the agenda, rain or shine.
Celebrate in style among supporters of the Belleayre Music Festival at a gathering in Roxbury/Denver on Sunday, Sept. 6 at 4 p.m. It's a benefit for a hoped-for reopening of the festival, slated for next year. There's a minimum donation of $100 that lets you in to enjoy the music of Shorty King's Rhythm Revue featuring Chris DiFrancisco, cocktails, a sumptuous buffet and classic cars from the 30s, 40s and 50s. Call (845) 254-4503 to RSVP.
You can hop in a potato-sack race, careen down a hay slide, and enter the scarecrow-making contest at the seventh Bovina Farm Day, which will take place this Sunday, September 6 in Bovina. At 2:30 p.m. there will be a talk about heirloom apples, at 4:30 p.m. cows will be milked. And all day long you can ogle goats and sheep, and peruse displays of maple syrup, meats, and cheeses produced on Bovina farms. The annual event—a celebration of the town's agricultural heritage and a showcase for local farms and producers—will be held on the dairy farm of Ed and Donna Weber, hosts of Bovina Farm Day every year since the Labor Day weekend tradition began in 2009.
GREENE COUNTY
It's a grand Summer Finale they'll be hosting at Gavin's Irish Country Inn in Cornwallville, what with free Zoom Flume passes for guests, ample BBQ and live Irish music by the bonfire each night from Friday, Sept. 4 to Monday, Sept. 7.
If you're more in the mood for Italian, check into the Villa Vosilla Boutique Resort in Tannersville for a Labor Day Extravaganza, Friday, Sept. 3 to Monday, Sept. Feasting, bocce, dancing and some very special guests at the nightclub.
Town of Catskill folks will gather at their well-loved Trunk Sale on Saturday, Sept. 5 from 9 a.m. to 1 p.m. in the lot at the corner of Bridge Street and Water Street. Join them with a trunk, van, or pickup-load of stuff you're ready to part with, and check out the offerings of other folks. Call Cultivate Catskill at 518-653-1381 for more. 
The Windham Chamber Music Festival has drawn favorable comparisons to Tanglewood and Bard Summerscape. On Saturday, Sept. 5 at 8 p.m, you can catch Opus X, a quartet of four acclaimed and "beguiling" women with global star quality on clarinet, violin, cello and piano.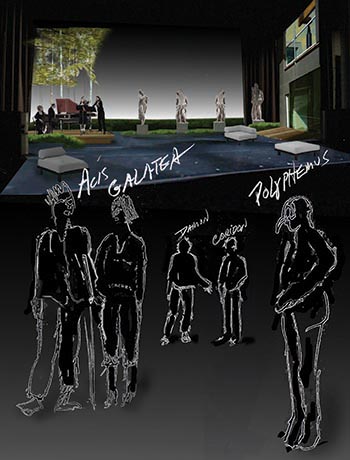 Left: A poster for "Acis and Galatea."
"Acis and Galatea" is a baroque opera that George Frederic Handel, Alexander Pope, and John Gay dreamed up to amuse a group of weekending friends. It's a romp involving "a sweet shepherd, a water nymph and an awkward, goofy, besotted cyclops." It's happening at the Orpheum Film and Performing Arts Center in Tannersville at 7:30 p.m. on Sunday, Sept. 6.
OTSEGO COUNTY
They'll be pouring on the seasonal goodness at Willy's Farm and Cider Mill in Schenevus for the Opening Day Shindig. On Saturday, Sept. 5, from 11 a.m. to 3 p.m., you can enjoy this special spot in extra-celebratory mode, with lots of kids' games and a DJ playing dance music along with cider pressing, wagon rides, a corn maze and artisanal edibles.
SCHOHARIE COUNTY
Come to Howes Cave this weekend and revel in the creativity of the area's oldest known culture. The Iroquois Museum is holding its annual Iroquois Indian Festival, with an Iroquois Indian Art Market. The Sky Dancers from Six Nations Reserve in Ontario will perform traditional Iroquois social dances (and may even invite you to dance with them); there will be kids' fun, wildlife education, and an archaeologist handy to help you figure out whether that stone you found really is an artifact. Saturday, Sept. 5, 10 a.m. to 5 p.m. and Sunday, Sept. 6, 12 p.m. to 5 p.m.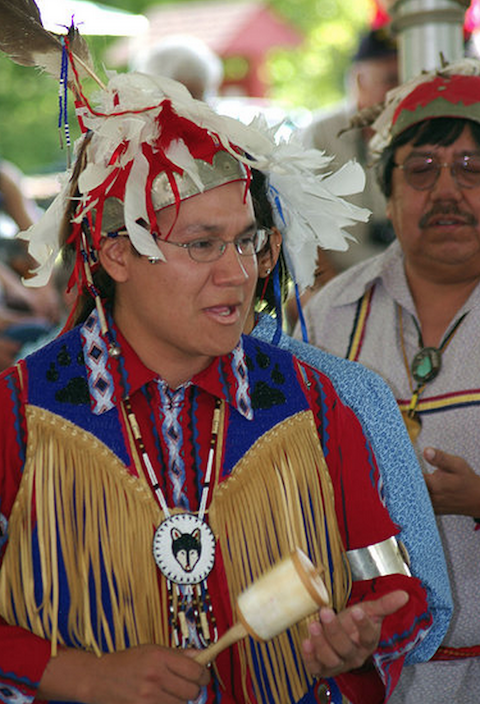 Above: The Iroqois Indian Festival will be in Howes Cave on Saturday. 
SULLIVAN COUNTY
On Sunday it's a full-blast family fun in Livingston Manor at the local library's Labor Day Festival.They're having a pre-festival 5K and fun run to whet appetites for the fresh local burgers, dogs and Thai food. Doug Rogers and the Backseat Drivers will be the opening act for the community's kids and their talent show. Games, face painting, vendors with handmade artisanal toys, vintage cars, tons of books and a quilt auction round out the fun. Sunday, Sept. 6, 9 a.m. to 6 p.m. and 11 a.m. to 3 p.m.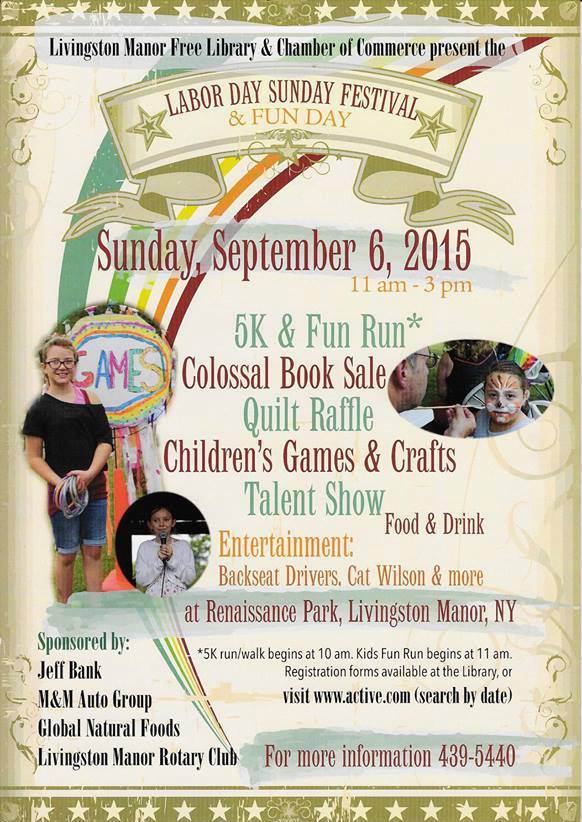 Above: A poster for the Labor Day festival in Livingston Manor. 
Come to Forestburgh on Sunday for a splendiferous Big Gay Brunch Buffet and Broadway Sing Along to benefit the Forestburgh Playhouse. Your $30 ticket gets you all the food you can eat and all the showtunes you can sing along with. Sunday, Sept. 6, 11:30 a.m. to 2:30 p.m.
The Roscoe Beer Company is hosting a charity auction on Saturday, Sept. 5, with a viewing at 3 p.m. and the auction start at 5 p.m., and will bring country/rock group Somerville to its outdoor stage in Roscoe at 5 p.m. on Sunday, Sept. 6. Sample eight different Trout Town beers at the brewery all weekend long. 
ULSTER COUNTY
The Hudson Valley Resort in Kerhonkson is throwing a Labor Day Weekend Getaway BBQ Bash, from Friday, Sep.t 4 to Sunday, Sept. 6. They'll be grilling at the Tiki Hut and roasting s'mores at bonfires in the evening. Kids (who stay for free) will enjoy face painting, a bounce house, and all kinds of free games, among them the resort's golf and mini-golf and access to the pool, Jacuzzi, and other spa offerings.
Steal away to the stone Opus 40 sculpture park in Saugerties for a splendid farewell to summer concert featuring the melodic American roots music of Robbie Dupree soaring over the stones against the glorious mountain backdrop. Saturday Sept 5; gates open at 4:30 p.m. and music starts at 5 p.m.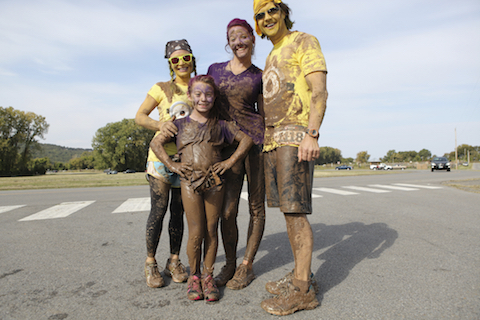 Above: Get muddy at the Your First Mud Run at Belleayre Mountain Ski Center on Saturday. 
Labor Day weekend is traditionally one of the great ones for garage-sale roving. The first-ever All Things Thrifty Garage Sale & BBQ will gather a pile of them into one place and feed you besides. It's happening Saturday, Sept. 5 from 9 a.m. to 5 p.m. at the Belleayre Ski Center's Overlook Lodge in Highmount. Sick of shopping? Get muddy with your family during the Your First Mud Run, happening the same day. Show up between 8 a.m. and 10 a.m. to register.
Uptown Kingston will come alive with the 12th Annual Wall Street Jazz Festival, "where the traditions meet the progressives, and all the leaders are women," on Friday, Sept. 4 and Saturday, Sept. 5. Friday at 8 p.m. at the Old Dutch Church hear "The Art of the Duo" with Sheila Jordan on vocals and Cameron Brown on bass.
It's been well over a century now since the first Irish laborers disembarked at the Rondout waterfront in Kingston, and 14 years since the Ancient Order of Hibernians started celebrating the Hooley On The Hudson, a big beautiful day full of music, song, dance, story and laughter in the style of the Emerald Isle. The fun kicks off with the Hooley On The Hoof 5K at 10 a.m., and continues with three stages of live entertainment from 11:30 a.m. to 9 p.m. on Sunday, Sept. 6.
And if you're looking for something different to wrap up your weekend, come down to the Falcon in Marlboro for IMPETUS: A Forum for Artistic Spontaneity, which brings together the IMPETUS Ensemble, the Woodstock Poetry Society, the Art Society of Kingston and special guests for an evening of unleashed improv. Be a special guest yourself: bring an instrument, an artwork, a poem, or any other creative expression you'd like to throw into the mix. Sunday, Sept. 6. Doors open at 5:30 p.m.; entertainment starts at 7 p.m.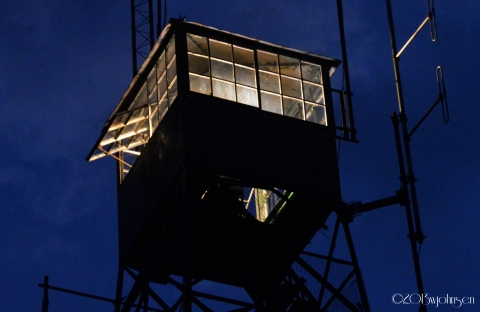 Above: The lit-up Berry Hill fire tower in Chenango County near Norwich during the 2013 lighting of the fire towers event. Photo by Warren Johnsen.
MULTIPLE COUNTIES
On Saturday, Sept. 5, just after dark, volunteers will illuminate the cabs of the five historic Catskills fire towers during the annual Lighting of the Fire Towers. The fire towers dot the highest peaks in the Catskills and command some of the best views around, but on Saturday, they'll be things to watch as they glow above the horizon. For viewing suggestions, check out our post about last year's event. The lights go on at 9 p.m.