Above: The Hudson Valley Hullabaloo features indie crafters and makers selling their wares in Kingston. One of the many vendors that will be there this weekend is Wishbone Letterpress, which is run by the Hullabaloo's founder and co-organizer Danielle Bliss and her husband Joe Venditti. They make snazzy cards like the one you see above. Photo via the Hullabaloo blog. 
Giving gifts to loved ones is great fun. Getting those gifts is great fun too, when you stay clear of the mass markets and head instead to the local merchants and makers. Supporting those folks makes our communities better all year long.
Here, then, is the first installment of our Catskills holiday season shopping guide to where and when you'll find the good fresh local stuff among smiling faces. We'll be posting each week with events to check out around the region. Want even more things to do? Check out our ever-updating Catskills events calendar. 
Here's what's happening over the weekend of Nov. 21 to 23: 
DELAWARE COUNTY
An art and craft sale happening in Treadwell on Nov. 23 from 1 p.m. to 5 p.m. will benefit the Heart of the Catskills Humane Society. You'll get great prices on one-of-a-kind items. Bring some canned cat food, dog treats, old newspapers or suchlike donation to the Humane Society and you'll get a free print of the painting "Moon Struck," which you can see at left.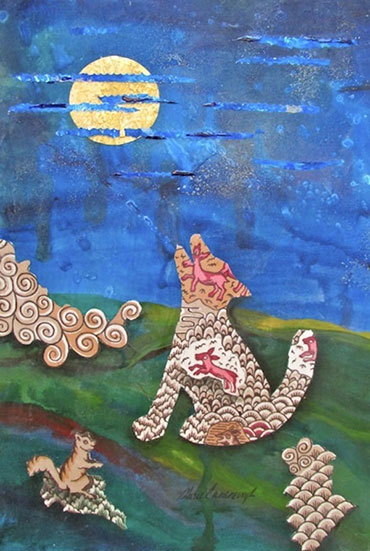 In Delhi, the Catskill Mountain Artisans Guild is hosting a Pre-Thanksgiving Early Bird Sale from 10 a.m. to 5 p.m. on Nov. 22. 
GREENE COUNTY
On Nov. 22 from 10 a.m. to 2 p.m, they're hosting a Holiday Fair at the Kiskatom Reformed Church in Catskill, with lots of beautiful things designed and created by local artisans and home business owners. Eats and drinks will be available.
The Member's Holiday Small Works Exhibition will be going on every Saturday and Sunday between Nov. 23 and Dec. 13 from 1 p.m. to 4 p.m. at the Athens Cultural Center. Shop for "tiny treasures with that 'gotta-have-it flair'" among the works in oils, pastel, acrylics, photography and more.
SCHOHARIE COUNTY
The Apple Barrel County Store is having its annual Shopper's Night on Friday, Nov. 21 in Schoharie. Free tastings of craft beer and wine will be flowing as musicians play live. 
SULLIVAN COUNTY
The Signature Gifts shop of the Delaware Valley Arts Alliance bursts its Narrowsburg banks and fills two floors for holiday season to accommodate all the terrific regional offerings available. You'll find pottery, silk scarves, unique jewelry, books by local authors, holiday cards, art supplies, journals, pure beeswax candles, paintings, framed photographs, locally designed rugs, wood tables (large and small), and selected antiques, along with a wide array of vintage silk kimonos.  There are great gifts for the kids in your life: compasses, wooden toys, puzzles, and coloring books, along with animal-shaped clocks, night-lights, and block sets. The shop will be open Tuesdays through Saturdays between Nov. 21 and Dec. 23 10 a.m. to 5 p.m. 
The 44th Annual Arts & Crafts Festival at Sullivan County Community College in Loch Sheldrake takes place on Nov. 23, 10 a.m. to 4 p.m. at the Paul Gerry Fieldhouse.
ULSTER COUNTY
There will be a Holiday Craft and Book Fair in Stone Ridge, featuring handcrafted gifts from more than 20 Hudson Valley artists, a pop up cafe, cookie contest, secret gift contest, making cottages for kids, and silent auction at the High Meadow School on Nov. 23, 10 a.m. to 5 p.m. Call 845-687-4855 for details.
Know anyone who'd love a good bottle of vino? The Shawangunk Wine Trail members are decking the halls for Wreath Fineries at the Wineries, taking place from 10 a.m. to 6 p.m. on Nov. 22 and 23, Dec. 6 and 7 and Dec. 13 and 14.  All 14 member wineries will be decorated and awaiting your visit. You'll receive a souvenir wine tasting glass and a handmade grapevine wreath at your starting winery; then travel along the Wine Trail for wine tasting and an ornament to add to your wreath at each winery you visit.
Come to the Andy Murphy Midtown Neighborhood Center in Kingston for the Hudson Valley Hullabaloo Craft Fair, which bills itself as "Where Arty Meets Party." They mean it. Along with the diverse offerings from local makers of all sorts, they'll have a DJ, photo booth, kids' crafts, and more.  Nov. 22 10 a.m. to 5 p.m. and Nov. 23 11 a.m. to 5 p.m.