Above: A festive bovine bust at Lucky Dog Farm Store in Hamden. 
Challenge: Spend every holiday shopping dollar at a Catskills merchant this month. To help you do it, here's the third installment of our holiday shopping guide. (Want even more things to do? Check out our ever-updating Catskills events calendar.) 
Here's what's happening over the weekend of Dec. 5 to 7: 
DELAWARE COUNTY
Delhi is popping with holiday activities. The Holiday Bazaar at SUNY Delhi happens on Friday, Dec. 5 from 11 a.m. until 7 p.m. at the Farrell Center. You'll find goodies from a wide array of local makers. At the Holiday for the Heart Tree Celebration at the Norris Gallery in Delhi on Dec. 5 from 11 a.m. to 3 p.m., you can not only shop great artisanal goodies but enter a raffle to win one of 30 stunningly pre-lit, pre-decorated trees. The 16th Annual Bassett Healthcare Network O'Connor Hospital Holiday Parade and Open House takes place on Saturday, Dec. 6 beginning at 11 a.m. and will wind through the streets of Delhi. Afterwards, Santa Claus will pay a visit to the hospital, as will a variety of farm animals for a petting zoo. 
Roxbury, too, is all decked out for the season. Businesses and residents are planning a daylong Holiday Gala, an entire day of revelry, with craft and arts markets, events at local businesses, a visit from Santa Claus, a Christmas Tree lighting and a potluck dinner community party. There's also a "Light Up the Town" decorating contest. 
Deposit is throwing a Holiday Shopping Bazaar on Saturday, Dec. 6 from 10 a.m. to 3 p.m, where vendors will sell crafts, jewelry, chocolate, photography, soap, lotion, scrap booking, candles, handmade live wreaths. At 6 p.m., the town is lighting its Christmas tree. On Sunday, Dec. 7, the Deposit Historical Museum holds an open house beginning at 2 p.m.
GREENE COUNTY
See Santa and watch rare wintertime fireworks at the 17th Annual Christmas in Durham at the MJQ Irish Center in East Durham on Sunday, Dec. 7 from 3 p.m. to 5 p.m. Food, kids' activities, and lots of fun. 
In Hunter, a Crafting the Holidays exhibit showcases one-of-a-kind crafts at the Kaaterskill Fine Arts Gallery in Friday, Dec. 5 through Sunday, Dec. 7 from 10 a.m to 5 p.m. Fine art, photography, sculpture and a wide selection of children's books. 
The Member's Holiday Small Works Exhibition will be going on every Saturday and Sunday between Nov. 23 and Dec. 13 at the Athens Cultural Center. Shop for "tiny treasures with that 'gotta-have-it flair'" among the works in oils, pastel, acrylics, photography and more.
SCHOHARIE COUNTY
The holiday cheer lasts all weekend in Schoharie, with decoration-making workshops, a visit from Santa, a bonfire and a Christmas Song Sing-Off Contest during the Christmastime in Schoharie event, happening at venues throughout the village. Activities begin Friday, Dec. 5 and run through Saturday, Dec. 6.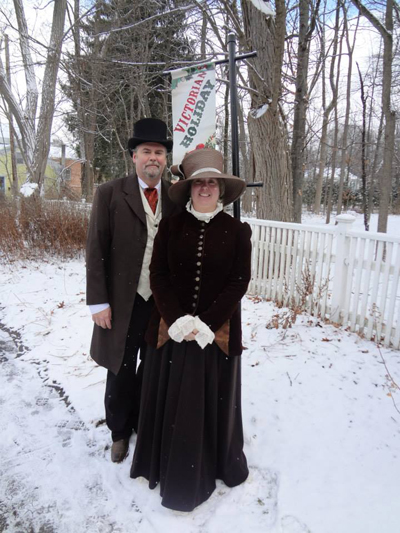 Above: Victorian villagers in Sharon Springs. Photo via the Sharon Springs Chamber of Commerce. 
The sweet chic of Sharon Springs will be turned out on the weekend of Dec. 5 through Dec. 7, when they turn the town into a postcard for the Fifth Annual Victorian Holiday Celebration. They'll have a Parade of Lights on Friday evening, a Victorian costume contest, a Spectacular Gingerbread House Contest, a Festival of Trees, and (of course!) the Christmas Chicken of Sharon Springs.
SULLIVAN COUNTY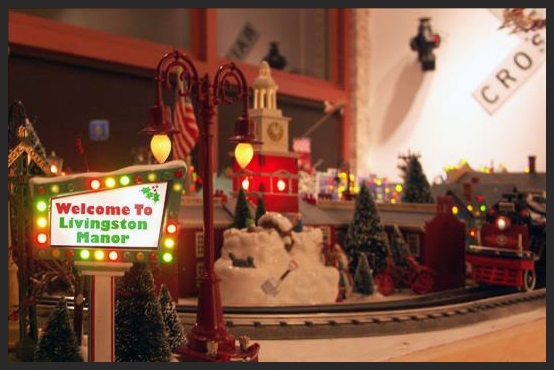 Above: Photo via the Sullivan County Visitors Association. 
Livingston Manor's shops are displaying model trains and historical artifacts as part of the town's annual Trains on Main celebration, beginning on Dec. 3 and running through Dec. 29.
The Holiday Market at Bethel Woods Arts Center in Bethel will be happening in the Market Sheds on Dec. 6 and 7 from 11 a.m. to 4 p.m, complete with music, kids' activities, and photos with Santa. Don't miss the special reading of the Polar Express.
Duke Pottery in Roscoe is hosting Handmade for the Holidays, featuring the best work of over 30 local creators of all sorts. It's happening on 12/6-7 and 12/13-14 from 11-4.
Frost Valley YMCA in Claryville is hosting a Festival of the Holidays Community Day on Saturday, Dec. 6 from 9 a.m. to 4:45 p.m., with crafts, camp activities and outdoor activities like snowshoeing and snow tubing. 
ULSTER COUNTY
Glassmakers, potters, jewelry makers, maple sugar makers, and artisans of all kinds will gather at Phoenicia's Parish Hall on Saturday Dec. 6 and Sunday Dec. 7 for a Holiday Gift and Craft Show with food and drinks provided by Amy's Take-Away.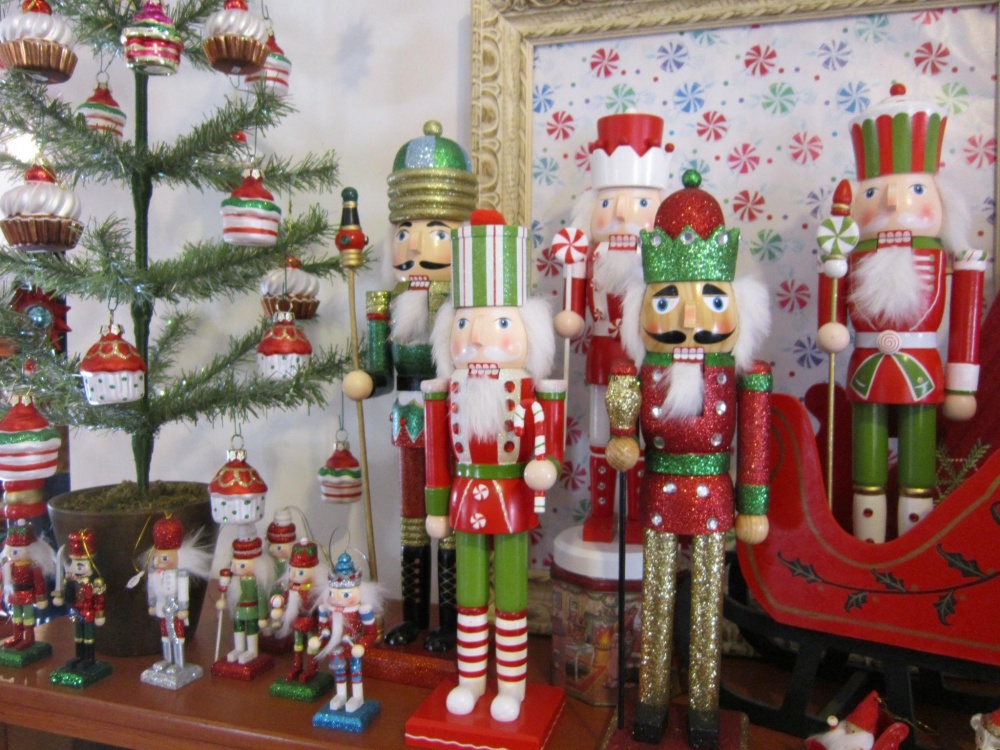 Above: Photo via the New Paltz Downtown Unwrapped Facebook page. 
New Paltz Downtown Unwrapped 2014 will take place on Dec. 5 from 6 p.m. to 8 p.m., with discounts, cider, cookies and giveaways from participating businesses all over town. The town's Alternative Giving Fair happens from 9 a.m. to 6 p.m. that same day in the United Methodist Church. 
Unison Arts Center in New Paltz presents its 24th Annual Arts & Crafts Fair on Dec. 6 and 7 from 10 a.m to 5 p.m. features woodwork, children's clothing, wreaths, blown glass and gift items of all sorts, all of it conveniently located at the New Paltz Middle School for your hassle-free shopping enjoyment. There will be a Winter Fair & Outdoor Marketplace at Mountain Laurel Waldorf School in New Paltz on Sunday, Dec. 7 from 11 a.m. to 4 p.m. They'll have food, song, dance and indoor and outdoor activities to enjoy as you shop for crafts, gifts, and artisan wares.
The Shawangunk Wine Trail's Wreath Fineries at the Wineries continues from 10 a.m. to 6 p.m. on Dec. 6 and 7. Fourteen member wineries will be decorated and awaiting your visit. You'll receive a souvenir wine tasting glass and a handmade grapevine wreath at your starting winery; then travel along the Wine Trail for wine tasting and an ornament to add to your wreath at each winery you visit.
Come to Pine Hill for the Annual Craft Fair and Chili Festival taking place on Saturday, Dec. 6 from 10 a.m. to 4 p.m. They'll have "a selection of great chilis and all the fixings (including famous chili from Jaimie DeForest) and the best of regional crafts. Music, mingling, and fun."
A juried sale of fiber arts by local artisans, the Annual Catskill Fiber Celebration is taking place at the Woodstock Firehouse #4 on Zena Road (technically in Kingston) will be filled with unique handmade home and fashion accessories. They'll also be giving inspiring demonstrations. It's happening on Dec. 6 through Dec. 8. Call 845-750-9295 to learn more.
Holiday sales and tastings await at the Emerson Country Stores in Mount Tremper on Dec. 6 and 7 from 12 p.m. to 3 p.m, with a sampling of Grey Mouse Farms Jams and Jellies, sales at Melina's Boutique and the Emerson Outfitter Shop, and Santa figurines created by Byer's Choice Ltd.
In Kingston on Wednesday, Dec. 10, from 4:30 to 7:30 p.m., the Made in Kingston expo showcases Kingston-made goods and the folks who make them.