Don't look now, but the leaves are already turning in the highest peaks of the Catskills. That and the arrival of Labor Day weekend confirms it: Summer is ending. Go out with a bang -- in some cases, a literal bang, with fireworks -- with these great events from around the region. 
ACROSS THE CATSKILLS: Lighting of the Fire Towers event. It's tonight! Details here. 
DELAWARE COUNTY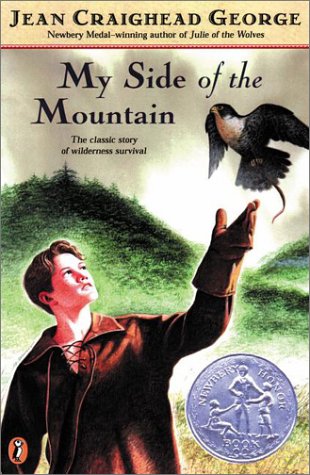 New trails open in Delhi. Saturday, August 30. 2 p.m. Volunteers have been working all summer to create a new set of hiking trails behind Delaware Academy school. Several of the trails are named for characters in the beloved children's novel My Side of the Mountain, which was set in Delhi. Delaware Academy, 2 Sheldon Dr., Delhi.
A Blast of Roxbury. Sunday, August 31, 4 p.m. - 9 p.m. Walking tours, vintage horse-drawn riding tours, special picnic menus, wine tasting. 6 p.m. concert featuring The Spectacular Average Boys. Fireworks at 8:30 p.m.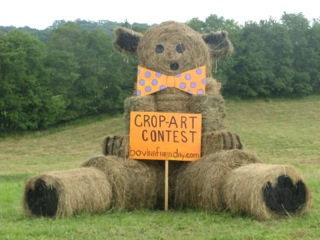 Bovina Farm Day. Sunday, August 31 from 10 a.m. - 5 p.m. Hay rides, farm animals, a farmers market, a corn maze, and a hay-bale Crop Art Contest judged by New Yorker art critic Peter Schjeldahl. Admission is $5 a carload. 634 Weber Road in Bovina Center.
GREENE COUNTY
The Windham Chamber Music Festival presents Fred Hersch, jazz pianist. Saturday, August 30, 8 p.m. Windham Civic & Performing Arts Center. 5379 State Route 23, Windham.
SCHOHARIE COUNTY
Toe Path Mountain Jam. Saturday, August 30 11 a.m. - 6 p.m. Live music all day. Performers include Thirteen for Life, Force of Habit, Cosby Gibson and Tom Staudle, Sydney Funnel, New Idea, Carl Strickland, For Destiny, Tony Haemmerle, John Taylor and the Cooter Brown Band, and many others. Hay rides, face painting, arts and crafts, a duck race, vendors and BBQ. Max V. Shaul State Park, 3075 State Route 30, Fultonham. See listing on WRIP 97.9 FM's website for more info.
SULLIVAN COUNTY
Liberty Labor Day Blast. Saturday, August 30. 10:30 a.m. - 4 p.m. Main Street Liberty. Classic car show, vendors, food, bouncy houses, stilt walkers, music and entertainment. Fireworks at dusk.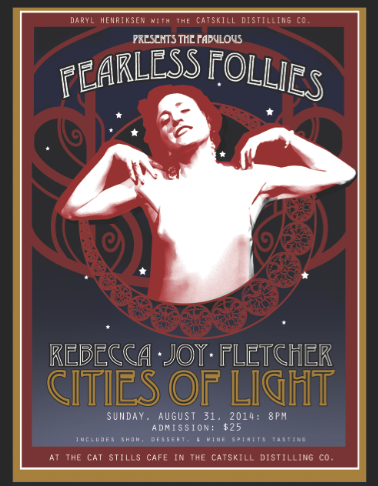 Fearless Follies: Cities of Light cabaret performance. Sunday, August 31, 8 p.m. The new Cat Stills Cafe at the Catskill Distilling Company in Bethel is hosting a 1920s-style dinner cabaret performance featuring vintage songs that were created in cabarets in Berlin, Warsaw, Tel Aviv, and Paris. See the full set list here. The $25 ticket includes the show, dessert, and a tasting of local spirits made on-site at the distillery. Dancing Cat Distillery and Saloon, 2037 Route 17B, Bethel. 845.583.3141.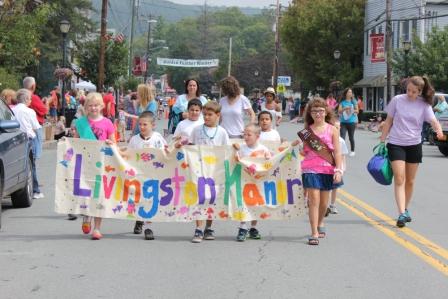 Livingston Manor Labor Day Festival & Parade. Sunday, August 31, 11 a.m. - 4 p.m. "Children, Chocolate & Cheer" is the theme this year. Parade at noon on Main Street. Talent show, vendors, children's games, book sale, prizes, food and fun in Renaissance Park. 845.439.5440.
ULSTER COUNTY
Brooklyn@Belleyare. Saturday, August 30, 6 p.m. The Hold Steady and a slew of other Brooklyn-based bands bring a hipster sensibility to the summer-long Belleayre Music Festival. Belleayre Ski Center, Galli Curci Road, Highmount. Tickets $66/56/46/26. 800.942.6904 ext. 1344. 
Woodstock Museum Film Festival. Screenings Friday, Saturday and Sunday, August 29 - 31. Movies, music, light shows, bonfires, and camping. Films from across the U.S., as well as Italy, Germany, Sweden, Turkey and Taiwan. The Woodstock Museum, 13 Charles Bach Road, Saugerties. 845.246.0600. www.woodstockmuseum.org.