Above: A pile of surplus donated clothing abandoned in a parking lot in Staten Island one week after Hurricane Sandy. Source: NY1's November 5 report, "Staten Island Donation Centers Taking In More Than They Can Give Out."
In the wake of a disaster like Hurricane Sandy, people want to give. But the giving impulse can cause just as much trouble as the disaster itself.
Here in the Catskills, we learned that firsthand in the aftermath of Hurricane Irene last year.
"We ended up with tractor-trailer loads of clothes," said Charles B. Gockel, the executive director of Huntersfield Christian Training Center, which became ground zero for relief and recovery operations for the hard-hit town of Prattsville after Irene.
"People give things that might have been in their closet for four years, or that is from 1948," he said.
"People would give stealth donations," said Ann Epner, the director of the Pine Hill Community Center, which accepted donations for Catskills Irene victims. "I'd come to work every day and there would be bags of clothes and bags of cans."
Epner added that there is pressure on relief volunteers to accept all donations, no matter how inappropriate.
"You don't want to say to people, 'No, I don't want this,'" she said. "But now I would." 
That's because the price for accepting donations is high.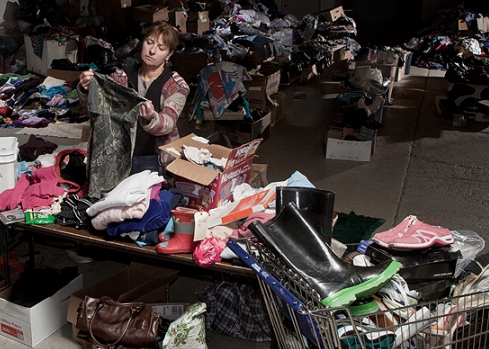 Above: Dorothy Maffei in an Arkville warehouse where she and teams of volunteers sorted and stored tons of clothing donated after Tropical Storm Irene. Photo by Christopher Auger-Dominguez, from our Faces of the Flood project. 
In Margaretville, a Delaware County Catskills village that was inundated during Irene, volunteer organizer Dorothy Maffei spent a year storing, moving, and finally disposing of useless excess donated clothing.
"It was the tsunami after the flood," Maffei said. She added that flood relief funds were spent on dumpsters just to store clothes.
After Irene, Kerry Flood Cubas organized relief drives in Woodstock, and this year she did it again for Sandy relief. On Friday, she will drive a load of goods down to Staten Island with a truck donated by Allways Moving out of Kingston.
But Cubas says that the Woodstock drive, which also had an outpost in Phoenicia, is now closed to donations.
"I was told that within 24 hours, they had received a year's-worth of clothing donations on Staten Island," she said.
NY1 reported yesterday that an enormous pile of excess donated clothing sits in a parking lot on Staten Island, where it will likely be ruined by rain. The story quoted one woman who said that donors have angrily dumped their donations without permission when told that they aren't needed.
It's not just clothing that can be burdensome. All kinds of goods -- clothing, canned goods, paper goods, and tools -- caused trouble for Catskills relief workers during Irene.
"We put on the list that we need flat shovels," Gockel said. "Well, I probably ended up with 300 flat shovels here. We stored most of them."
"People would come in with stuff from their kitchens," Epner said. "It was slightly out of date, slightly weird, just not very useable stuff that had been sitting around. They hadn't used it and nobody else would either."
Buffy Kibe, the director of the nonprofit SHARP Committee in Phoencia, accepted Shandaken-area donations for Cubas's drive this week. One of the donations included food that expired in 2002, she said.
When responding to a disaster, it's important to keep the recipients in mind, Cubas said.
"We have a responsibility to take it beyond our need to give and give what's needed," she said. "It's about giving to match the needs of the recipients."
All of the relief workers who spoke with the Watershed Post said that money, by far, is the best thing to donate.
"Money is wonderful," Kibe said. "Money is probably the best thing because there's less to transport."
WHAT TO GIVE, WHERE:
Donation and relief centers have popped up across the great New York City area and in the Catskills since Hurricane Sandy hit last week. Just as quickly, many have disappeared or have stated that they no longer can accept donations.
The best thing to give is money. We are listing places to give money that have been recommended by trusted Catskills relief organizers, New York and New Jersey officials, or by Watershed Post staffers. 
This list was updated on November 13, 2012: 
The Red Hook Initiative -- http://rhicenter.org/donate/. Coordinating relief efforts in Red Hook, including food and warming centers, medical and legal aid, and more. 
Kerry Flood Cubas's Staten Island Relief Fund  -- Donations are being accepted at TD Bank, 68 Mill Hill Rd., Woodstock, 12498. Notate on the envelope: Hurricane Sandy Staten Island Relief Fund. Write "for deposit only" on the back of the check. Funds will be donated to Where To Turn, a relief group that Cubas says is working on Staten Island. The fund is administered by Cubas.
Andrea Girolamo's Run for the Rockaways -- http://runfortherockaways.chipin.com/run-for-the-rockaways. Watershed Post managing editor Andrea Girolamo is running to raise funds for the St. Francis de Sales Catholic Church in Belle Harbor, NY in the Rockaways, which has become a major staging area for the disaster.
United Methodist Committee on Relief (UMCOR) -- http://www.umcor.org/UMCOR/Give Recommended by Charles Gockel, who says they are on the ground in Staten Island. Gockel says that UMCOR provided extensive aid and funds for Prattsville after Irene.
The Mayor's Fund to Advance New York City -- https://www.nyc.gov/html/fund/html/donate/donate.shtml. NYC Mayor Michael Bloomberg promises that 100% of donations to this nonprofit fund will go to "immediate aid needs" and "longterm relief efforts." 
Hurricane Sandy New Jersey Relief Fund -- https://sandynjrelieffund.org/index.html. A nonprofit relief fund set up by New Jersey Governor Chris Christie and his wife. 
Crisis Response International --  http://criout.com A non-denominational Christian disaster response organization recommended by Charles Gockel, who says that they are involved in Sandy response and have been a committed partner in Prattsville's rebuilding.
OccupySandy -- https://www.wepay.com/donations/occupy-sandy-cleanup-volunteers. An outgrowth of the Occupy Wall Street movement, this coalition has been one of the fastest on-the-ground groups to provide aid in NYC.