Above: Hilt and Stella Kelly at the 2014 Fiddlers! Festival in Roxbury. Photograph by Jill Ribich of Catskill Images. 
Hilton Kelly, the legendary Catskills fiddler and square dance caller, died on Tuesday, March 3 in Mountainside Residential Care Center in Margaretville, according to a friend of the Kelly family. He was 89 years old and is survived by Stella Kelly, his wife and bandmate of 66 years, as well as two children and many grandchildren and great-grandchildren. 
Above: Hilt Kelly playing at the Slow Jam at the Pine Hill Community Center, May 10, 2013. Shot by VeccVideography on Vimeo.
Kelly, the son and grandson of fiddlers and square dance callers who farmed in Delaware County's Redkill Valley, near the hamlet of Fleischmanns, began teaching himself how to fiddle when he was five years old. By age 15, he was leading a band called "The Melody Boys," playing and calling at dances throughout the Catskills on an almost nightly basis, according to a history written by historian Bill Birns in the Catskill Mountain News.
Above: Hilt and Stella Kelly perform on "Hudson Valley Weekly" in the 1990s.
"The reason that he was so highly respected is that he learned his craft within the oral tradition of family and neighbors and played his music with other people who had learned that way," said Virginia Scheer, a folklorist and one of the founders of the Catskills Folk Connection, a virtual folk life center for the Catskills region.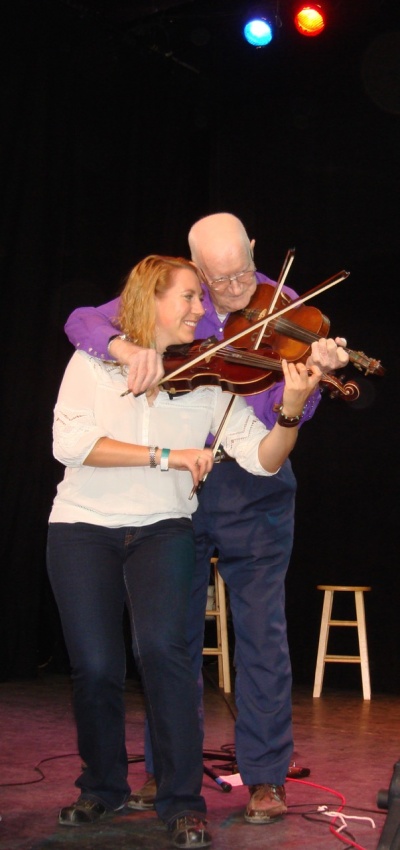 Kelly was steeped in Eastern-style square dancing, which is different from the more well-known Western style of square dancing. The Eastern style involves different steps and conventions and is indigenous to the Catskills, coming out of a tradition of house dances that has now died out, Scheer said.
Left: Hilt Kelly and Sara Milonovich playing each other's fiddles at Fiddlers! 2013. Photo by Maggie Cullen. 
In the 1970s, as Hilt Kelly and his Sidekicks, Kelly helped keep the tradition alive. He began teaching Eastern-style dances, fiddling and calling, leading seminars and classes in schools as well as playing at community gatherings.
"He was very, very good at teaching dances," Scheer said.
"He was the carrier of the tradition of Catskill Mountain fiddling style," said Peg Ellsworth. In 1993, while working at the Roxbury Arts Group, Ellsworth helped found the Fiddlers! festival, a showcase for that tradition, with Kelly headlining. That same year, RAG named its Roxbury gathering space Hilt Kelly Hall.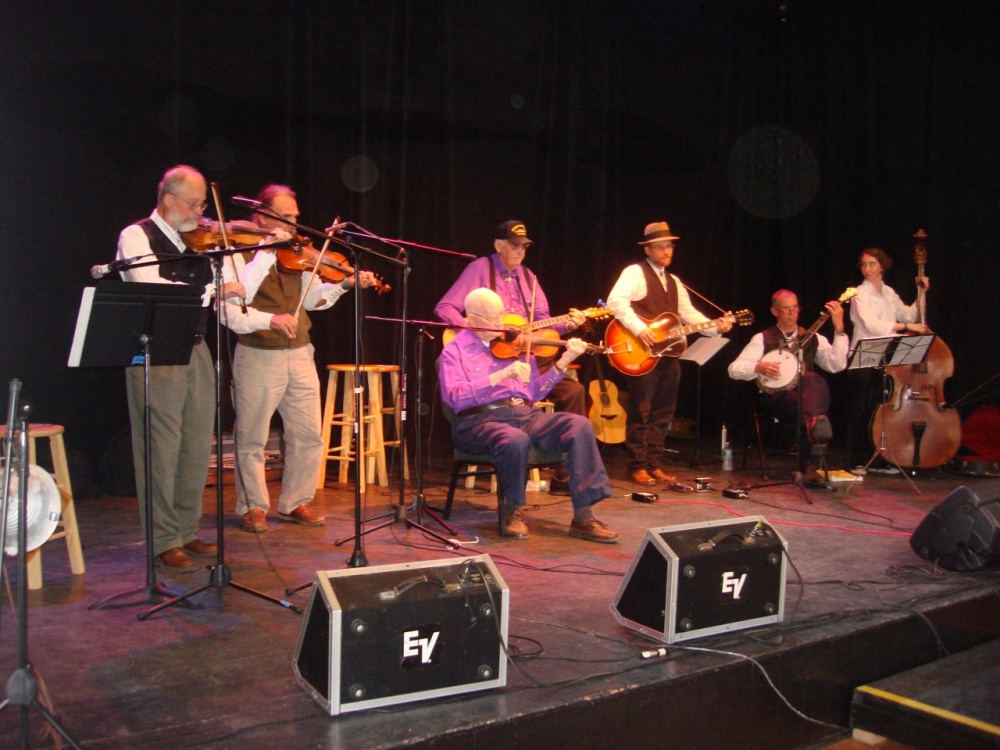 Above: Kelly playing with the Tremperskill Boys at the Fiddlers! festival in 2013. Photo by Maggie Cullen. 
"It was really important to him that the traditions continued," said Casey Mullaney, a young fiddler who met the Kellys at a square dance held at Hartwick College's Pine Lake campus a few years ago. Mullaney began regularly visiting the couple in their home, and she would always bring her fiddle. 
"He'd ask what I was working on, and we'd play some tunes," she said. "He was very, very patient. They had nothing but time. And they were generous with it." 
Do you have memories of Hilt Kelly? Share them with us via Facebook in our comments section below, on our Facebook page or via email at editor@watershedpost.com. We'll add them to our collection below.