Above: The slopes at Belleayre Mountain Ski Center in Highmount on Dec. 16. Photo by Rebecca Andre. 
Snow guns are blazing at all four Catskills ski resorts as unusually warm weather—and a distinct lack of snowfall—puts a damper on the start of the ski season.
This year's December has been unseasonably warm, thanks to a strong El Nino effect.
The weather is upending normal activities during beginning of winter in the Catskills, which started on Tuesday, Dec. 22. Skiers aren't flocking to the mountains as they normally do right after Thanksgiving.
Instead, flocks of geese are floating peacefully on the unfrozen waters of the East Branch. Daffodils are sprouting, golfers are playing on snowless greens and salt piles remain untouched in Delaware County as the Highway Department concentrates on getting ahead of 2016's tree program.
"It's been a bleak beginning to December," said Jesse Tolz, the communications manager for Windham Mountain in Greene County.
All the Catskills ski mountains—Hunter, Windham, Belleayre and Plattekill—fired up their snow guns last Friday, Dec. 18 when temperatures finally dipped to below freezing.
In parts of the western Catskills, a few flirty flakes actually fell from the sky that day. But temperatures warmed up again this week and will stay warm well into next week.
Biking and skiing at the same time
Windham responded to the warm temperatures creatively: It re-opened its mountain bike park even as it made enough snow to open four ski trails. On Saturday, Dec. 20, Windham offered mountain biking, skiing and snow boarding trails simultaneously. That's "unprecedented in the Northeast," Tolz said.
Tolz hopes that the novelty of being able to bike and ski on the mountain at the same time will "keep people excited."
At Hunter Mountain, Vice President of Marketing Gerry Tschinkel said that slow start to ski season "hits home to our hourly employees and local small businesses."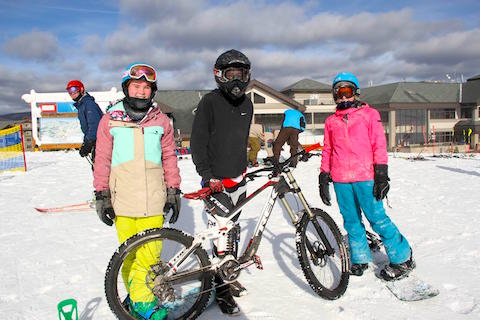 Above: Skiers and mountain bikers shared Windham Mountain over the weekend of Dec. 20 and 21, thanks for snow-making and unusually warm temperatures. Photo via Windham Mountain.
Still, with an arsenal of 1,100 snow guns, Tschinkel said that Hunter Mountain is prepared to "hit the ground running when Mother Nature provides us with the appropriate temperatures," he said. "It's going to look like a mini-blizzard here."
Thanks to a flurry of snow-making during the brief cold spell last weekend, Hunter Mountain already has 12 to 18 inches of snow on several of its trails. The mountain re-opens on Saturday, Dec. 26.
Belleayre Mountain General Manager Tommy Tar was grateful for that small window of cold opportunity to make snow. Up until then, he said, it had been almost "impossible to make snow."
Belleayre has been open on a limited schedule since Dec. 4, and snow guns have blanketed many parts of the mountain with white.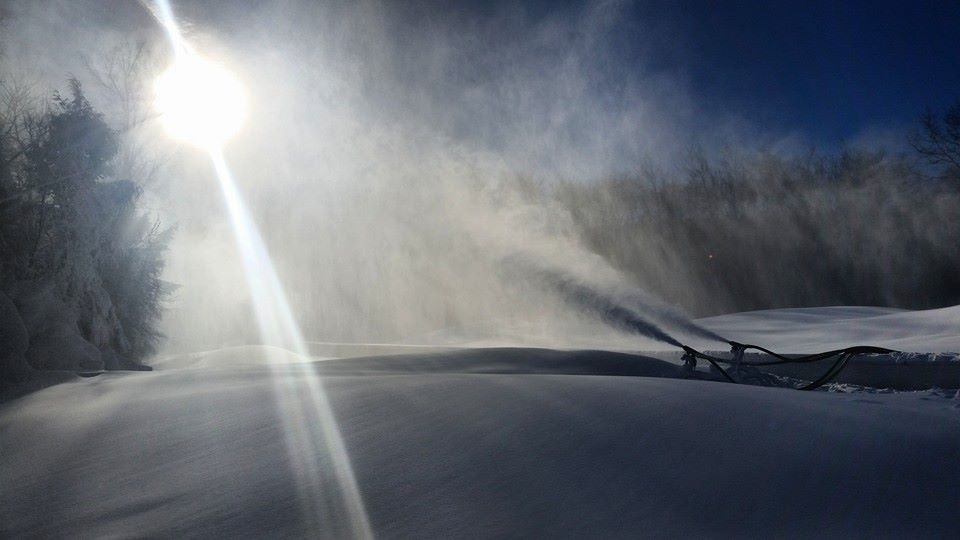 Above: Snow-making at Belleayre Mountain this week. Photo via Belleayre Mountain Ski Center's Facebook page. 
"We are snow farmers"
Plattekill Mountain owner Danielle Vajtay said that 2015 is not the first winter with a slow start. Even last winter had a 55-degree Christmas, she said.
"We are snow farmers," said Vajtay, explaining that new strides in snow-making will help ski mountains survive warm winters.
Snow-making is most important at the beginning of the season, she said. Once a good base of snow is on the trails, she said, the snow will self-insulate, and will last through future warmups.
Plattekill made enough snow on the mountain during the weekend's cold temperatures to create skiing and snow conditions for Plattekill's official opening on Dec. 26.
Vajtay said that the learning center on the lower mountain will be covered in blasted snow perfect, as will the snow tubing park, both of which will be open on Saturday, Dec. 26 and Sunday, Dec. 28.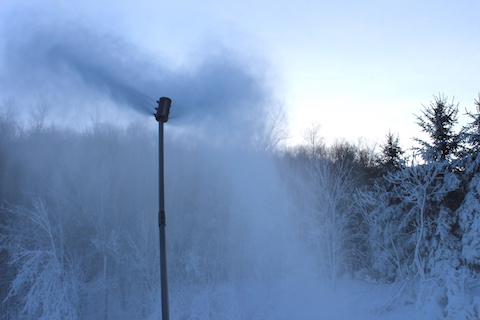 Above: Making snow at Plattekill. Photo by Rebecca Andre. 
"It's awesome for the town budget"
Not everyone is moaning about the warm temperatures. John Biruk, the superintendent of highways for the town of Middletown in Delaware County, has appreciated them.
"It's great that we have not been out plowing," Biruk said. He has seen some years where plowing starts on Thanksgiving. This year, he said, he didn't have to "put down the turkey fork and go plow."
Biruk is also thrilled to be able to trim trees and catch up on roadwork during the extra warm days. He said that this winter is the first time since the winter of 1977 that the kids haven't been able to ride a snowmobile on Christmas.
"But it's awesome for the town budget," he said.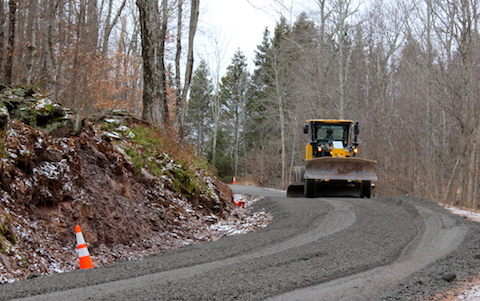 Above: Catskills highway departments took advantage of the warm weather. Photo by Rebecca Andre. 
Fuel oil and lodging holding steady—for now
The warm weather may not be so awesome for regional lodging businesses.
According to Tolz at Windham Mountain, Windham's bed and breakfasts and inns are experiencing cancellations.
But Jason Frome, the owner of Pine Hill Lodging, a vacation rental company that serves Delaware and Ulster counties, said that his bookings are actually up this year.
"We have more bookings this year for the month of December than for the same period last year," he said. "Vacation rentals tend to book in far in advance of their arrival dates and these renters know that it's a gamble."
Most of those renters are skiers, Frome said. (He said that 90 percent of rentals go to skiers this time of year.) But so far this month, only one family has postponed its stay by two days due to lack of snow, he said.
Edith Cooper, who owns Gary's Fuel Company, a small oil company based in Roxbury, said that business is brisk despite the warm weather.
"We are still experiencing a busy time of year," she said. She attributed that to being a small fuel company that did not lock in the price per gallon, so that customers are taking advantage of low fuel prices. Oil prices are at their lowest rates in years. 
Still, Cooper and her husband are gearing up for January and February, which forecasters predict will be cold. 
"It's just the two of us, and it's going to be [hectic]," Cooper said.
As long as temperatures dip in January, the Catskills economy will be able to take the no-snow December in stride, Tolz said.
"We're staying optimistic," he said.
For detailed forecasts for this holiday week, go to hudsonvalleyweather.com.