Above: Abbie Gardner. Contributed photo. 
The housekeeping staff is pounding on Abbie Gardner's door.
"I was recording last night in Nashville," said the acclaimed singer-songwriter and master of the Dobro-style resonator guitar, laughing into her phone at the Knoxville Red Roof Inn. "I asked for a late checkout, but they didn't get the message. They never do."
Gardner, a founding member of renowned Americana trio Red Molly, is on the road, working her way north to play an intimate show presented by Flying Cat Music at the Empire State Railway Museum in Phoenicia on Saturday, April 9 at 7:30 p.m. She'll be stopping off in Jersey City, New Jersey, to pick up her husband, ace upright bassist Craig Akin (of the band Roosevelt Dime) at their recently purchased 1880-era home.
"He's knocked down another wall," she said. "He can only do that stuff when I'm not home." Again, there's a smile in her voice. "He's my favorite bass player. I never know exactly what's gonna happen when we play together."
Home ownership, recording sessions and solo shows are filling up Gardner's new life away from Red Molly, but only enough to keep her busy as opposed to swamped. After Red Molly's very successful but exhausting 11-year run of touring the world, during which the trio released six CDs (and their own Cabernet Sauvignon!), the band went on indefinite hiatus in September of 2015.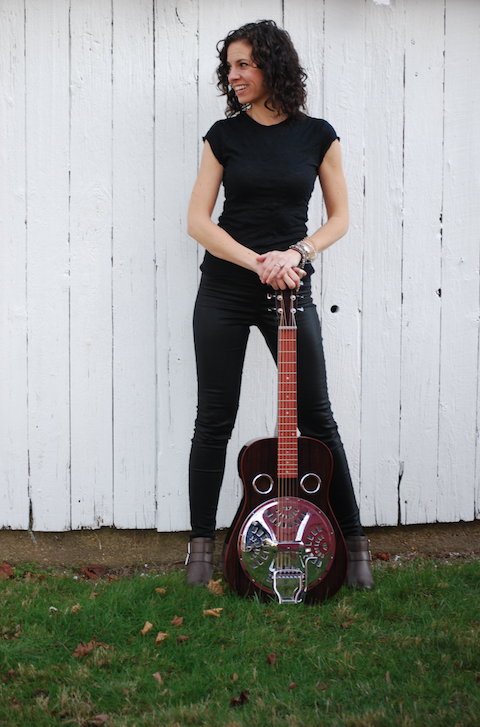 "It's hard to sustain that level of energy, playing that many shows, doing the same thing," Gardner said. "But being solo is really fun. Every show is different."
And being solo is not so alien to Gardner. Before and during Red Molly, she played constantly, with other groups and in various side projects, on an array of instruments in various styles. When she was a child, her father, pro jazz and stride pianist and Dixieland trombonist Herb Gardner, encouraged classical flute lessons and served as accompanist on her first solo recording, "My Craziest Dream" (2004), an album of jazz standards on which Abbie mostly sang.
At the time of our conversation, Gardner spoke of an upcoming jazz and swing dance gig with her dad in Hastings-on-Hudson. Beyond that, she's booked through the autumn of 2016, touring the Northeast, recording and teaching at SummerSongs songwriting camp in Stony Point, NY. (Gardner is an award-winning songwriter.)
Gardner is particularly excited about returning to Phoenicia's Empire State Railway Museum, in part because last time she played her schedule was so packed that she retains only scant memories of the gig. This week, she wants to remedy that.
Her first time in the acoustically perfect 19th-century train station was in the mid-'aughts with folk band Hope Machine. Considering the miles she's logged between then and now, her lack of recollection is hardly surprising.
Between gigs, Gardner is picking up her songwriter pen again, creating new material for a follow-up to her 2011 solo CD "Hope." While she's stockpiled dozens of original songs, she feels she hasn't yet assembled the right combo of tunes for an album. But she's confident that her current schedule will make this process easier, and yes, she'll be playing some brand new selections in Phoenicia, perhaps even soaking up some Catskills inspiration for her next release.
"I've heard the wood resonates music like no other place on earth," she said of the Empire State Railway Museum. With the right music, it certainly does. And this is the right music.
Flying Cat Music Presents Abbie Gardner. Saturday, April 9, 7:30 p.m. Empire State Railway Museum, 70 Lower High St., Phoenicia. 845-688-9453. flyingcatmusic.com. abbiegardner.com.