Above: Peggy O'Connell appeared on the back cover of "Oceans between Us," a 1978 album by the Allen Harris Band, released by Tappan Zee Records/Columbia Records. Standing left to right are: Kim Wroble (bass) Mike Kimmel (guitar/vocals), Peggy O'Connell (in the middle, in background), Mandy Rosenblatt and far right standing Allen Harris (guitar/vocals). Sitting left to right: Larry Smith (piano/sax), Robert Rosenblatt (aka Blatts) (congas), Christine Cordone (guitar/vocals) and Rob Leon (lead guitar). Photo courtesy of Christine Cordone.
Margaret "Peggy" Grant O'Connell, the owner of the Pine Hill Tavern who was a patron of the 1970s Catskills music scene and a mother to many, died on Thursday, May 12 at HealthAlliance Hospital in Kingston after losing an 11-month battle with breast cancer. She was 82 years old. A celebration of her life is planned for Monday, June 6.
A lover of music, books and her dog Zorro, whose ashes will be buried alongside her, O'Connell dispensed motherly love and presided over a booming local music scene from behind the bar at the Pine Hill Tavern (now Zephyr Restaurant) in the Ulster County hamlet of Pine Hill from 1976 to 1982.
"We used to call her Mother Teresa," said her son, James Michael O'Connell, with whom Peggy lived with in the hamlet of Olivebridge for the last five years of her life.
"Mom was a people person," he said. "She liked everybody; she never had a bad word to say about anyone."
During the 1970s, in the wake of the 1969 Woodstock Festival, bands performing original tunes flocked to the Catskills, looking for nurturing venues to host them as they honed their skills.
The Pine Hill Tavern, located on the westernmost edge of Ulster County just off Route 28, was often their last stop.
Often known just as "Peggy's Place," the tavern was not just a bar—it was a home away from home for traveling musicians and others in need.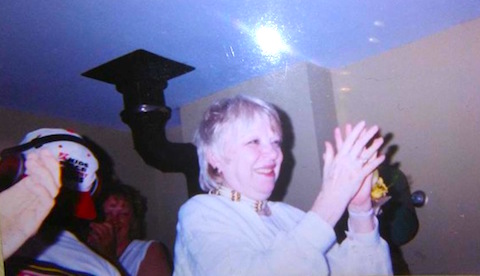 Above: Peggy O'Connell. Photo courtesy of the O'Connell family via the Pine Hill Tavern Facebook group. 
"Peggy was the grand dame and earth mother not only to her six biological children, but to possibly several dozen other people," said musician and friend Christine Cordone. "Her tavern had many rooms above the bar and she provided long term shelter, or even just weekend getaways, to her friends or kids' friends from the city."
Cordone sang with the Allen Harris Band, was a seven-piece group signed to Columbia Records that considered the Pine Hill Tavern both a place to play and a place to stay. When they weren't writing or playing music, the band members would help O'Connell plan meals, or be happy to just hang with her, Cordone said.
"Peggy made sure that everyone had a place to stay and enough to eat when they were in her presence," said Cordone.
"We all had love for her," wrote one of O'Connell's longtime friends, George Bergmann, in a post about O'Connell in the Pine Hill Tavern's Facebook group. 
Michael Smith, a family friend of 40 years, recalled the ready smiles and hugs O'Connell had for everyone. "She was the mother of Pine Hill," he wrote.
"She said yes to anybody who needed anything," said Ben Fenton, the owner of River Run Bed and Breakfast in the Delaware County village of Fleischmanns. "She established a whole circle of friends and musicians that just does not exist anymore."
Every weekend, the tavern was packed with music and musicians. Bands of O'Connell's heyday included Tom Pacheco and the Hellhounds, with Gary Burke (drums), Shanyne Fountaine (guitar) and Bob Boardman (sax). The John Pagano Band from New York City would play, as would Home Cookin', Buswell, the Kryptonites and the infamous The Pine Hill Billies, which included lead singer and writer Darryl Little (who was also the bartender and manager at the Tavern), Tim Bergman, Larry Smith and Christine Cordone.
"The bar was packed every night," said Michael O'Connell.
From Pennsylvania to Pine Hill
Never having a driver's license did not stop Margaret Ann O'Connell from finding her way to the Catskills from Clearfield, Pennsylvania, where she was born on December 22, 1933 to James and Electa Cochran Grant. O'Connell had a brother that she never met, Thomas Grant, who died when he was six months old, three years before Peggy was born. She was the older half sister to Sally Grant.
O'Connell lost her mother when she was only eight years old. Afterwards, she moved to Brooklyn to be raised by her aunt and uncle, Helen and Dick Grant. After graduating from St. Angela Hall Academy, she started nursing school at Brooklyn Hospital.
But then O'Connell met a handsome lifeguard at Coney Island, and school took a back seat to romance. Instead, she married Ladislaus Patrick O'Connell on January 10, 1954 and went on to have six children: Thomas, Ricky, Michael, Sean, Elizabeth and Timothy.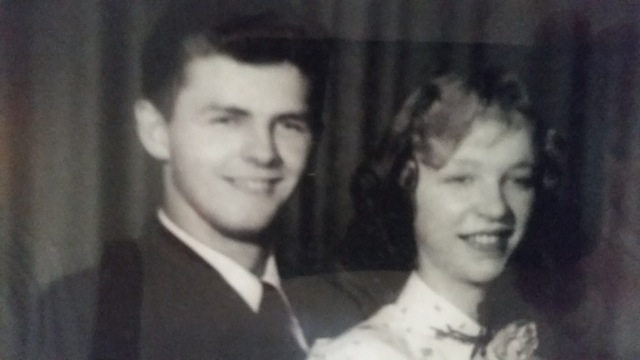 Above: Young L. Patrick and Peggy O'Connell. Photo courtesy of the O'Connell family via the Pine Hill Tavern Facebook group. 
O'Connell worked as a pre-kindergarten assistant teacher while living in Brooklyn. Her husband would travel upstate to hunt, and, starting in 1969, the family began to summer in the Catskills, filling up a van with kids and their friends.
Like so many transplants to the Catskills, O'Connell felt the pull to reside in the mountains full time. In 1972, she moved to the Pine Hill area permanently with her children. Her first job was at a clothing factory in the old Pine Hill School House. Then she worked at Pine Hill Arms before taking over the Pine Hill Tavern.
In 1982, when the tavern changed hands and the bar closed, O'Connell continued bartending at other local establishments, her love of people never diminishing. Most recently, she served as a docent at the Shandaken Museum in Pine Hill.
Five years ago, O'Connell left her house in the Delaware County village of Fleischmanns, where she had resided for 10 years, to live with her son Michael. But advancing age did not keep her down. She adored cats, her dog Zorro, going to the library and the solitude of her later years. She absolutely loved to read, seeing books as friends. In 2004, she traveled to Scotland for two weeks, a lifetime dream.
O'Connell was also a writer. According to her son Michael, her other lifelong dream was to write a novel.
"Over the years, Mom probably started 100 novels," he said. None of them were ever finished.
"Peggy got me interested in many authors I had not had the pleasure of reading," said her friend Christine Cordone. "Peg loved to lunch in Woodstock and visit the Mirabai book store. We came home with armfuls of Celtic lore and metaphysical books. She would love to debate politics. She was aware of the big political picture and loved to share her take on current events."
Plans to be buried with ashes of one of her "adopted" children
O'Connell was known for taking the broken and abandoned­, whether two or four-legged, under her protective wing.
While raising her own six children, she was granted custody of two teenagers who had been kicked out of Brooklyn schools. O'Connell's solution was to bring them to the mountains and get them to finish their education upstate.
One of these teens was Danny Braccio, best friend to O'Connell's son Michael, who would have been 59 years old this year. Braccio was tragically killed in a car accident when he was in his twenties, and, a year later, the ashes landed in O'Connell's possession. She kept them through the decades. Now, over 30 years later, plans are underway for Danny's ashes to be buried alongside O'Connell and her dog beloved dog Zorro.
A memorial mass for O'Connell will be held at 5:30 p.m. on Monday, June 6 at St. Francis De Sales Church, 109 Main St., Phoenicia. Afterwards there will be a celebration of O'Connell's life at the community hall across from St. Francis where light refreshments will be served. Later that evening, the celebration will continue at Zephyr Restaurant, formerly O'Connell's own Pine Hill Tavern, where friends and family can share memories and local musicians are invited to play in O'Connell's honor. More details on "A Celebration of Life - Peggy O'Connell" on Facebook.