It was sometime in the late 1980s when one of Martin Millman's longtime customers called to say that he was on his way to the Phoenicia Pharmacy to pick up his EpiPen prescription.
The man had just gotten stung by a bee, and every second counted.
"The next thing we knew, a fire siren went off, and across the scanner the voice said that a driver on Route 214 just crashed his car into a telephone pole and was unresponsive," said Georganna Millman.
"Marty looked at me and said, 'Oh, my God. That's so-and-so,' and he took the EpiPen and got into his car and headed toward Hunter Mountain."
"When he came onto the scene of the accident, the telephone pole had been knocked down. Marty walked over the wires and handed the EpiPen to the man's wife. He was in anaphylactic shock, and immediately, he opened his eyes and started to breathe again."
"That was my husband," Georganna said.
Marty Millman, the compassionate, old-fashioned pharmacist who knew everyone by name, left his mark on the Ulster County hamlet of Phoenicia where he and his wife operated the pharmacy at 41 Main St. for 35 years.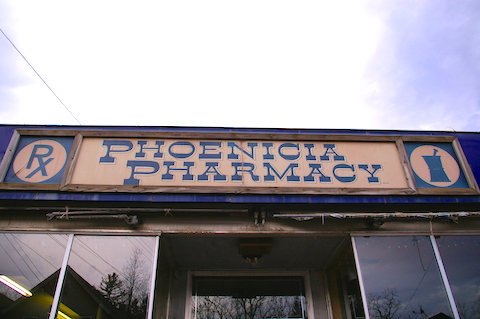 Above: The Phoenicia Pharmacy. Photo by Julia Reischel. 
The 78-year-old died of complications from peripheral artery disease on July 25 at the HealthAlliance Hospital Broadway Campus, his wife said.
"I'm keeping myself really busy," Georganna said this week by phone. "It is the only way I manage to keep it together."
Millman plans to keep the pharmacy open and said that it is her way of honoring her well-loved husband, known as much for his community service as his ability to dispense medications.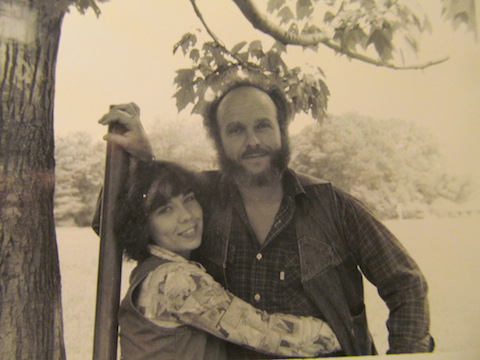 Above: Marty Millman in a family photo. Contributed by Georganna Millman.
Brooklyn to Phoenicia
Millman wore many hats. He served for 10 years on the Shandaken Town Board in the 1980s and on the Onteora School Board in the 1990s.
The Brooklyn-born businessman loved his adopted Catskills home and often stepped out of his pharmacological role to encourage his customers to reach for their dreams, Georganna said.
"He was always telling the youth in our community to get a good education, study hard, and be kind to one another, and he also was known to encourage women to pursue their dreams," she said. "If a woman came in and said, 'I'm thinking of taking this class,' he would tell them to go for it, and if they didn't have the money, he would help them out."
Over the years, Millman's acts of generosity and "selflessness" became legendary, his wife said.
"If somebody would call us in the middle of the night with an emergency, they knew Marty would pick up the phone and go to the pharmacy and meet them there, especially if it was a sick child," she said. "He'd make the 12-mile drive and open up the store and give them what they needed."
Millman and his wife bought the Phoenicia Pharmacy from the Gordon brothers in 1980. The couple eventually settled in Big Indian and raised a family.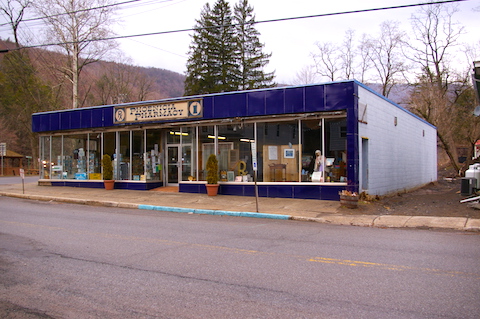 Above: The Phoenicia Pharmacy. Photo by Julia Reischel.
Millman was a 1958 graduate of Columbia University's College of Pharmaceutical Sciences. He met Georganna at a Staten Island drug store where he was employed earlier in his career.
"I was working my way through college in 1973, taking care of elderly people, and I kept going into this pharmacy to pick up prescriptions for them," she said.
Georganna, a Catskills native, said that while she attended college in the city, her heart remained in the country, and it didn't take her long to convince Millman to leave the urban setting behind.
He ended up embracing life in the Catskills, she said, and enjoyed mingling with the townsfolk as well as the visitors flocking to Phoenicia in the summertime.
"He loved seeing them come up here and being around people. It wasn't a mob to him. It was who he was," she said.
A man of many passions
The amicable Phoenicia entrepreneur also happened to be a man of many passions, according to his wife.
In addition to long summer vacations in Maine and walks along the shore, Millman appreciated good poetry and even inspired Georganna to get a secondary degree in writing—one of her long-held aspirations.
"Marty was always behind me 110 percent," she said. "He kept encouraging me to go back to school and get published. I would never had done if it weren't for my husband."
Georganna earned her master's degree from Vermont College of Fine Arts in Montpelier two years ago and is a published poet. 
She said that much of her work has been written for or about her husband.
"He's been the inspiration for a lot of my writing," she said. "He changed my life in every way. I worked beside this man all my life, and he made me a better person for it."
A pilot who survived a plane crash
Millman also loved to fly, and as a private pilot he often took trips to New York City and Martha's Vineyard.
That leisurely pursuit turned tragic in the fall of 1986 when Millman had a near-death experience.
While he was attempting to land his single-engine Cessna 172 at the Kingston-Ulster Airport, another pilot from Ulster County was taking off and collided in mid-air with Millman's aircraft. The other man died in the crash, but Millman and two passengers escaped injury, though he was terribly shaken by the event, Georganna said.
"Naturally, there was damage to the airplane," she said. "A wing tip had been cut off and the propeller of the other plane dug into the floor of Marty's plane, but it managed to stay together for as long as it took him to land."
Georganna speaks tenderly when she recalls some of her husband's heroics and how incidents like the plane crash shaped him into a man who valued life and the people around him.
Pharmacy to stay open
That's largely what has energized her over the past few days. Georganna is taking care of business and keeping her husband's memory alive by serving customers at the pharmacy.
Above: Looking in the window of the Phoenicia Pharmacy. Photo by Julia Reischel. 
In fact, she has no intention of closing it. The pair had often discussed it in the days leading up to his death, she said.
For customers walking into the drug store these days, it's Josette Muellerleile, Millman's longtime co-pharmacist, filling their prescriptions,.
"She started working for us 21 years ago as a high school student," Georganna said. "Marty had a great influence on her life. It was her dream to work at a little community pharmacy, so he took her to all these pharmacy schools to show her the different programs. Here was this little Phoenicia girl going off to achieve her dream. That was just Marty."