Above: A black bear in the Catskills. Photo by Rebecca Andre.
Spring in the Catskills is a breathtaking season of roaring waterfalls, eagles taking flight and pastures covered in blooming wildflowers—and, thanks to our resident black bear population, of overturned trash cans, destroyed bird feeders and dented vehicles.
In May, Region 4 of the New York State Department of Environmental Conservation, which covers a portion of the Catskills, received dozens of complaints about bears, according to Joshua Choquette, a DEC wildlife technician. By May 23, the agency had received 54 complaints about bears from its nine counties, Choquette said.
The majority of the complaints the DEC receives each year are calls from homeowners reporting that their trash or bird feeder is being feasted upon by a local black bear, according to Choquette.
But about 20 percent of the calls each year are of a more serious nature, with a bear causing damage to vehicles, property or agriculture, he said.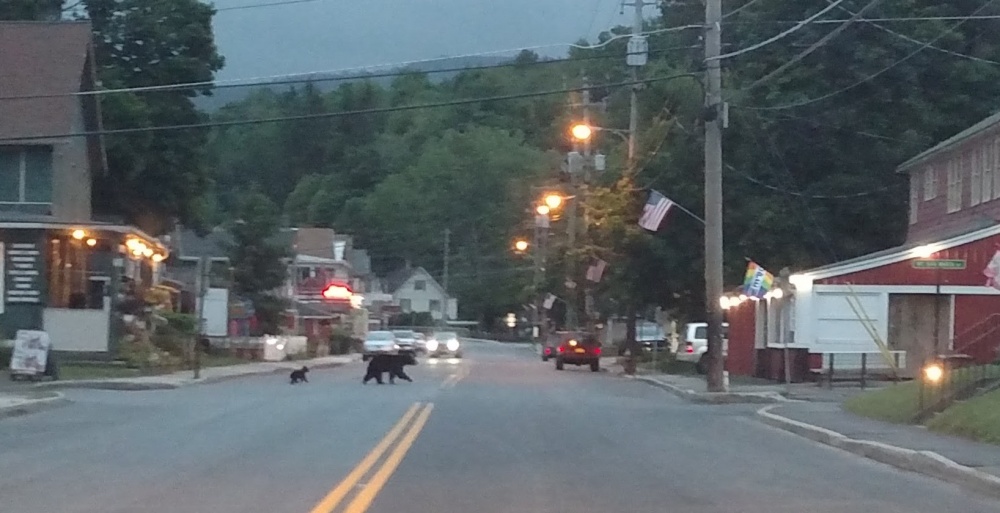 Above: A black bear and a cub stop traffic in the Ulster County hamlet of Phoenicia around 8:30 p.m. on Wednesday, June 8. Photo by Burr Hubbell.
A bear's search for food
Warmer temperatures in the spring bring the black bears emerging hungry from their dens. Choquette said. Immediately, they begin searching for food, which is still scarce at this time of year.
"Their whole behavior is driven by food," said Choquette.
In an April 22 press release, the DEC issued tips for how bears and humans come into conflict.
"Bears can obtain all of the food they need from the forest, but they are intelligent and opportunistic animals that will find and consume whatever food they can find most easily," the statement read. "Bird feeders, garbage cans,dumpsters, barbecue grills, unsecured out-buildings or vehicles containing food or waste are all potential attractants to bears. Once a bear learns to obtain food from people or certain structures, it is very difficult to change the animal's behavior. These bears are more vulnerable to motor vehicle collisions in populated areas, more likely to be illegally killed, or may become a threat to public safety."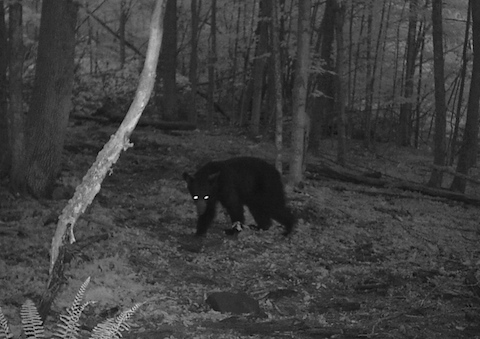 Above: A young black bear caught on a trail cam in Halcottsville in June 2015. Photo courtesy of Rebecca Andre.
The DEC encourages homeowners to call their regional wildlife conservation office if a foraging bear causes any damage to property. In the Catskills, call the Schenectady office at 518-357-2450, the Stamford office at 607-652-7369 or the New Paltz office at 845-256-3000. The location and date of nuisance bear reports are all kept on record, and afford the agency an accurate assessment regarding wildlife activity in a particular area.
Greene and Delaware counties, especially the area in and around the town of Middletown in Delaware County, are known for a higher density of black bears, according to Choquette.
Just ask the Ingraham family. They live on Route 30 between the town of Roxbury and the hamlet of Halcottsville in Delaware County, and in May they had already had four encounters with a "brave bear that's not tiny," according to Lillian Ingraham.
The bear has left paw prints on the side of their house and has ripped a shed door off a neighbor's house, Ingraham said.
The family reported the bear's visits to the DEC, and was issued non-lethal rubber buckshot bullets by an environmental conservation officer, who instructed the family to shoot at the bear's backside (not its face) if it returns.
They were told that the rubber buckshot is not intended to cause permanent damage, but to condition the bear to associate pain with a certain location, Ingraham said. Although the family's trash is secured, the bear continues to return, she said.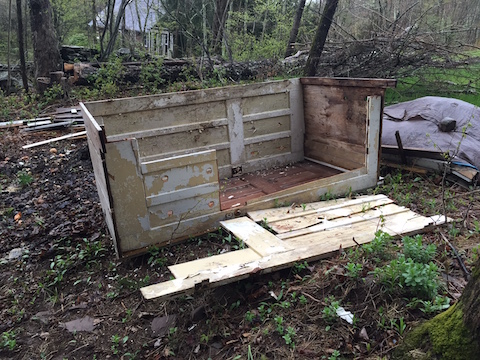 Above: Bear damage to a compost bin outside the village of Margaretville. Photo courtesy of Phyllis Whitehouse.
Stay safe in bear country
According to statistics gathered by the DEC, there are between 6,000 to 7,000 black bears in New York state. A female adult bear weighs 170 pounds, and a male adult bear can weigh up to 300 pounds.
Humans can safety co-exist with bears in the Catskills if they follow a few simple rules, according to Larry Bifaro, the DEC's Region 4 wildlife biologist. He said that he handles 80 percent of his bear conflict calls with some "simple advice:"
Do not feed bears. It is a dangerous and illegal activity anywhere in the state of New York, and the DEC requests to be alerted should anyone witness a person feeding a bear.
Remove bird feeders after April 1, even those up high, as fallen birdseed will tempt a bear.
Clean grills, and their grease traps, after use. Store them inside if possible.
Store your garbage securely in a locked building or in lidded cans with ropes and chains. Dispose of trash as frequently as possible. Clean garbage cans with ammonia products, and put cans out the morning of, not the night before, collection. Bears will forage on whatever they find, including life-threatening materials like soap, shaving cream and plastics.
Do not burn garbage, which is illegal and can attract bears.
Do not add meat scraps, bones or melon rinds to your compost.
Do not operate refrigerators or freezers outdoors.
Feed pets indoors and store pet food indoors as well.
Do not leave food, trash or wrappers in a parked vehicle.
Consider using electric fencing around vegetable gardens.
Learn more about New York's black bears on the DEC's website. For more information about bears in your area or to report a problem with black bears, contact the nearest regional DEC office. Region 4 numbers: Schenectady office, 518-357-2450. Stamford office, 607-652-7369. Region 3 numbers: New Paltz office, 845-256-3000.