Sunrise this morning -- Friday, May 22 -- marked the beginning of the boating season on four of New York City's upstate reservoirs in the Catskills: the Cannonsville, the Neversink, the Schoharie and the Pepacton. Boating on the reservoirs is allowed during daylight hours from Friday, May 22 to Monday, Oct. 12.
2015 is the fourth year that non-motorized boats have been allowed to ply the waters of the city's protected drinking supply, and there are a few new additions to the program in 2015. 
According to a press release from the New York City Department of Environmental Protection, there are now racks at some popular boat launch sites that allow avid kayakers, sailors and paddlers to store their crafts near the water all summer long.
Also, boat rental companies are allowed to rent boats on the banks of the Cannonsville Reservoir for the first time as well, which means that all four reservoirs have rental businesses right on the water. 
2014 saw the largest number of boaters on the reservoirs since the program began, with 1,182 boaters on the water. This year will hopefully see more.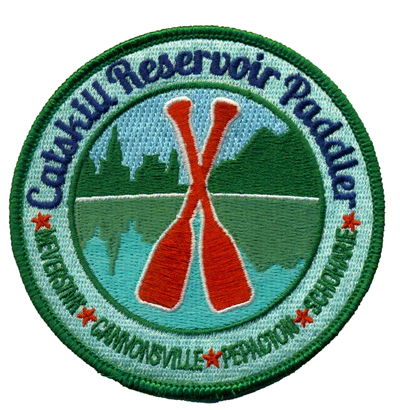 For the second year in a row, the Catskill Watershed Corporation is offering a Catskill Reservoir Paddler Patch (left) to anyone who paddles or sales any of the reservoirs in 2015. Here's how to get one:
To receive the patch, paddle or sail any of the four reservoirs at any time this season, and provide proof of your outing. Proof can be in the form of a date-stamped photo from your boat looking back at the launch site; a photo of your DEP access permit; or a photo of your boat rental/steam-cleaning receipt. Email your proof, along with an address where the badge should be mailed, to Diane Galusha of the Catskill Watershed Corporation at galusha@cwconline.org. The promotion offers one patch per paddler, per season.
To get on the water yourself, check out our Five-Step Guide to Boating the Reservoirs, a version of which is published in our 2015 Catskills Outdoor Guide, which hits the streets this holiday weekend.
Happy boating!