Over six inches of rain have fallen in the past day in the high peaks region of the Catskills, causing minor flooding in streams in Greene and Ulster counties on Wednesday, Sept. 30. 
Schools in the Greene County town of Catskill closed early today, and flooding closed roads in Saugerties and in other locations in Ulster County, including Wittenberg Road in the town of Woodstock near Shultis Farm Road (see above). The Esopus Creek in Mount Marion crested at 21 feet around 1 p.m., a foot below the level where it begins flooding homes, according to measurements from its stream gauge.
Above: High water in the Plattekill Creek in Saugerties. Video by Brian Hubert of the Daily Freeman. 
Minor flooding occurred in many locations throughout the Greene County town of Hunter, which got the most rainfall--about six inches--today, according to John Farrell, the town of Hunter's highway superintendent.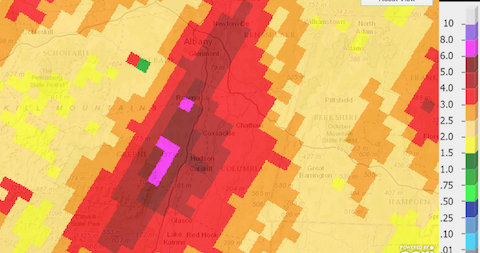 Above: A map of inches of rain that fell in the Catskills in the past 24 hours, from the National Weather Service. The most rain--more than six inches--fell in Greene County. 
"We had a couple very localized flooding incidents due to debris in the streambeds all over the mountaintop," Farrell said. "A lot of the tributaries. We got a lot of rain up there."
Hunter's highway team managed to clear debris fast enough to avoid closing any roads in the town, Farrell said. The flooding peaked in the town around 11 a.m.
Rainfall in other locations around the region was less severe, and other locations in the Catskills that are normally prone to flooding have escaped problems so far.
In Prattsville, which was flooded by Tropical Storm Irene in 2011, the Schoharie Creek is high, but the water is not overflowing its banks, according to an official in Prattsville's town hall. 
The Ulster County hamlet of Phoenicia, which was also walloped by flooding in 2011, is also fine.
"There are no fish coming down Main Street today," said Joyce Grant, the town clerk of Shandaken. "So far, so good."
In Margaretville, where Main Street was inundated in 2011, the East Branch has remained within its banks. 
But we're aren't out of the woods yet. Hurricane Joaquin is likely to bring rainfall to the northeast United States later this week and this weekend, which could cause more rainfall and more flooding as the ground saturates, according Hudson Valley Weather. 
The Catskills region has been very dry recently, according to the Daily Freeman, so the region can handle quite a bit of rainfall without flooding, meteorologists say:
Ian Lee of the National Weather Service said the deluge usually would have been enough to cause major flooding, but "because it's been so abnormally dry going into this, we could take several inches of rain."
Farrell, the town of Hunter's highway superintendent, said that the ground in Greene County could take quite a bit of rain at one time.
"Right now we could probably handle eight inches of rain without a lot of trouble," Farrell said. His department will be on alert this weekend as more rains come, and will prepare by taking debris out of streams.
"Hopefully the big one misses us," he said.