Bear hunters in New York's Southern Zone killed a record 1,110 bears in 2014, according to harvest figures that the New York State Department of Environmental Conservation released on Monday, April 13. That's 12 percent more than the previous record of 983 bears taken in the Southern Zone in 2011.
The record harvest is likely due to a new early bear hunting season that ran from Sept. 6 to Sept. 21 in portions of the Catskills and the western Hudson Valley, DEC officials say.
Catskills hunters in in Delaware, Greene, Schoharie, Sullivan and Ulster counties killed 893 bears in 2014, according to an analysis of the DEC's hunt data by the Watershed Post. In the Catskills, hunters killed 294 bears during the new early season and 599 during the bow hunting, muzzleloading and regular seasons, which occur later in the fall.
The Catskills towns with the highest bear harvests are Hancock, with 34 bears killed; Wawarsing, with 32; Tusten, with 31; Rochester, with 27; and Mamakating, with 24.
Catskills bears also were among the largest killed in last year's hunt. Six of the 10 heaviest bears caught in 2014 were killed in the Catskills, with a 613-pound male bear that was killed during the early season in the Greene County town of Jewett clocking in as the year's number two ursine heavyweight. (Number one was a 646-pounder in Hamilton County.)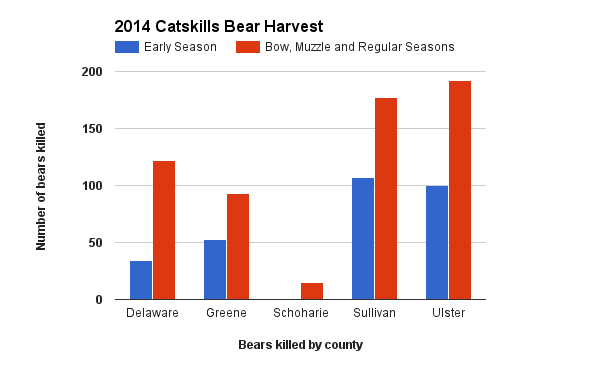 Above: The 2014 bear harvest in the Catskills. Analysis of DEC data by the Watershed Post. 
Hunters killed 1,628 bears across the state in 2014, which is not a record. In 2003, hunters killed 1,863 bears statewide.
DEC officials declared the early season, which was designed to reduce the booming bear population, a success. In the Southern Zone, where the Catskills are located, 337 bears were killed during the 16-day early season. 
"With bear hunting areas expanded throughout upstate New York and a special early bear season in portions of the Catskills and western Hudson Valley, hunters had unprecedented opportunity to pursue black bears this year," said DEC Commissioner Joe Martens in a press release. "These were intentional management actions designed to limit bear population growth broadly and reduce the population in southeastern New York. We are pleased that hunters took advantage of the opportunities."
The reasoning behind the DEC's decision to lengthen bear hunting season was explained in our January article, "New early bear hunting season may have led to record kill numbers," by Laney Salisbury. 
Above: 2014 Black Bear Harvest Density. Source: The DEC's 2014 Bear Harvest Report.