Above: At Handsome Hollow in Long Eddy, couples can say their vows in a fern-strewn clearing in the woods on the 93-acre property. Photo by JBM Photography.
Catskills weddings – especially those with an outdoorsy twist – are on the rise.
Getting hitched in hills is a booming business. Thanks to the wedding industry, there has been a recent uptick in tourism spending in the Catskills.
"We've noticed over the last couple years that there's been quite an increase in country weddings in the area," said Rick Remsnyder, Ulster County's tourism director.
"It's a good location and the price is right. We're 90 minutes from midtown Manhattan and the price is more affordable than the metro area."
Cathy Ballone, a wedding planner in Greene County, owes her career to the increase in outdoor upstate weddings.
"I see a definite boom," said Ballone, who runs Cathy's Elegant Events out of the old Catskill Game Farm in Catskill, which she and her husband recently bought.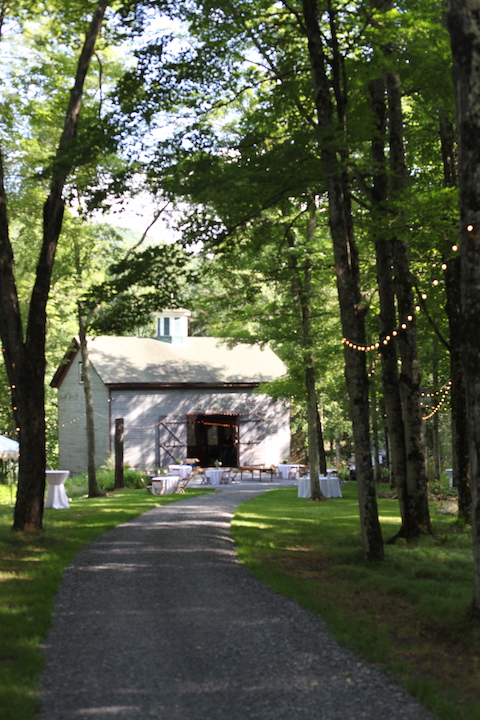 Above: The Roxbury Barn. 
Half the weddings she plans are on private property, and the rest are at venues such as the Roxbury Barn in Roxbury and the Farm at Pond Lily, in Gallatin, across the Hudson River.
"Last year we did six to seven weddings," she said. "This year, I already have 16. My business has more than doubled in one season."
Booked through 2016
Hair stylist Candace Rudd of Twisted Sister Salon in Roxbury can attest to the uptick of nuptials in nature.
"I started doing hair out of my home eight years ago and did two or three weddings a year," Rudd said. "Now I do more than twenty."
Business is so good, Rudd doesn't need to advertise. She gets most of her business through referrals.
Most of Rudd's brides are getting married in barns. But those barns are getting fancier, Rudd has noticed.
"The first weddings I did were barn, rustic style," she said. "Now there's a definite shift to getting married in a barn with china, crystal and candles."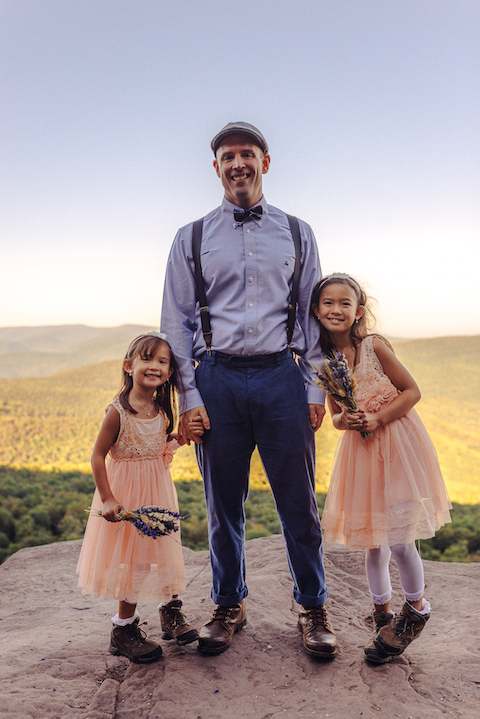 Above: Tim and Jess Luby said their vows on the edge of Giant Ledge in Ulster County. Photo of Tim and his daughters at their clifftop wedding ceremony by Jesse Pafundi of Golden Hour Studios.
Throughout the Catskills, established resorts like The Emerson in Mount Tremper and Diamond Mills Hotel & Tavern in Saugerties are booked over a year in advance. So are barns, farms, restaurants and smaller private venues like Onteora Mountain House, in Boiceville.
Onteora Mountain House owner Bob McBroom said that his business really took off in 2014. "We set a record with 37 weddings, squeezing them in between May and Halloween," he said.
Ninety-five percent of his business comes from Brooklyn, Manhattan and Hoboken, McBroom said.
"We stumbled into the rustic wedding business," he said. "Our clients are part of the farm-to-table movement."
New business for old barns
Barn owners across the Catskills are getting into the wedding business.
After Bill Duke and Madonna Badger celebrated their own wedding with a big party in 2014 at their Willow Drey Farm in Andes, they decided to rent it out to other couples. Their 1800-square foot barn had bookings before it was finished in the spring of 2015.
"We heard there's a market for places like ours up here," Duke said. "Places like The Roxbury Barn are booked through 2017. So why not do it ourselves?"
In Sullivan County, Kate Murphy and her husband have a 100-acre property they used as their summer house for 15 years. When they began renting it out on Airbnb, customers asked if they could host weddings.
Above: The dining room at Spillian, a Fleischmanns mansion that has become a popular wedding venue since it opened in 2013. Photo by Kelly Merchant. 
"We had one wedding here in August 2014," Murphy said. "We're completely booked this year and the barn isn't even finished yet. We already have six weddings booked for 2016."
Their venue, Handsome Hollow in Long Eddy, features an enormous 300-year-old barn. When the renovations are finished, it will have two bathrooms, a catering area, a mezzanine lounge and "a second floor hayloft where you can see the sky."
Caves, waterfalls and hunting preserves
Some couples are drawn to quirkier venues.
Howe Caverns, a cave in Schoharie County, has hosted over 600 weddings since Elgiva Howe married Hiram Dewey there in 1854. The cave has a designated bridal altar.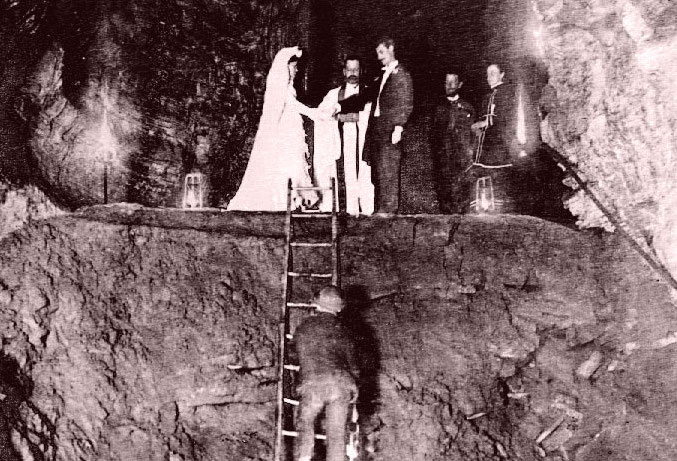 Above: A 19th-century wedding in Howe Caverns. The Schoharie County cave now has a designated wedding chapel reachable by elevator (instead of by ladder). Photo courtesy of Howe Caverns. 
"We like using the tagline, 'How deep is your love'," said Pam O'Brien, Howe Caverns' marketing director.
Tumblin' Falls House in Purling will stage magical waterfall experience at the edge of Shinglekill Falls.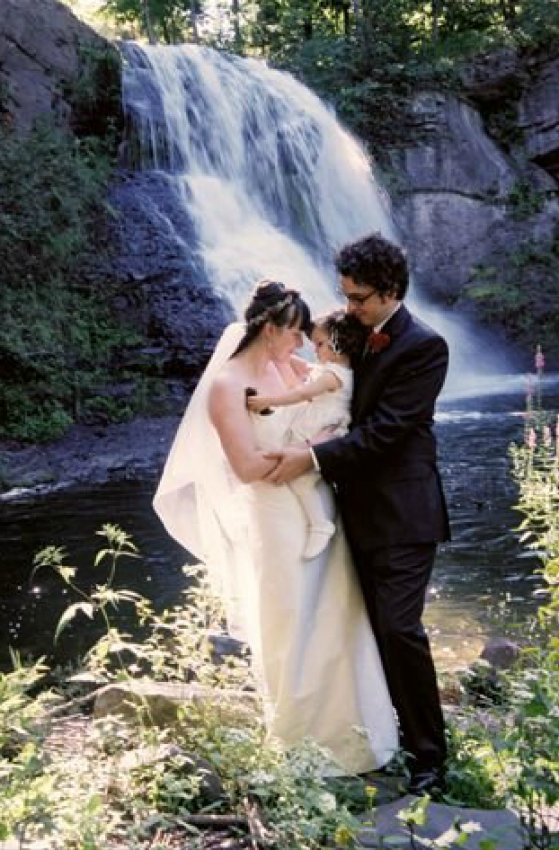 Above: A waterfall wedding at Tumblin' Falls House. 
Even Catskill Pheasantry, a 300-acre game farm with private cabins in Long Eddy, has hosted a few wedding receptions.
"They've been mostly for our bird dog clients," said General Manager Jeremy Gulley. "We can handle everything from food to a DJ. You can be as loud as you want. We're the only ones on the road and you don't have to worry about driving anywhere."
This article originally appeared in the print version of the 2015 Catskills Outdoor Guide, our annual publication the Catskills outdoors. The Catskills Outdoor Guide is distributed across the Catskills region and at select locations in the NYC metropolitan area. Find a copy near you here.