Above: Fireworks at the Monticello Raceway on July 4, 2014. Photo by John of Catskills Photography, shared in the Watershed Post Flickr pool.  
Independence Day in the Catskills means barbecue, waters warm enough to swim in, and lots of time spent outside. But we know that you're really here for the fireworks. Here's our five-county lowdown on where to see fireworks in Delaware, Greene, Schoharie, Sullivan and Ulster counties over the 2015 Fourth of July weekend.
DELAWARE COUNTY
Come on down to Margaretville for the Fire Department Field Days and Carnival, starting Tuesday, June 30 and coming to a grand finale this weekend, July 3 and July 4. Carnival rides, chicken barbecue, craft beer tastings, live music and more – but the big attraction are the fireworks, which happen at 9:45 p.m. on Friday and 10:30 p.m. on Saturday. (The Saturday show is the big one – prepare to have your eardrums rattled.)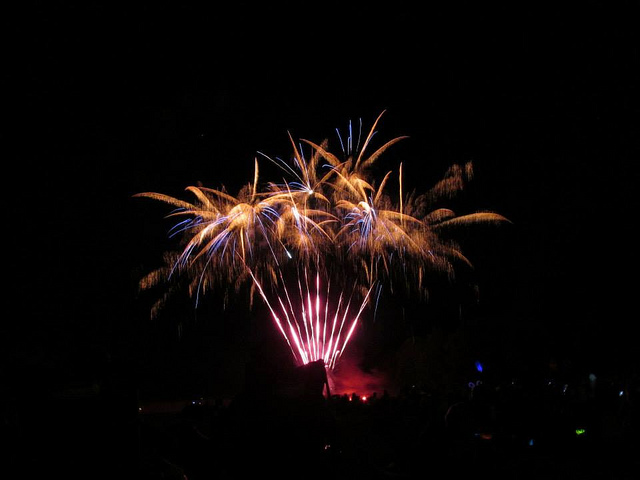 Above: Fireworks at the Margaretville Fire Department Field Days in Margaretville in 2013. Photo by Frieda Suess, shared in the Watershed Post Flickr pool.  
Delhi's Fair-on-the-Square will set off fireworks at dusk on Friday, July 3. But come early for lots more festivities: The American Legion will kick things off by presenting the colors at 5:45 p.m., then it's playtime – for the kids at the games booths and bounce house, for the Delaware County Community Band and for anyone who feels motivated to Dunk Jeremy Fitch. (We at the WP are not sure what Jeremy did, but Delhi citizens probably know.) Dance to the oldies at 7 p.m.
This weekend, the hamlet of East Branch in western Delaware County hosts East Branch Firemen's Field Days: three days of fun, food, carnival rides, live music, yard sales, softball, barbecue and two nights of fireworks. This year, the fireworks are at dusk on Friday, July 3 and Saturday, July 4. 
GREENE COUNTY
In Windham, "spectacular" fireworks will go up over Windham Mountain on Saturday, July 4 at dusk. They'll cap off the town's 4th of July Celebration, which begins at 2 p.m. on Saturday afternoon with sidewalk sales, live music, circus workshop, Cathleen the Clown, face painting and a horse petting zoo. At 7 p.m., there's a parade on Main Street.
Tannersville will be rocking it from noon until 5 p.m. during its annual Fourth of July Celebration with live music, food and craft vendors and a parade at 3 p.m. on Saturday, July 4. Once darkness falls, the fireworks begin.
Cairo will roll out its July 4th Bed Race at 4 p.m. Saturday, July 4 in the Angelo Canna Town Park, where costumed teams of five people compete for the title of best wacky themed bed. Fireworks at dusk. 
SCHOHARIE COUNTY
Grab your bathing suit and towel and come out to Cobleskill for the Schoharie County 4th of July Celebration, an extravaganza of rides, games, crafts, music and dancing. The Family Fun Park will be up and running starting at 2 p.m. on Saturday, July 4; you can get an all-day wristband for just $11. At 5 p.m. there will be a parade, and there will be fireworks when it gets dark.
SULLIVAN COUNTY
In Monticello, the Monticello Raceway throws its annual free fireworks show on Friday, July 3 at 8:30 p.m. 
Fireworks will also be exploding in Narrowsburg on Friday, July 3 at 8:30 pm. 
Watch the fireworks burst over White Lake in Bethel on Saturday, July 4 at dusk. There's parking at 3586 Route 55, Kauneonga Lake, and you can hear music timed to the fireworks show in the community park. 
ULSTER COUNTY
Fireworks will light up the skies over the Ulster County Fairgrounds in New Paltz on Thursday, July 2. Gates open at 5 p.m. You can enjoy food, music and bouncy houses for the kids while you wait for the show. 
At the Joseph Y. Resnick Airport in Ellenville on Saturday, July 4, there will be a parade at noon and fireworks at dusk. 
Saugerties will have a parade at 11 a.m. on Saturday, July 4 and its "always amazing" fireworks at dusk. 
Music and fun will rule the Rondout waterfront in Kingston starting at 6 p.m. on Saturday, July 4, with fireworks at 9:30 p.m. 
And last but not least, $12.50 will get you a ticket to the catbird seat. Come out and celebrate on the Walkway over the Hudson on Saturday, July 4 from 5:30 p.m. to 10 p.m. The fireworks begin between 9 p.m. and 9:30 p.m.
More Fourth of July events are in our community calendar and our announcements section. Add your own listing by clicking here.