There's no weekend like this weekend to hike up a Catskills fire tower. Not only can you earn one of our coveted Catskill Fire Towers badges if you do (see details here or below), but you'll also get a rare treat: the sight of a fire tower cab glowing from within.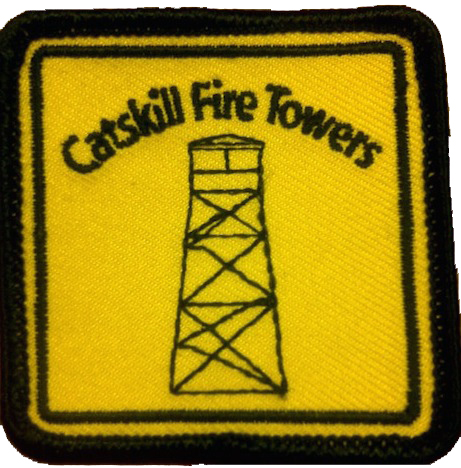 Once a year, the volunteers who maintain the Catskills fire towers hike lights into the cabs at the top of the towers, making them visible for miles around.
The event is meant to commemorate the time when fire towers were staffed by lonely and intrepid fire tower watchers who stood vigil night and day, scanning for signs of fire.
From the event's organizers: 
Remember that these towers were watching faithfully over your property for years to help prevent forest fires. The men and women who were in those cabs were there to protect your property from forest fires by providing fire fighters with an early detection and reporting system that was amazingly accurate.
Last year's lighting of the fire towers event was the first. This year, the second-annual lighting is scheduled for Friday, August 29, from 9 to 9:30 p.m. If things are cloudy or rainy, the volunteers will try the lighting again on Saturday.
Looking for a spot to see a glowing fire tower from below? Here are a few specific viewing sites, from the Catskill Fire Tower Project's website:
Balsam Lake Fire Tower

1-Scenic Overlook at the top of Palmer Hill along State Route 28 between Margaretville and Andes

2-At the top of Todd Mt Road (Ulster County Route 49A) near the intersection with Kelly Road

Hunter Mountain Fire Tower

Gordon Realty on Route 23A in Hunter has granted permission for viewers to use their parking lot for the "Lighting of the Towers" event Saturday, August 30.

Overlook Mountain Fire Tower in Woodstock

1-Platte Clove Preserve

2-Zena Corn Field

3-Zena School
2nd annual Lighting of the Fire Towers Event. 9 p.m., Friday, August 29. Rain date: Saturday, August 30. Various locations.To see a list of Catskills Fire Towers, click here. More details at the Catskill Fire Tower Project website. 
HOW TO EARN A CATSKILL FIRE TOWERS BADGE
For the second year in a row, we're partnering with Catskills Outdoor Guide sponsor Morgan Outdoors in Livingston Manor to offer the Catskill Fire Towers Badge.
To earn a Catskill Fire Towers badge, you must hike to one or more Catskills fire towers between May 10 and Oct. 13, 2014, then log your hike on a Morgan Outdoors Fire Tower Passport.
Passports are available at Morgan Outdoors at 46 Main St. in Livingston Manor, or you can download one from the New York-New Jersey Trail Conference at nynjtc.org/catskillfiretowers, or simply by clicking here. 
Turn in your passport at Morgan Outdoors by Oct. 13, 2014; badges are limited to the first 100 hikers to enter. You'll also be entered in a drawing to win prizes, including a handy pair of Nikon Travelite Binoculars.
To help you plan your hike, the New York-New Jersey Trail Conference publishes detailed trail maps for each of the five fire towers in the badge program. Get them online at nynjtc.org or in person at Morgan Outdoors. To learn more about the fire towers of the Catskills, see our article here.