For 21 years, the first Saturday in June has been reserved for appreciating the nation's mountain trails and greenery. This Saturday, June 7, Catskill area parks will observe the 22nd annual National Trails Day by hosting outdoor celebrations — welcoming residents and visitors to participate in hikes, runs and restoration projects, as well as the opening of several brand-new trails.
Below: Volunteers install a sign on the new Palmer Hill Trail in Andes. Photo by Ann Roberti.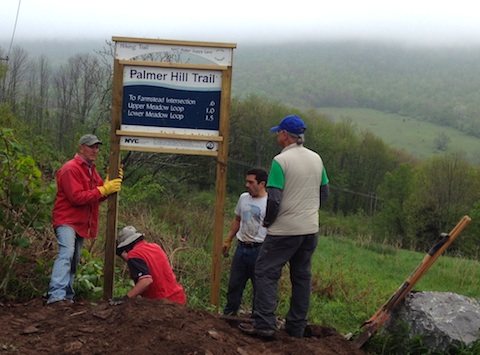 Palmer Hill Trail opening, Andes, Delaware County
The Catskill Mountain Club (CMC) and New York City Department of Environmental Protection (DEP) will host a hike at 2 p.m. to commemorate the opening of the Palmer Hill Trail, a 3.7-mile trail located in the town of Andes. The trail is on city-owned land and was built and will be maintained by volunteers of the CMC. Parking is available at an overlook site on Finkle road. For more information contact Ann Roberti at 845.676.3643 or email deppressoffice@dep.nyc.gov.
Phoenicia East Branch Trail/Long Path Trail section opening, Phoenicia, Ulster County
A ribbon-cutting ceremony and three-mile hike to celebrate the opening of the newest section of the Long Path, a 355-mile trail that goes from New Jersey to Albany, will be held at 11 a.m. at the Lane Street Trailhead in Phoenicia. The 9 ½ mile trail connects Phoenicia with the Burroughs Range Trail and travels over three mountain peaks: Romer, Cross and Pleasant Mountains. Presented by the New York-New Jersey Trail Conference, the ceremony will be held at 26 Lane Street, Phoenicia. RSVP by June 5 by emailing catskills@nynjtc.org.
The Spillian Trails opening, Fleischmanns, Delaware County
A free hike to celebrate the first layer of renovations on a network of trials behind the new Spillian resort will be held from 1 to 5 p.m. at 50 Todd Mountain Road, in Fleischmanns. The renovations came courtesy of volunteers learning about trail maintenance through the New York-New Jersey Trail Conference Trails U program. Following the hike is a BBQ and bonfire from 5 to 10 p.m. "Spillian Style Kansas BBQ" will be served. The BBQ is $9 per person and there will be a cash bar. The event is sponsored by CMC and New York-New Jersey Trail Conference. For more information call 800.811.3351.
Fallsburg O&W Rail Trail hike, Woodridge, Sullivan County

Catskill Mountainkeeper will host a hike of the Fallsburg Rail Trail, accompanied by a local historian at 10 a.m. Register for the hike with Catskill Mountain Keeper by calling Erin Burch at 845-707-1326. 
The Delhi Covered Bridge walk, Delhi, Delaware County
The 19th Annual Delhi Covered Bridge Walk will take place on Main Street in Delhi at 9 a.m. Participants can partake in a 5K health walk or run, or a 10K run that leads runners over the west branch of the Delaware River on Delhi's covered bridge. There is a registration fee of $22.50 for all participants. Money will benefit two scholarships for graduating seniors in Delaware County and the Catskill Mountain Club. Email albeveridge04@gmail.com for more information.
South Hills State Forest hike, Maryland, Otsego County
The Otsego County Conservation Association (OCCA) is offering a hike in South Hills State Forest, in the town of Maryland, as a part of their nature walk series. The hike, over two miles of "easy terrain," will begin at 10 a.m. Participants should meet at the parking lot of the forest's "northernmost access road" on Davenport Road. For more information contact the OCCA at 607.547.4488 or email programdirector@occainfor.org.
Mossy Glen Trail maintenance volunteer day, Gardiner, Ulster County
Minnewaska State Park Preserve is asking for volunteers to help fix wet areas along the Mossy Glen Trail. Volunteers will be asked to assist in installing bog bridging, stone turnpikes and stepping-stones. Participants should bring gloves, water and lunch. They should also wear long pants and sturdy shoes or boots with toe protection. Registration is required for sign up. For more information contact Sona Mason at smason@nynjtc.org or call 201-512-9348 x 16.