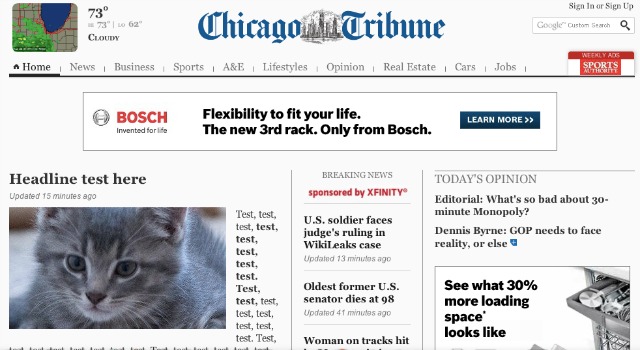 Above: Benton, the kitten that took over the front page of the Chicago Tribune for 16 minutes on July 30, 2013, thanks to a website goof. We feel your pain, Trib.
If you visited the Watershed Post today and got an error message instead of a piece of juicy Catskills news, it's not you, it's us. Thanks to a site update that went awry, most of the links on our site were down throughout the morning and early afternoon. 
After consultation with our web developer; our hosting server; Saint Isidore, Patron Saint of the Internet; and a pantheon of gods whose names we almost certainly took in vain today, we fixed it. Next time we go spelunking in the back end, we'll be extra careful to make sure we don't wreak any collateral damage. 
Thanks for your patience, everybody. 
Cheers,
Lissa Harris
Publisher, Watershed Post