Above: Snowfall predictions for the Catskills, via the National Weather Service's Binghamton office. 
The forecasts for a whammy of a winter storm are getting more serious: Delaware, Greene, Schoharie, Sullivan and Ulster counties are all under a winter storm warning issued by the National Weather Service.
The NWS predicts eight to 14 inches of snow in the eastern Catskills and five to 12 inches in the western Catskills. The white stuff will pile up in earnest throughout the day beginning at 7 a.m. on Wednesday, Nov. 26, with accumulation rates of one to two inches per hour.  
Closings have already been announced: Family of Woodstock has canceled a holiday dinner for 400 slated for Thursday, according to the Times Herald-Record:
Martin Feinburg of Family of Woodstock says because of the storm they can't ask people to travel unsafe roads to gather the food. "You can't ask people to go out and risk their lives to pick up a plate of potatoes," Feinburg said. "It's sad because it's such a beautiful dinner." 
The Kingston Turkey Trot, scheduled for Saturday, Nov. 29, has been postponed, according to the Daily Freeman. (If you have closures to publicize, add them in a comment at the bottom of this post.) 
It's not all bad news. Higher elevations will get more snow, which is great news for the Catskills ski resorts, all of which are looking to get at least six inches of snow if not over a foot.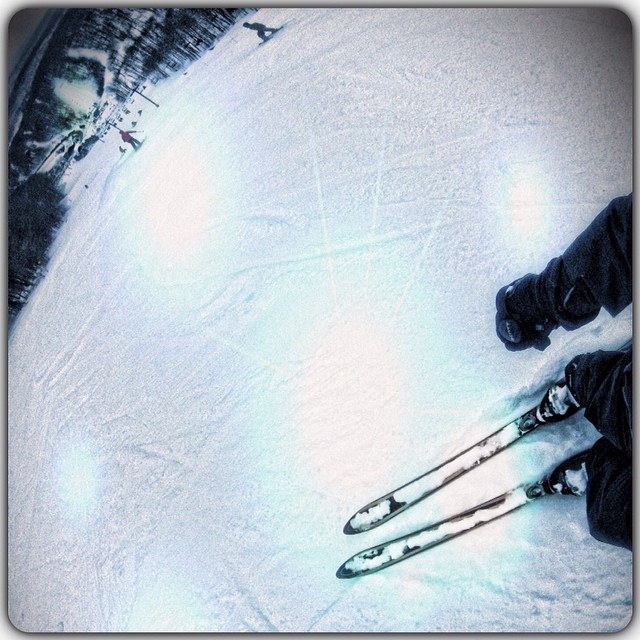 Above: Skiing on Plattekill Mountain in Roxbury last season. Photo by James McCracken and shared in the Watershed Post Flickr Pool.
The Daily Freeman reports that even though Belleayre Mountain Ski Center in the Ulster County hamlet of Highmount will get a snow bonanza tomorrow, the resort won't be open on Thanksgiving Day:
The significant snowfall that's forecast for Wednesday and Thursday won't compel the Belleayre Mountain Ski Center to offer Thanksgiving skiing, its general manager said Tuesday. Belleayre remains on track to open for the season on Friday, according to Tom Tar. The anticipated first major storm of the season could dump more than a foot of snow on Belleayre, forecasters have predicted, but "no, will not open on Thanksgiving Day," Tar said.
This isn't much of a surprise, given that the resort is owned by the state, which doesn't open for business on national holidays. Belleayre will open on Friday.
Correction: What do you know! Belleayre is open on Christmas Day this year, and has a Christmas Day ticket deal. So much for it being closed on state holidays. Sorry about that.