For Tara Jamieson, it took moving back home to Walton to follow her dream. With the help of family and friends, her restaurant, Feather & Stone, opened in early September in the Delaware County town of Walton.
The culinary school graduate was manager at one of the oldest bars in Seattle, Hattie's Hat, when she and her husband Nathan "Nate" Jamieson decided to head back east. The couple loved the Northwest, but saw the move as a no-brainer.
"Our families were here," Tara Jamieson said. "We always knew we would move back and one day raise our children here."
A family affair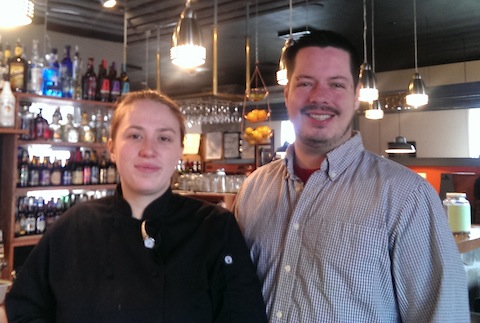 Above: Feather & Stone owner and chef Tara Jamieson and her husband Nate. Photo by Janel Bladow.
Everything about the Jamiesons' restaurant comes back to family.
The couple's move back after seven years in Seattle was triggered when Nate's father decided to retire. His mom and dad, Jody and Larry Jamieson, wanted to keep the family-run business– the Walton Music House, founded in 1957 by Nate's grandfather, a local music teacher–in the family.
Tara and Nate moved home in 2012. While Nate worked in the music shop, Tara began to make her dream of owning a restaurant come true.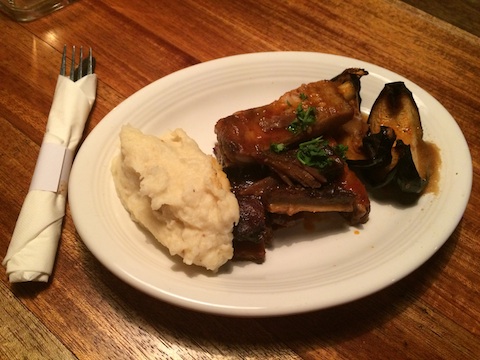 Above: Feather & Stone half-rack of St. Louis ribs are dry-rubbed and applewood-smoked in-house and served with two sides. Photo courtesy of Tara Jamieson.
"It took a solid year," Tara said. "Planning, designing, kitchen permits, licensing. There was a lot of waiting and construction involved."
And that's where Tara's family comes in. Her parents, Mary Alice and Robert "Bob" Vitti, operate Ren-Rest Lumber & Building Supply and own several buildings in Walton.
"This is my dad's building," said Tara. "When he bought the building years ago he said to me, 'Someday you'll have your restaurant here.' Both of our dreams came true."
Crafty construction
The restaurant's design was Tara's vision, from the wood and stone in the bar to the custom industrial kitchen.
"I'm a crafter. I built the tables from ripped down two-by-eights and painted the chairs black," she said. "We got the church pews free from Craigslist. My father gave us the fireplace. I loved this Turkish red paint and went from there."
She didn't realize until the orangey-red, gray and black paint job was finished that those were the colors of her alma mater, Walton Central School.
Building the restaurant was a team effort by family and friends.
With 12-foot-high ceilings, the space could become deafening when crowded. That acoustics problem was handled by Nate, who worked as a freelance AV (audio visual) technician while in Seattle. He built sound panels to hang on the ceiling and walls to absorb the noise. The gray-painted wood "pallets" hanging from the ceiling were not only a stylistic choice for lighting but a necessity to soften the sound and hide acoustic panels.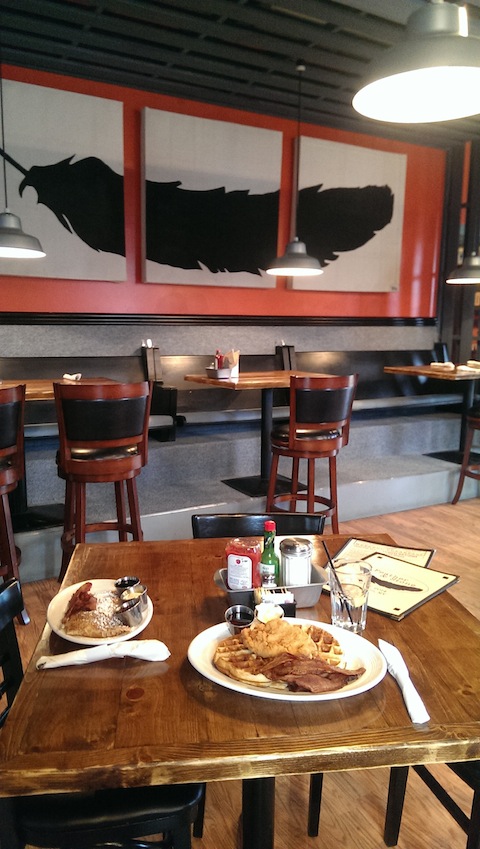 Above: A view of the sound panel triptych decorated with a feather in the back dining room. Photo by Janel Bladow.
The acoustic touches are also decorative: A large black triptych of sound panels decorated with an enormous black feather hangs on the wall in the back dining room. Nearby, a raised area becomes a stage where bands will perform.
Other construction and paint jobs were handled by Casey Vitti, Tara's brother, and his girlfriend, Patti Wilcox. (They opened their cider brewery, Awestruck, a week before Tara opened the doors to Feather & Stone.)
"We're an entrepreneurial family," said Tara. "And a lot of friends pitched in to help. I couldn't have done it without all of them."
"All-American comfort food"
The family dynamic continued with everyone making suggestions for the menu.
The menu reflects the Jamiesons' love of travel. Each week, the restaurant features specials celebrating classic regional American foods. So far, the spotlight has been on the Midwest with fried cheese curds, the Southwest with Texas smoked brisket, and the Northeast with Maine's red hash and eggs.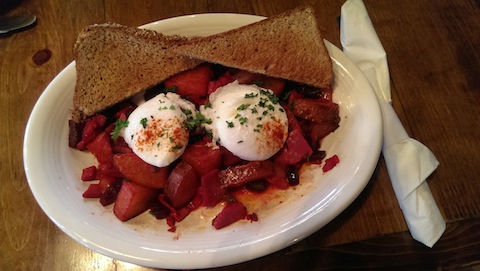 Above: A dish from Maine, Red (beet) Hash and Eggs, on the brunch menu at Feather & Stone. Photo by Janel Bladow.
Next up, the restaurant will focus on New York state dishes such as Utica's Spicy Chicken Riggies (rigatoni and chicken in a creamy red sauce) and the Rochester Garbage Plate (a mix of meats, chili, fries and salad). The drinks, too, tie into the theme with regional wines, spirits and craft beers.
Weekend brunch includes breakfast classics such as eggs Benedict and Swedish pancakes. Two already popular favorites are the Southern fried chicken and waffles and the Grown-Up Grilled Cheese, a mix of three cheeses with caramelized onions and grilled tomatoes on sourdough bread.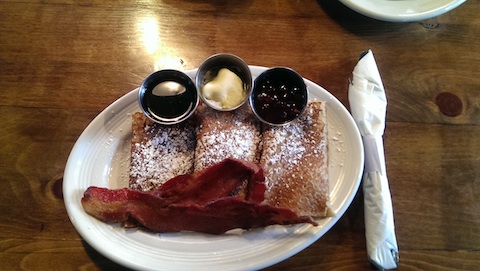 Above: A popular favorite at Feather & Stone's brunch: Swedish Pancakes with pure maple syrup and lingonberry sauce. Photo by Janel Bladow.
The lunch menu has "small bites" such as Baja Tacos filled with grilled cod or pulled pork. "Between bread" sandwiches—including beer-battered cod and a BLT–are served for lunch, dinner or at the bar. There are seven burgers on the menu, including a popular Aloha Burger with grilled pineapple, ham teriyaki and swiss cheese. Dinners range from prime sirloin steak cooked to order to New England scallops seared with lemon-herb butter.
She has the smoker fired up out back to smoke salmon, pork and beef. The pastas, sauces and gravies are made in-house. The kitchen team hand cuts all the potatoes and sweet potatoes for the fries. Bread and buns, probably the only things not made on site, are from the Noviello Bakery in Delhi.
"We don't buy any mixes. Everything is made from scratch," said Tara, who graduated in 2007 from Johnson & Wales University in Providence, Rhode Island, a school whose alumni also include celebrity chefs Emeril Lagasse and Tyler Florence. "I go through fifty pounds of flour a week."
Desserts are posted on the blackboard daily. "I like to bake, but a lot of the staff does too," Tara said. "One of the bartenders, Emily, bakes on the side and is known for her cheesecakes."
Tara isn't limited to kitchen duty. She proudly shows off the dozens of flags in the lawn beyond the outdoor patio dining space thinking of the future. Each marks a newly planted apple tree. The fruit will someday go into her cooking and her brother's hard cider.
Feather & Stone's long, full-service bar has become a popular gathering place in Walton, especially weekend nights.
"We're very, very busy," she said. "But it's not a burden. It's a gift."
Feather & Stone, 38 West St., Walton. 607-510-4027. featherandstonerestaurant.com.