On the long stretch of Route 28, a well-traveled road that runs from Kingston to Oneonta through the heart of the Catskills, there aren't many dining options.
And it's hard to find authentic Mexican fare, especially since the Ulster County town of Woodstock lost its beloved Gypsy Wolf Cantina a year ago.
Nearby in Kingston, the owners of Santa Fe Uptown had been hearing for years from customers who said that If the restaurant were closer to Woodstock, they might come to dine more often.
All of these things figured into the decision of the three Santa Fe Uptown partners—David Weiss and Jimmy and Annie Demosthenes—to open Santa Fe Woodstock, the third Santa Fe restaurant in the region.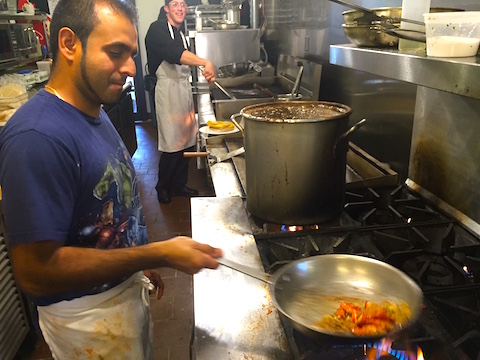 Above: Sous Chef Estuardo Recinos prepares an entree for lunch guests on a recent Sunday afternoon. Photo by Paula Ann Mitchell.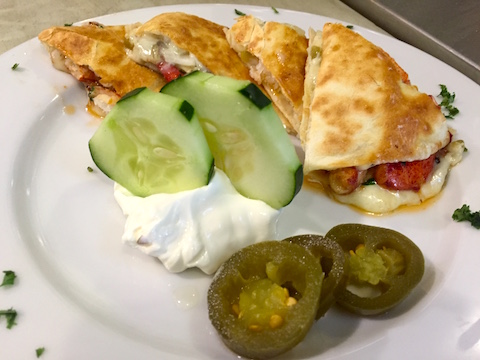 Above: Lobster quesadillas. Photo by Paula Ann Mitchell.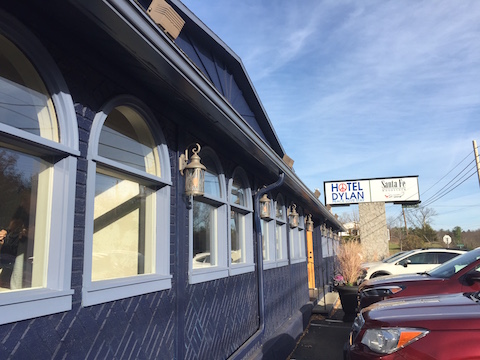 Above: The front of Santa Fe Woodstock. Photo by Paula Ann Mitchell. 
Santa Fe Woodstock opened in front of the Dylan Hotel on Sunday, Nov. 6, with the aim of serving locals and the multitude of motorists making their way to the resurgent Catskills.
Longtime residents will remember the building as the former Black Bear Restaurant and, before that, the legendary Maverick.
The structure lay vacant for years, a dusty jewel with plenty of shimmer left if it landed the right hands.
At the beginning of 2015, Weiss and the Demosthenes decided to commit to the space. Demolition and construction began in the early spring, and drivers passing by on Route 28 have been eyeing the developments eagerly all summer.
Seasoned owners
Weiss is the founder of the Santa Fe name, introducing his first restaurant, Santa Fe Tivoli in Northern Dutchess County, close to 30 years ago.
In 2012, Weiss teamed up with Jimmy and Annie Demosthenes, whose family ran the former Hillside Manor, a popular fine-dining spot perched on a cliff overlooking Kingston.
The couple partnered with Weiss to open up a second Santa Fe restaurant in Kingston, Santa Fe Uptown, at the former Ugly Gus Café in Uptown in 2012.
Buoyed by that success, the partners got the itch to expand. They saw the possibilities of the Route 28 building owned by developer Paul Covello, who built his funky, chic Hotel Dylan on the hill behind it in 2014. 
Above: The twin signs for the Hotel Dylan and Santa Fe Woodstock. Photo by Paula Ann Mitchell. 
Around the same time, Jimmy Demosthenes and his brothers sold the Hillside Manor, which had been founded by their parents, George and Kiki, in 1984.
Jimmy wanted something new to sink his teeth into, and Weiss wanted a new opportunity to introduce people to his special brand of Southwestern cuisine. Covello wanted to lease the vacant restaurant building to a seasoned team of restaurateurs.
"Paul had this building for a while and waited patiently for someone to come in and reinvent it as a restaurant," Annie Demosthenes said. "He knew he didn't want to take on a restaurant."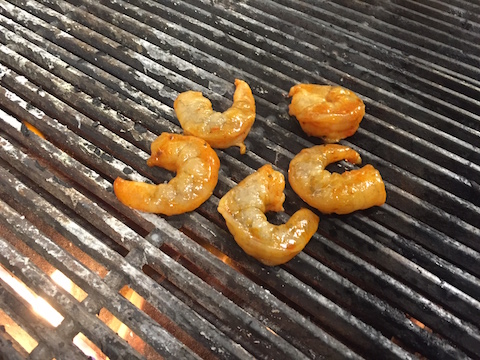 Above: Shrimp on the grill at Santa Fe Woodstock. Photo by Paula Ann Mitchell. 
Weiss and the Demosthenes toured the building last year and saw strong bones—a sturdy foundation for another restaurant. Then they took the plunge and signed a long-term lease.
"Pretty much gutted the place"
"It took a lot of work to renovate it and make it a nice atmosphere. We pretty much gutted the place," Annie Demosthenes said. "We kept some of the focal points, like the huge bar in the center, but we've breathed new life into the building and changed things up a lot."
The heart of the Santa Fe Woodstock building was the bar, and the partners decided to keep and update it in its original spot and build around it, Annie Demosthenes said.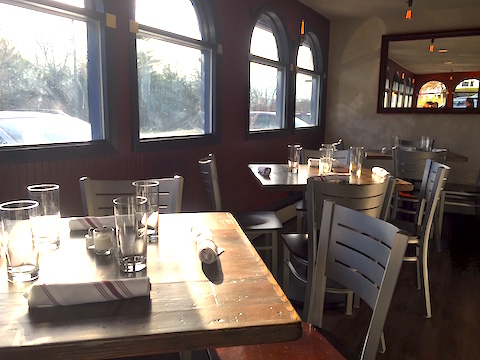 Above: The front room at Santa Fe Woodstock. Photo by Paula Ann Mitchell.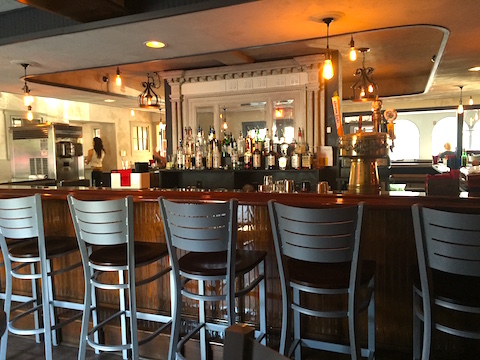 Above: The bar at Santa Fe Woodstock. Photo by Paula Ann Mitchell.
Demosthenes said that the results might surprise those familiar with the building's past lives.
"It was kind of a big, cavernous space," she said. "It seems as though the people I've met, when they hear it's at the old Maverick or Black Bear, one of the first responses I get, is 'Oh, my gosh, that place is so huge.'"
The new design aims to make the enormous, 6,500-square-foot restaurant feel welcoming and intimate.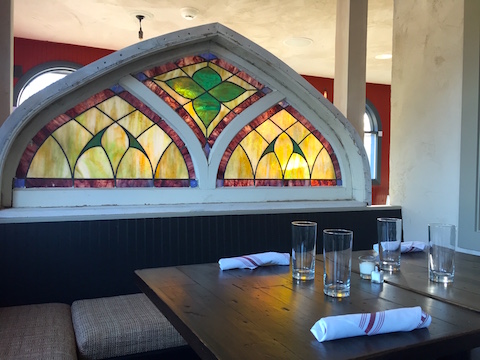 Above: This stained glass window, used as a divider, was taken from a church built in 1904. Photo by Paula Ann Mitchell.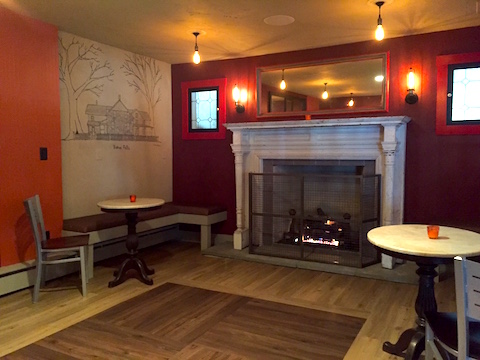 Above: One dining area boasts a fireplace. Photo by Paula Ann Mitchell. 
Demosthenes credits Weiss for designing "small, incremental dining spaces, each with its own personality."
There are six rooms—many of them cozy—and one that might easily serve as a winter refuge, complete with a toasty fireplace.
"If someone wants to come in after a long day of skiing and enjoy some guacamole and chips or a craft beer and sit back and enjoy the fireplace, they can do that," Demosthenes said.
Fresh, local tacos, quesadillas and burgers
Santa Fe Woodstock's menu will include many of the same dishes—like pulled pork tacos ($16.95) and lobster quesadillas ($11.95)—that appear on the menus of the other Santa Fe locations in Kingston and Tivoli.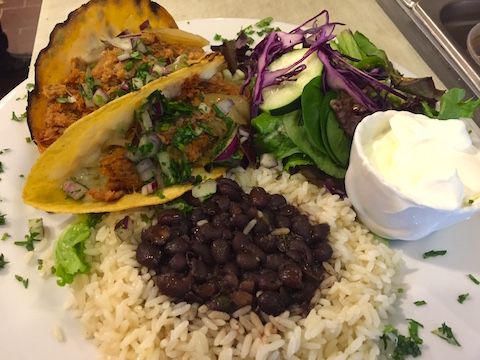 Above: A pork taco entree with rice, beans and side salad. Photo by Paula Ann Mitchell. 
But it will also have a few new offerings, including burgers featuring organic beef from Fleishers Craft Butchery.
"We will have so many people passing by the restaurant who aren't familiar with us," Demosthenes said. "Some may not be a fan of Mexican food. We thought burgers were the way to do it."
Demosthenes said that diners can expect the same quality they've come to associate with the other Santa Fe restaurants and Weiss' other venture, Max's Memphis Barbecue in Red Hook.
She called the menu the "real deal" and not what most Americans think of as food from south of the border.
"One thing that distinguishes us from what many people typically associate with Mexican food is that we use the freshest of ingredients," she said. "Everything is made from scratch and very authentic."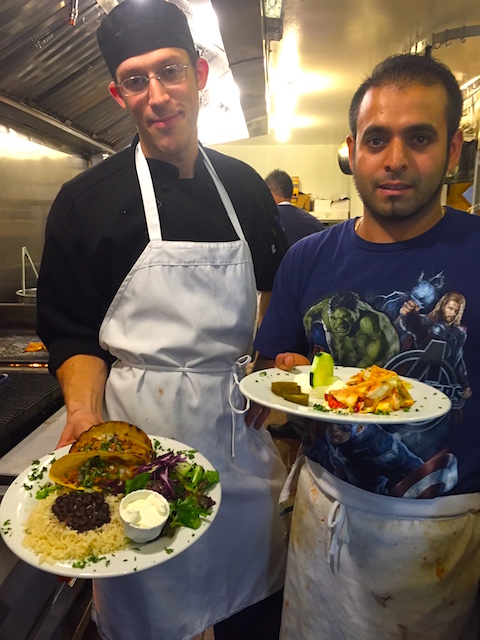 Above: Sous Chefs Anthony Micucci, left, and Estuardo Recinos show off the pork taco entree and lobster quesadillas. Photo by Paula Ann Mitchell.
The restaurant also offers plenty of vegetarian and vegan options, including a Maverick Vegan Bowl ($15.85) and roasted sweet potato tacos ($14.95).
"Not only is the food delicious and fresh and unique, but it's really a great value with price points between $12 and $18," Demosthenes said. "For the quality of food and the service we provide as well as the beautiful atmosphere David [Weiss] created from just a shell, the value we can offer our guests is just incredible."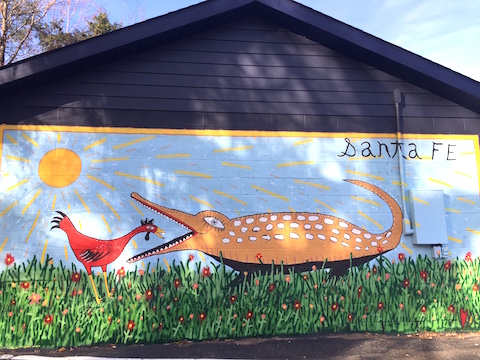 Above: A mural by local artist Scott Ackerman adorns a portion of Santa Fe Woodstock's facade. Photo by Paula Ann Mitchell. 
There's still more to come, according to the partners, who say that the opening of the restaurant is just the first phase of a larger project.
"The building is immense, and there is quite a bit of space that we've left untouched and un-renovated to be a project that we work on down the road," Demosthenes said. "Music is so ingrained in the Woodstock community that we think it could be a perfect venue to bring live music to the area."
Santa Fe Woodstock.1802 Route 28 
Woodstock. 845-657-5555. santafewoodstock.com
Below: An album of photos of the new Santa Fe Woodstock by Paula Ann Mitchell.