Above: A contestant in the 2012 Shandaken Primitive Biathlon. Image via shandakenprimitivebiathlon.net.
This Sunday, Jan. 17, buckskin-swathed competitors wearing snowshoes and carrying muzzleloading rifles will compete in the 19th-annual Shandaken Primitive Biathlon, one of the few events of its kind in the world.
In the modern version of the biathlon, competitors shoot rifles at targets while cross-country skiing. In a primitive biathlon, the concept is the same, but the tools are not: instead of a .22-caliber rifle, racers shoot antique and reproduction muzzleloading weapons. And instead of skis, they trek over the 1.25-mile course on old-fashioned wooden snowshoes.
Vermont's Smugglers' Notch Primitive Biathlon was founded in 1995, and since then a handful of other primitive biathlons have cropped up in New Hampshire, Vermont and New York. 
The Ulster County town of Shandaken has hosted its own version of the event since 1998, when Vincent Bernstein and Bill Landsman caught wind of Vermont's primitive biathlon and decided to found their own.
"A neighbor of mine, Bill Landsman, saw an article in the New York Times about an event like this somewhere up in Vermont," Bernstein said. "We looked at it and said, 'Wouldn't that be neat to do here?'"
The two organized the first Shandaken primitive biathlon on Jan. 18, 1998, with the help of multiple local gun and sporting clubs who helped with financing and logistics. Nineteen years later, the race is still going strong.
Racers come around the county to compete in Shandaken, Bernstein said. This year, he's had inquiries from Kentucky to Ohio and from Massachusetts to Maine. In past years, as many as 50 people have competed in the race.
Many competitors arrive in handmade historical costumes, Bernstein said. (According to the event's rules, you get extra points if you compete in "1800s-era attire.")
"Many of the participants and wear buckskins or capotes," Bernstein said. "A capote is an 1820s long coat made out of wool blanket."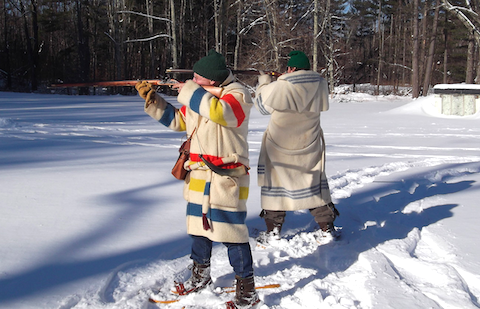 Above: Competitors wearing capotes (a traditional long coat fashioned out of a blanket) compete in the Shandaken Primitive Biathlon. Image via shandakenprimitivebiathlon.net.
The prizes are similarly old-timey—this year, the winner of the Shandaken Primitive Biathlon receives a handmade hide shooting pouch. Powder horns have been featured as prizes multiple times.
The racing itself is a challenging slog over snowy terrain with frequent stops for shooting at targets. In Shandaken, racers must snowshoe over a 1.25-mile course and stop and shoot at targets at four shooting stations with two shots per station.
Shooting experts judge the shots and a first-aid-certified responder is on-hand in case anyone gets hurt. The riskiest portion of the event isn't the target shooting—it's the snowshoeing, Bernstein said.
"Snowshoeing is probably more dangerous than the rifle shooting," Bernstein said. "We haven't had any incidents with the rifles in 19 years, but we have had people take tumbles on the snowshoes."
Spectators are welcome at Sunday's race, which will be held at the Upper Esopus Fish & Game Club in the Oliverea Valley, off of Route 28 in Big Indian. There will be hot drinks and food on offer inside the clubhouse for all comers.
Shandaken Primitive Biathlon. Sunday, Jan. 17. 9:30 a.m. Upper Esopus Fish & Game Club, Little Peck Hollow Rd., Oliverea Valley. shandakenprimitivebiathlon.net.