Most people have never tried birch syrup, the reddish cousin of maple syrup that is made from the sap of birch trees. When they do, they're in for a surprise: birch syrup's tangy, pungent flavor is unlike anything else.
"I usually say it's like a cross between molasses and raspberry," said Jody Condon, the owner of Catskill Mountain Birch and Millbrook Maple (Arkville, 845-586-6200, millbrookmaple.com). "Some people say there's an undertone of anise."
Historically, birch syrup was made in cold climes that are inhospitable to maple trees—like Russia, Alaska and Canada. But in the Catskills, Condon and his partner, Mike Porter, are perfecting the art of birch syrup making. They are among New York's few birch syrup producers.
Catskill Mountain Birch began making birch syrup in 2010, and is winning awards and converts to the ruby savory syrup. Condon and Porter make about 22 gallons of birch syrup every spring. It sells for $30 per eight-ounce bottle and won third place at the first-ever Birch Sap & Syrup Conference in 2015.
Unlike maple sap, birch sap isn't sweet. Maple sap contains two to three percent sugar, while birch sap has .3 to .5 percent.
That means that birch syrup is much more difficult to make than maple. It requires 100 to 200 gallons of tree sap to make one gallon of birch syrup—for maple, you need only 30 to 40 gallons.
"It's a lot more time-consuming, and the collection process is much harder," Condon said.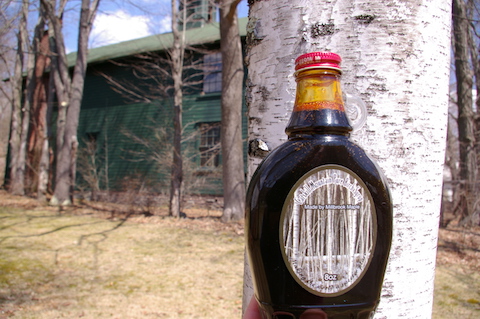 Above: Catskill Mountain Birch Syrup. Photo by Julia Reischel. 
Every year, Condon and Porter collect 400 buckets of birch sap by hand, hauling them through the woods to Condon's reverse osmosis machine, which removes some of the water from the sap. They finish the syrup in Porter's small evaporator, carefully boiling it down until it reaches the proper consistency.
The end result isn't anything like maple syrup. It's savory and strong and, when you pour it or hold it up to the light, ruddy and red.
"It's an ingredient not to just be poured over pancakes," Condon said. "I have friends who have done that, and some of them like it, but I would never do it myself."
Catskill Mountain Birch clients from all over the country buy the syrup through eBay and Amazon. A restaurant in California uses it in a vinaigrette poured over root vegetables and truffles. Some customers add it to coffee; others try it in vodka. It adds a molasses-like flavor to cookies or caramel.
Above: Burrata, farm Tahitian squash and toasted pine nuts topped with a birch syrup vinaigrette. Photo by Dave Teig.
Condon's favorite use for birch syrup is in a teriyaki glaze for salmon. "I make a marinade with a tablespoon or two of the birch syrup, garlic, soy sauce and lemon juice, and I soak my salmon with it as it grills," he said.
Condon started making birch syrup to complement his maple business, Millbrook Maple.
"It was unique. It was different. It wasn't being done as far as we knew around here," he said.
It took years to figure out how to make the syrup correctly. The key is shortening the heat-fueled evaporation time to avoid overcooking the sugars.
"We've slowly perfected our process for making it, so it tastes better than it did when we first made it," Condon said. He hopes to grow a market for the niche product, but for now, making birch syrup is largely a labor of love.
This article originally appeared in the print version of the 2016 Catskills Food Guide, our annual publication covering food and farms in the Catskills. The Catskills Food Guide is distributed across the Catskills region and at select locations in the NYC metropolitan area. Find a copy near you here.