Above: Inside Bebert's Condiments Café and Gallery. Photo by J. N. Urbanski. 
Diane Adzema, a designer, and Bebert Attias, a chef born and raised in Morocco, met at a couscous party in New York City and have been partners for 17 years. In 2014, working out of their home in the Ulster County hamlet of Big Indian, they launched a line of Moroccan condiments called Bebert's Condiments.
Last week, they expanded their Catskills business into a new venture in Fleischmanns: a French Moroccan café and gallery, also called Bebert's Condiments, located in the former Zoom Gallery on Main Street in the Delaware County village.
Berbert's Condiments Café and Gallery held its grand opening on Friday, May 20. The café serves tea, espresso and juice as well as soups, salads and sandwiches, many featuring their condiments: preserved lemons, chutney, fruit compote and harissa, a hot chili pepper paste native to North Africa.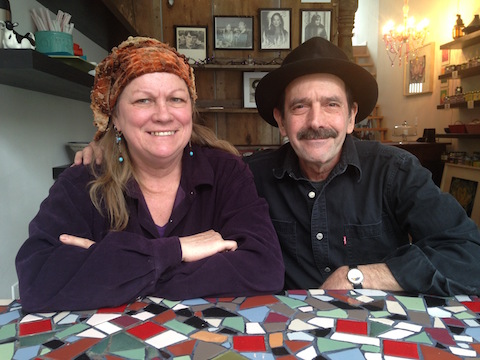 Above: Diane Adzema and Bebert Attias. Photo by J. N. Urbanski.
Locally sourced products like trout, maple syrup and honey all appear on the menu, which eschews meat but offers fresh pomegranate lemonade seasonally for $2.50; a carrot salad with fresh herbs, raisins and orange for $6.50; and sandwiches like goat cheese with chutney ($6) and roasted eggplant with fresh mozzarella ($6.50).
Cozy and welcoming, the café is appointed with an eclectic array of furnishings: turquoise chairs, mosaic tables, Moroccan lamps, antique wooden accents and Adzema's own artwork.
In the back is a commercial kitchen where Attias and Adzema make the condiments, both for wholesale and for use in many of the café's recipes. Jars of the condiments are available for $10 each.
In a private tasting, this reporter sipped green tea to the dulcet tones of traditional music while Bebert debuted a potato cake with peas and preserved lemons. The cake was made more delicious by the zing of the salty citrus from the lemons, which are sliced and preserved in kosher salt, lemon juice and oil and are then soaked in large jars for six weeks. They can be added to fish dishes, stews and salads, and also to cocktails, especially martinis, where they add a dirty twist with or without the olive.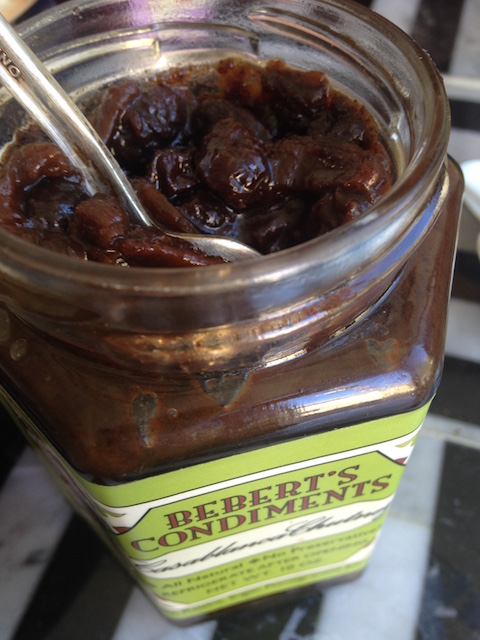 Above: Casablanca Chutney. Photo by J. N. Urbanski. 
The Casablanca Chutney, which is cooked for five hours, is a mixture of sweet and savory that blends onions, raisins, sugar, balsamic vinegar, pomegranate juices and spices. This condiment is the most versatile of the four Bebert's Condiments offers: it is just as delicious with goat's cheese on a cracker as it is in a pork sandwich or as a side to roasted chicken.
The Mogador Harissa, the company's most popular condiment, is a powerful, impressive hot sauce. It's a tangy mix of seven varieties of chili peppers, oil, tomato, lemon juice, cider vinegar, garlic and spices.
"What makes this hot sauce so special is that it's a thicker paste containing a proprietary blend of spices rendering it more aromatic than, say, a Mexican hot sauce," said Adzema.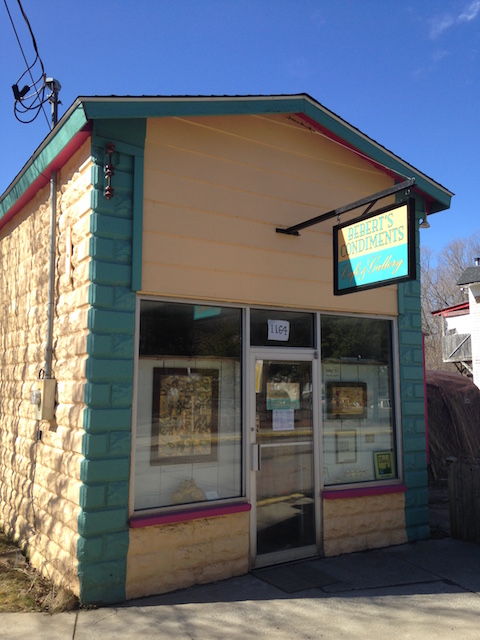 Above: The Bebert's Condiments storefront. Photo by J. N. Urbanski. 
The fruit compotes are ethereally light and not overly sugary, which makes the taste of the fruit linger strongly on the palate. Attias makes the compote using whatever fruits—like cranberry and blueberry—are in season at the time of production. These compotes are delicious with goat cheese or cereals, and are also a refreshing antidote to sweet desserts. Use a dollop on scones, muffins, waffles and toasted, hearty bread.
Morocco to Fleischmanns
Attias was born and raised in Casablanca in Morocco, where he experienced what he calls "the best childhood ever" on the edge of the great continent of Africa, swimming and fishing in the Mediterranean amid date palms and lemon trees.
At age 15, his parents immigrated to the United States, where Attias spent the rest of his teens in Forest Hills, Queens. After leaving school, Attias travelled around the U.S, working in the restaurant business as a chef.
Then, at age 24, he went on vacation to France. That trip changed his life.
"I was supposed to go for two weeks and I ended up staying for a year," he said. "I met some friends who had a restaurant just outside Paris and I really got involved, spending a lot of time in the kitchen. I learned a lot."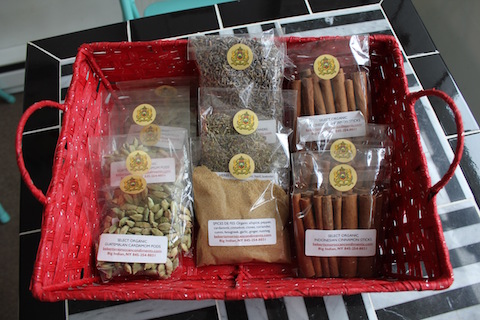 Above: Spices at Bebert's. Photo by J. N. Urbanski. 
After Paris, Attias opened his own restaurant, the Café Dada, on West 54th Street in Manhattan, opposite a movie studio that attracted the rich and famous. Remnants of this era—signed photographs luminaries like Woody Allen and Meryl Streep—line the walls at Bebert's Condiments.
Café Dada operated for ten years in the 1980s, and then Attias moved on to work as a chef at The Pierre, The Crowne Plaza, Hilton and Marriott Hotel before retiring in 2014.
Originally from Pittsburgh, Adzema attended Pratt Institute in Brooklyn, where she studied art and design. She has worked as a graphic designer for the likes of PBS, and designed the website and promotional materials for the Bebert's Condiments herself.
"I'm good at marketing, so we didn't need to hire people to start our business," she said.
Since 2000, when the couple bought a house in Big Indian, Attias and Adzema have divided their time between the Catskills and New York City.
"We didn't really want to sit around and do nothing"
In 2014, the pair decided to create Bebert's Condiments as a retirement venture. Using recipes that were passed down to Attias by his mother, Bebert earned a certificate in food processing from Cornell University and began manufacturing spice blends and his thoughtful selection of four condiments. The couple has built the business by selling both retail and wholesale throughout the Catskills, as well as online.
"We retired and then decided that we didn't really want to sit around and do nothing," said Adzema.
Above: Bebert's line of condiments: harissa, chutney, preserved lemons and fruit compote. Photo by J. N. Urbanski. 
The couple chose to make condiments because they are the essence of Moroccan cooking, Adzema said.
"We wanted to keep it simple," she said. "They don't require refrigeration, last a long time and are very traditional. You have to have these condiments to cook a Moroccan meal, particularly the preserved lemons and the hot sauce, so it was just a natural choice."
Bebert's Condiments Café and Gallery. 1164 Main St., Fleischmanns. 646-979-7798. bebertsmoroccancondiments.com.