Tucked away in a businesslike industrial corner of Walton behind a nondescript office block, you'll find the Vulto Creamery, without signage and easy to miss. It's a lot less hip than the Brooklyn sidewalk basement where the Vulto cheeses once matured, but for owner Jos Vulto, it's never been about being trendy.
"I grew up eating good food, because we grew our own food," said Vulto, who was raised in Holland by parents who cultivated their own vegetables. "When I was a kid, we never went to a greengrocer; I couldn't understand why greengrocers had stores."
Vulto, 56, started the Walton location of the creamery in 2012 after honing his craft back in Brooklyn for four years. Expanding his business meant moving up to the Catskills, closer to the source of his milk, which comes from Rolling Ridge Farm in Delhi, owned and operated by Cecil Davis.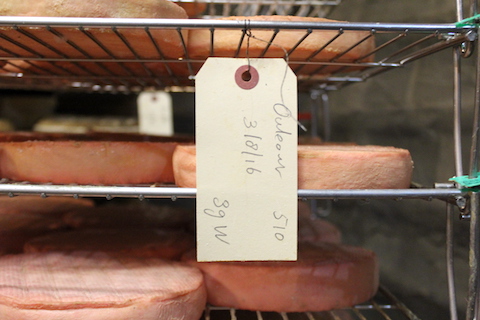 Above: Wheels of Ouleout, a semi-soft water-washed rind cheese, at Vulto Creamery. Photo by J. N. Urbanski.  
Originally a sculptor and installation artist, Vulto came to the U.S. from his native Holland in 1990.
After two years of art school, he worked for a year at PS1, a contemporary art institute, after receiving a grant, but it wasn't until seven or eight years ago that he began making cheese.
Perhaps it was nostalgia for all the delicious cheese he ate growing up in Holland, but he says that he has no idea why he chose to make this particular foodstuff.
"It just happened," he said, with a shrug.
When pressed about his diet growing up, he added: "We were six kids, so we didn't have a lot of money, but the food was always good; there was always good cheese."
Indeed, even some of Vulto's art was evocative of food. In 1999, Storefront for Art and Architecture featured an exhibit of Vulto's work called "Smoking Buildings," which highlighted "Vulto's process of 'smoking' or 'rooking' buildings, a labor-intensive process normally applied to Dutch food production."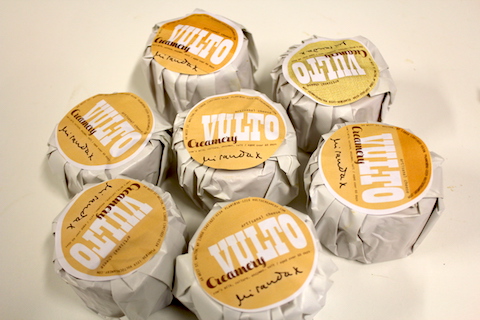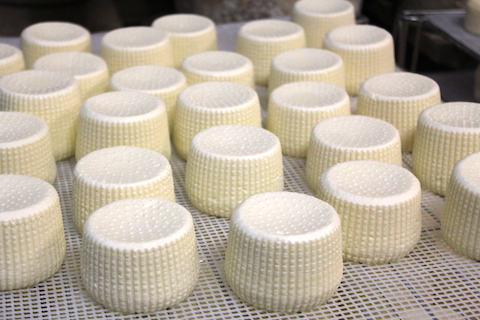 Above: Miranda, a cheese that is washed with locally made absinthe and named for Vulto's late wife. Photo by J. N. Urbanski. 
Vulto stopped creating art "because there was no money in it," he said.
But is there money in cheese?
"Let's say there is a living in cheese," he said. "I wouldn't say that it would make me rich, but it keeps me going. When I first came up here, I thought I wouldn't mind spending some more time up here and maybe have some kind of base here, which could create some kind of income. The cheese made it happen. I never started making cheese with that in mind but it did happen."
"Here" is the Delaware County town of Walton, where Vulto brought a summer home with his late wife, Miranda, after whom one of his cheeses are named. He splits his time between the Catskills and New York City, where their son lives and where he regularly delivers cheese.
Vulto made his first cheese in 2008 from a very rudimentary recipe that he found online and freely admits that it was lacking.
"I mean, it was alright, but it wasn't particularly good," said.
What sort of cheese was it similar to?
"Nothing. Just bad cheese," he laughed.
The second batch was better than the first, but still needed a great deal of improvement. Gradually, his product got better. It has taken roughly seven or eight years to reach his current status as "urban cheesemaker extraordinaire," as Cheese Notes calls him. 
Venerated by the New York City media now, Vulto caused a stir among foodies in Brooklyn in 2008 when he first offered up his fledgling cheese for assessment by Williamsburg insiders like Charlotte Kamin at The Bedford Cheese Shop.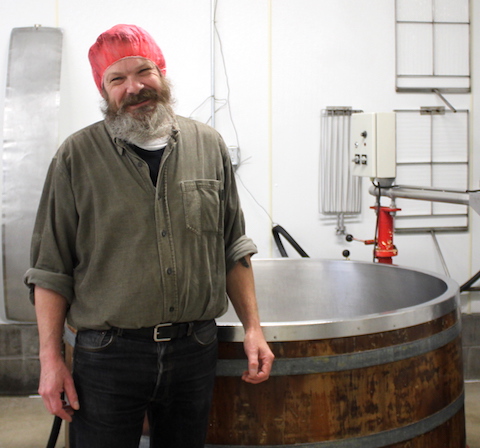 Above: Jos Vulto in his creamery. Photo by J. N. Urbanski. 
Grub Street calls him "a paragon of urban cheese making," and he's reportedly been gushed over by Eataly's head cheesemonger. 
A better insight into Vulto's career is not gained from the media attention he has received, but from his old blog, which is not updated but is still on the internet.
The first post, published in January 2008, describes in detail how to make a wooden bowl from a burl of English elm. A month later, cheese enters the picture, and for the next six years the blog documents the arc of Vulto's cheesemaking career.
("Since I now understand the importance of the temperature I have been more careful in my later attempts," reads one post.)
It makes for an engaging read. In a post dated November 2013, Vulto humbly notes his meeting with Sister Noella, also known as the "Cheese Nun" at the Abbey of Regina Laudis in Connecticut, "who is an expert on cheese surface ripening organisms." Vulto describes a visit to her laboratory, where "the fungus growing on the cheese turned out to be Geotrichum candidum."
Although Vulto is an artist, he's as earthy as his product.
"It's nice to be appreciated, but acclaim without financial success, at some point ..." he said, then shrugged. The implication is that kudos, while gratifying, doesn't pay the bills.
There are five Vulto cheeses that are sold locally and nationwide: Ouleout, Hamden, Andes, Walton Umber and Miranda. All the cheeses are made from raw milk, so by federal regulations they must be aged for a minimum of 60 days. Both Miranda and Ouleout are aged for the minimum 60 days, but the hard cheeses are aged anywhere from three months to a year.
Ouleout, a semi-soft water-washed rind cheese described as soft and gooey but also robust and pungent, smells suitably stinky and tastes curiously reminiscent of bacon: quite the surprise.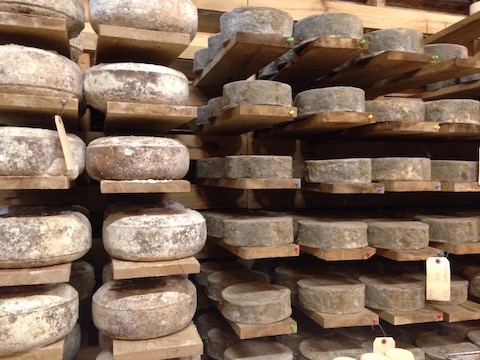 Above: Andes, left, and Hamden, right, aging on the shelves. Photo by J. N. Urbanski. 
The Hamden, inspired by ancient French cheeses such as Tomme de Savoie, was originally conceived as a "wild Ouleout." Vulto took wheels of Ouleout and let the rind develop naturally, instead of washing or bathing it. Hamden is described as semi-soft with aromas of the forest and notes of milk, grass and wet hay.
Walton Umber is a simple Tomme-style cheese, aged three to six months. Vulto describes it as tasting fruity and buttery when young, but developing notes of roasted vegetables and toasted hazelnuts as it matures.
Andes is a mountain-style cheese aged for six to 12 months. Also described as full of buttery and fruity flavors, with added grassy and tropical notes, this cheese is malleable and easily sliced, making it perfect for fondues.
Finally, Miranda— "a small rosy button of a cheese with notes of cultured butter and wet hay"—is a washed rind cheese with a smooth silky paste, washed in locally produced absinthe called Meadow of Love, which is also manufactured in Walton.
Not currently on offer is the Heinennellie, a cheese that shares the name of Vulto's original blog. Heinennellie has been aging quietly at the Walton creamery since last winter, when Vulto made a few batches of it. It's a bark-wrapped cheese, made in the style of a Vacherin Mont d'Or.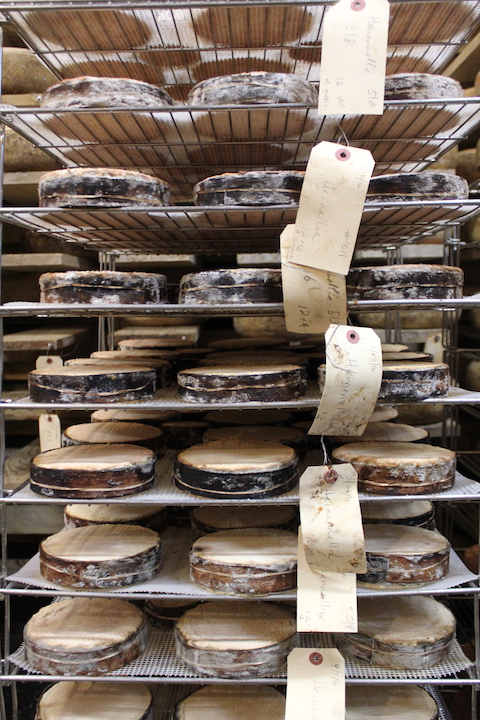 Above: Heinennellie, a bark-wrapped cheese that is currently not for sale. Photo by J. N. Urbanski.
Two of Vulto's cheeses are described as tasting like wet hay, which sounds like something only a ruminant can love.
"Wet hay?" I asked.
"You don't know what wet hay tastes like?" Vulto said. "You know, that's cheesemonger lingo. Sometimes, it's beyond me as well."
Vulto Creamery cheeses are available at shops in the Catskills and in New York City. A few places to find Jos Vulto's cheeses are below. (Shops are located in NYC unless listed otherwise.)
Lucy's Whey
Eataly
Stinky Bklyn
BKLYN Larder
Saxelby Cheese
Murray's Cheese Shop
The Greene Grape
Eastern District
Greenpoint Cheese & Meat
Astoria Bier and Cheese
Campbell Cheese & Grocery
The Cheese Traveler, Albany
Rubiner's Cheesemongers, Great Barrington
Talbott & Arding Cheese and Provisions, Hudson
Lucky Dog Farm Store, Hamden
Good Cheap Food, Delhi