The Catskills region has plenty of culinary traditions — maple tapping, cider brewing, cheese making — but one thing the area has never been known for is pasta. Bob and Jen Eckert are out to change all that, using local ingredients to bring the traditionally Italian staple into the Catskills food-making fold.
The husband-and-wife team began Northern Farmhouse Pasta (209 Rockland Road, Roscoe, 607-290-4041, northernfarmhousepasta.com) in 2011, dedicated to creating handmade ravioli and other pasta using local ingredients. To drive the point home, an image of New York state adorns all of Northern Farmhouse's packaging.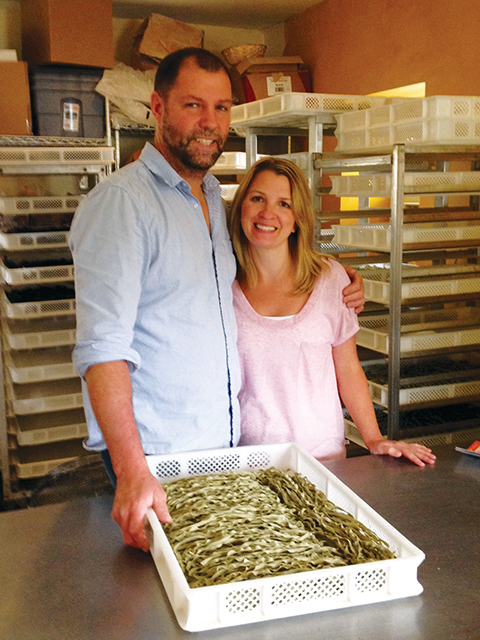 Left: Bob and Jen Eckert. Photo by John Tappen.
"I was tired of seeing the outline of Italy everywhere," said Bob Eckert, who is of Italian descent himself. "Everyone always talks about a 'fine Italian tradition' to sell pasta. We wanted to focus on New York."
With a mission to produce a truly local product, the Eckerts emphasize seasonal goods. They favor a few fresh ingredients (two to three for pasta; about five for ravioli) and avoid using preservatives. Many of the ingredients, from squash to mushrooms, grow right in their backyard in the Sullivan County town of Roscoe.
"If they're not ours, we get them from local farmers at the farmers' markets," said Jen Eckert.
Or from the wild. Come late April, Bob Eckert ventures into the mountains near his home to forage for ramps, wild leeks with a delicate onion flavor that are difficult to cultivate. He includes them in a ravioli that's available only in April and May.
"I always want to have my hands in the dirt or in the flour," he said.
The only ingredient the Eckerts don't grow, buy or gather in the Catskills is wheat. But even that comes from New York — from a supplier in the Finger Lakes — and someday they hope to reap their own grain on their farmstead.
The pasta selection changes with the seasons. The Eckerts stuff their ravioli with roasted summer corn in the summer; pumpkin and arugula, butternut or acorn squash in the fall; and cherry-wood-smoked mushrooms in the winter.
Bob Eckert's family goes way back in the state — six generations of his relatives have called New York City home. Jen's family moved with her to Roscoe when she was 10 years old, and after Bob met her, he began calling the Catskills home, commuting to his job as a manager for a construction company in the city.
One day, Bob decided to try making pasta. The self-described city boy is a self-taught ravioli maker. He perfects each recipe through trial and error, making 4-ounce batches before leveling up to a pound at a time. He's always generating new ideas, often tinkering with new recipes into the early morning hours.
The couple have two children, aged 19 and 6 years old. They've managed to set up a routine that combines family life with pasta making.
After dropping their 6-year-old off at school, Bob makes local deliveries and works on a new shop the couple is building down the street while Jen makes pappardelle, fettuccine, orzo, rotini and gnocchi sardi. In the afternoons, Bob makes ravioli. After dinner, they package the day's work. On an average day, they produce 100 12-ounce bags of pasta.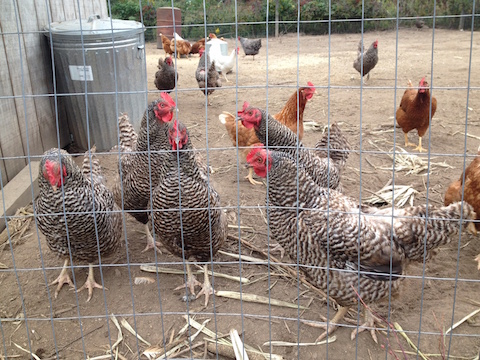 Above: Chickens at Northern Farmhouse Pasta in Roscoe. Photo by John Tappen. 
Northern Farmhouse Pasta is now sold in 50 stores across six states, and the Eckerts sell specialty varietals locally at farmers' markets and seasonal festivals. With orders increasing, they're opening a storefront where they will sell their pasta along with other local foods, some of which they raise themselves.
"We'll be selling our chicken eggs, duck eggs, our vegetables and other local vegetables, local syrups and honeys," said Jen. "All things local. Definitely all things New York."
This article originally appeared in the print version of the 2015 Catskills Food Guide, our annual publication covering food and farms in the Catskills. The Catskills Food Guide is distributed across the Catskills region and at select locations in the NYC metropolitan area. Find a copy near you here.