Above: Tyler Borchet, center, searches the driftwood pile at the Jan. 23 driftwood giveaway in Olivebridge. Photo by Julia Reischel. 
Driftwood is the Catskills version of the iPhone -- people line up around the block to get it.
Hundreds waited in below-freezing weather in the Ulster County hamlet of Olivebridge on Friday, Jan. 23 for a chance to pick through a pile of free driftwood being given away by the New York City Department of Environmental Protection.
The NYC watershed agency removes driftwood from the shores of its Catskills reservoirs every year. To get rid of the driftwood, the agency used to burn it. But this year, it tried something new: giving it away to the public.
Above: The line for driftwood. Photo by Julia Reischel. 
After the DEP announced last week that it would be giving away truckloads of driftwood that it had removed from the Ashokan Reservoir, it received an overwhelming response. Hundreds of people shared the agency's Facebook announcement about the event, and the agency fielded calls from as far as Brooklyn.
Some people couldn't wait for the official giveaway to begin. Last week, some driftwood that the DEP placed at the giveaway location disappeared in the night.
"It was a small pile that we had placed there ahead of time," said Adam Bosch, the DEP staffer who supervised the event. "As a result, we decided that we would keep the rest of the driftwood in an undisclosed location."
The giveaway began at 10 a.m. on Friday, and the first person was already waiting in line at 8:38 a.m., Bosch said.
By the time the first dump truck holding 20 cubic yards of driftwood arrived and began to pour out its load of wood, about 100 people were standing along Beaverkill Road, waiting for permission to rush the pile.
Above: A truckload of driftwood. Photo by Mike Wentland, of Wentland Custom Millworks. Used with permission. 
Once the order was given, the good pieces — large, gnarled stumps and long logs — were gone in minutes. A festival air reigned as children, college students, paint-spattered artists and bearded elders combed through the smaller leftovers.
Another dump truck delivered a second load around 11 a.m. That, too, disappeared quickly.
Bosch said that close to 200 people attended the event.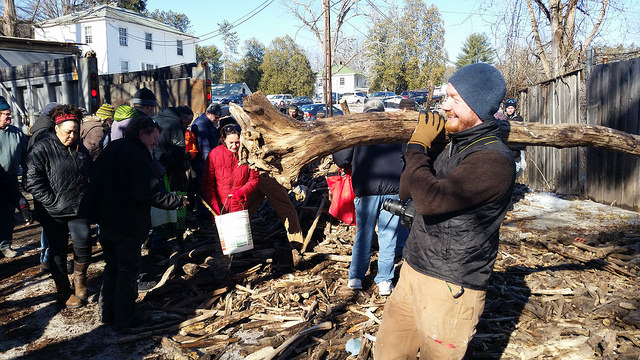 Above: Mike Wentland scored a large piece of driftwood at the giveaway. 
Chris Van Vooren drove 75 miles from Greenwood Lake in Orange County. He was looking for driftwood to use as stands for his artwork. He paints rustic scenes on saw blades and sells them under the name C.V. Designs. 
"I'm looking for the funky pieces," he said.
Tyler Borchet, a sculptor who owns the Trestle Gallery in Kingston, considered bringing a large truck before he heard that quantities of driftwood would be limited. Borchet uses driftwood in large freestanding web-like sculptures, and he needs lots of it.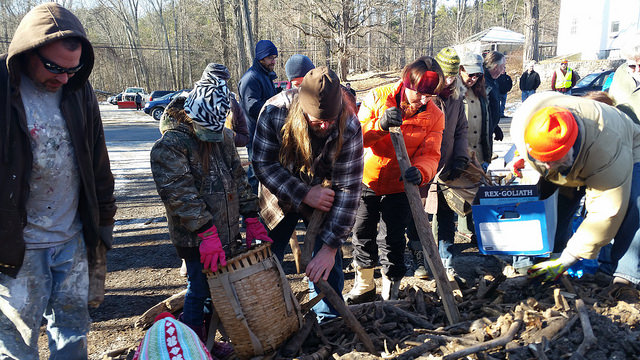 Above: Chris Van Vooren (left) and Hoppy Quick (center, in hat) pick through the pile. Photo by Julia Reischel.
Samsonville artist Hoppy Quick brought his two homeschooled daughters to search for driftwood pieces to use to build rustic furniture and his trademark gazebos, which he manufactures as the Catskill Mountain Woodsman. Quick has plans to make a bench out of driftwood for each of the city's upstate reservoirs.
Mike Wentland, a designer and contractor who owns Wentland Custom Millworks in Big Indian, scored a big log.
"You have to polish it to reveal the wood grain," he said, grinning as he hauled his prize off.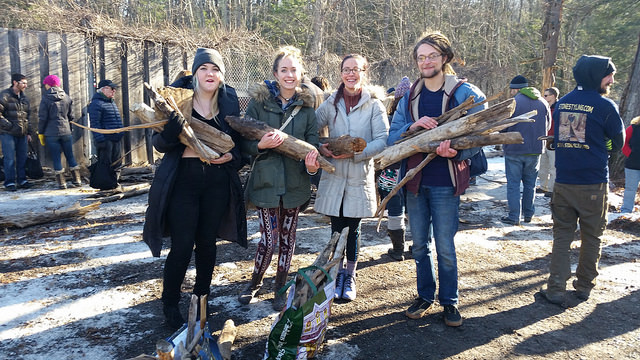 Above: From left to right, Caitlin Dunne, Melissa Scheibner, Julia Murray and Jared Winslow drove up from New Paltz to get driftwood. Photo by Julia Reischel. 
Jared Winslow, Julia Murray, Melissa Scheibner and Caitlin Dunne drove up from New Paltz. All of them left carrying armloads of driftwood.
"We'll use the pieces for carving, painting and little sculptures," Scheibner said.
Not everyone angling for driftwood was an artist. Olivebridge resident Linda Werner had hoped to find "a nice big piece for my yard," she said. 
"I was thinking, 'I hope they don't ask for my artist ID.'"
She didn't score a big piece, but Werner said she had fun anyway.
"It was nice — a little coming-together," she said. "I loved it."
The driftwood giveaway went well enough that the DEP will plan another in the future, Bosch said.
"Given the popularity of this event, DEP will look for additional opportunities to provide driftwood to our neighbors in the months and years ahead," DEP Commissioner Emily Lloyd said in a press release.
In the meantime, everyone is invited to share their driftwood creations with the DEP on its Facebook page or via email. The project even has a Twitter hashtag: #ashokandriftwood. 
To see more photos from the driftwood giveaway, check out our album on Flickr. 
Previous coverage: