Above: Camille Zamora performs zarzuela. 
Each year, Phoenicia's International Festival of the Voice kicks off with something akin to a barn raising. Volunteers unload a massive 5,000-square-foot stage with large white tents flanking from its roost in a local barn and put it together in Parish Park in the tiny hamlet of Phoenicia in Ulster County. 
The tent is already up and ready for this year's festival, which kicks off next Wednesday, July 30, with a theme of "Celebrating Spain." The five days of vocal events and lectures spread across eight local venues offer a wealth of flamenco and salsa-inspired numbers along with gospel, Jewish liturgical music, shape note singing, and the centerpiece performance of "The Barber of Seville." 
Although Phoenicia's festival is sandwiched between two other major east coast classical music showcases — Cooperstown's Glimmerglass Festival and Bard College's Bard Music Festival —  it offers something more community-oriented, said Justin Kolb, a concert pianist and chairman of the festival's board.
In Phoenicia, world-renowned professionals mix with community singers in the tiny Catskills hamlet, brought together by all things singable. 
"It's the real leaders in the field paired with the most wonderful down to earth spirits," said soprano Camille Zamora, an opera star who will perform zarzuela (Spanish opera) during the festival's finale on August 3. 
That's because the Voice Festival was founded by major opera stars who just happen to be Catskills locals. 
In 2009, Louis Otey, Maria Todaro, and Kerry Henderson, globe-trotting opera singers who settled in Phoenicia after leaving New York City, put on a performance called "Opera Under the Stars" to raise funds for playground equipment in the Parish Park in Phoenicia. When 500 people came to the show, they knew they were onto something. 
Since then, the Phoenicia Festival of the Voice has grown significantly, first becoming a three-day festival and later progressing to a full five days with a program of 25 events.
"We're babies in the business and we're pulling 5,000 people into a hamlet of 350. It's crazy," Kolb said. "As chairman, I'm absolutely convinced the reason [for the festival's growth] is because of the vested interest on the part of the citizens of the community."
The Phoenicia businesses appreciate the throngs of people crowding their hip main street, Kolb said. They make contributions, buy ads and offer up some of the admittedly limited commercial parking spaces to make sure the show goes on. 
"Part of our business mission is to serve as an economic engine and bring revenue into the Catskills," Kolb said. "Merchants love us." 
"There's something elemental"
Soprano Camille Zamora generally thinks of opera singers as vagabond "freelancers or gypsies," floating between continents, festivals and opera houses. 
Coming to sing in Phoenicia, she said, is a spiritual experience — worlds away from a dreary cement rehearsal hall.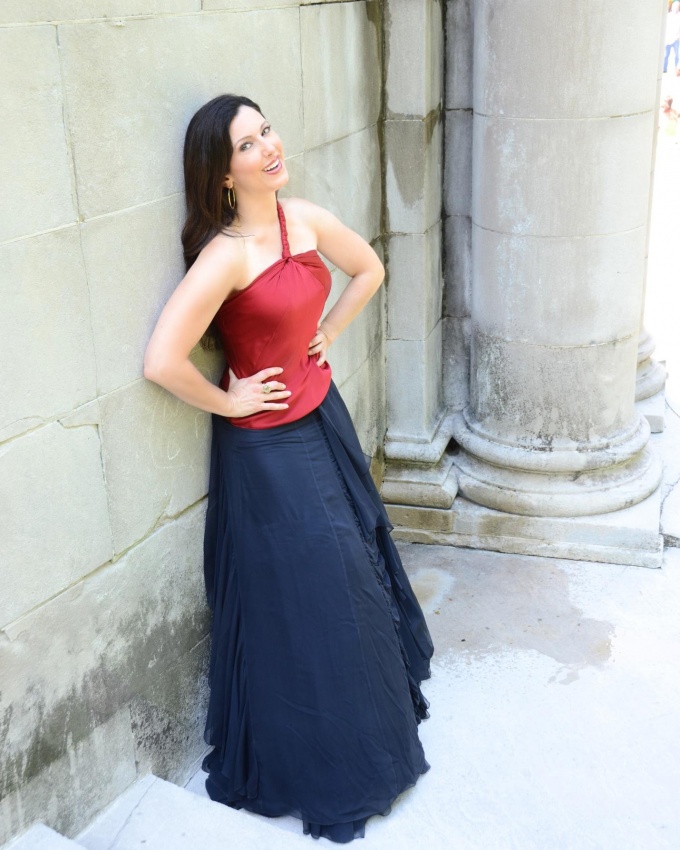 Above: Camille Zamora. Photo courtesy of Camille Zamora. 
"There's a convergence of mountain, valley and river," Zamora said. "There's something elemental. With the artists who are there and the colleagues who have worked together before, there's also this buzz of creative excitement." 
Most of the professional singers who will sing at the festival next week have performed and travelled in the same international concert circuit and have found the festival through their colleagues. 
"There's an incredibly high standard of music making, of excellence," Zamora said. "They could sing these parts anywhere in the world and here they are in this wonderful little town."
Along with the pros, community choral groups and chamber groups are an integral part of the event. Amateur singers who are willing to learn and rehearse the repertoire are selected to take the stage in one of the productions.
There's also a community education element to the festival. Performers take part in motivational, technical and music appreciation clinics for Catskills middle school and high school music kids. 
"There's no successful classically oriented festival that doesn't have an educational component," Kolb said. 
And at this festival, anyone can rub elbows with the stars throughout during the morning "Latte Lectures" held at Mama's Boy Cafe at 10 a.m. throughout the week. Coffee in hand, artists will discuss the productions, performances and techniques with festival attendees.
While the first lecture years ago brought in just six people, Kolb said that he anticipates packing the small cafe's front deck with 30 people or more. 
"Classical musicians are so damned passionate," he said. "It's just as fun to go and watch them talk as it is to hear them sing." 
Bringing 'duende' to Phoenicia
While Zamora loves the laundry list of languages she sings in, she said that her passion lies in the Spanish language: the music she grew up with. 
"It always feels like coming home," she said. "It's very comfy and yummy to sing."
Zamora will close the festival on Sunday evening by singing a genre called zarzuela, a lyrical dramatic style that involves the soaring, wide range of grand opera and fast-paced, nearly-spoken "patterned sections."
"There's a spanish word for soul: 'duende,' " she said. "It has a lot of that." 
Though the zarzuela fell out of style following the Spanish Civil War, Zamora said that interest in Spanish classical music is growing.
"I've never found anyone to be indifferent," she said. "I often joke it's like grand opera meets your favorite salsa band. People really fall in love with it."
The Phoenicia International Festival of the Voice. 10 a.m. to 4:30 p.m., July 30 - Aug. 3 Phoenicia.  Ticket prices start at $25-$125 for a general pass with various options to buy single-show and event tickets.  A full calendar of the festival's events and venues can be found on on phoeniciavoicefest.org and on the festival's Facebook page.