It takes luck, miracles and a hero or two to make a music festival happen. That's how Maria Todaro sees the sequence of events leading up to the annual Phoenicia International Festival of the Voice, which begins today, Wednesday, July 29.
In mid-July, the festival's 28-piece orchestra suddenly lost its rehearsal space in New York City, and Todaro was frantic. She rallied the support of festival patron and fellow musician Mark Holland, who happened to call her about getting tickets.
"I said, 'Can I ask you a favor? Can you go look at some rooms for me?' He went to visit 20 churches in the city," Todaro said. "He called me at midnight and said he found the Riverside Church. That was incredible. Every day, there's a miracle like that."
Todaro, the festival co-founder and executive director, is exhaling this week now that some of the last-minute problems of finding housing for 69 of the 132 guests artists and tapping the generosity of local restaurants and volunteers to feed them have been solved.
There have been other last-minute strokes of luck.
When some roles in several of the festival's productions were still vacant two weeks ago, Todaro cast an actor after a chance meeting at the festival's headquarters in the Ulster County hamlet of Phoenicia.
Michael Schwartz, who recently played a lead character in an Off-Broadway performance of "A Moment in Time," was visiting the Catskills and dropped by.
He was just what Todaro needed for the part of Frid in the Stephen Sondheim production, "A Little Night Music" and for the dual roles of Joe DiMaggio and a sailor in the world premiere of Robert Manno's "Do Not Go Gentle."
"Michael was with a bunch of guys asking questions about the festival, and he said, 'I'm an actor in the city.' He was physically what we wanted, so I asked him if he would consider being on stage," Todaro said.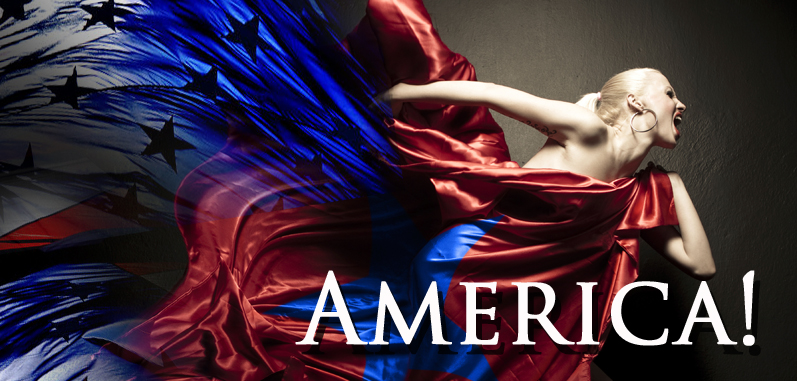 Above: The theme of the 2015 Phoenicia International Festival of the Voice is "America!"
Bigger and more professional
This summer's festival, now in its sixth year, will feature 23 events over five days at eight venues in the hamlet of Phoenicia. (See our guide to the week's events by clicking here.) 
The festival's theme this year is "America," and it opens on July 29 at 8 p.m. with "Voices of Distinction—Red, Whites and Blues!" at the Parish Field main stage with a performance of George Gershwin's classic "Rhapsody in Blue," spotlighting the talents of pianist Justin Kolb.
Additional highlights that night will include world-renowned jazz artists Jack DeJohnette and Sheila Jordan, veteran singer-songwriter David Bankston and vocalists Emily Drennan of "Mamma Mia" fame and Elise Testone, an "American Idol" finalist.
"God is great. He has blessed this project amazingly," Todaro said. "It's five times bigger this year, and it's put a lot of pressure on my team. We just had to continue to shine."
This year's star-studded lineup bears that out.
One of the headliners is mezzo-soprano Frederica von Stade, dubbed by the New York Times as "one of America's finest artists and singers."
Stade will be an integral part of "American Classics: Live and In Person," a July 31 vocal concert featuring the works of such composers as Jake Heggie, Tom Pasatieri, Ricky Ian Gordon, Peter Schickele, Robert Cucinotta and Carlisle Floyd, all of them expected to be present.
As always, the highlight of the festival will be a full-scale opera under the stars. This year, "Of Mice and Men" is to be featured. The three-act opera by Carlisle Floyd is based on John Steinbeck's 1937 novel set during the Great Depression.
"The little engine that could"
Todaro's troop of 189 volunteers is ready to roll as the festival nears.
In recent days, she assembled a team to move the festival's 5,000-square-foot stage from a barn in Fleischmanns to Parish Field, an open space at the foothills of Mount Tremper in Phoenicia.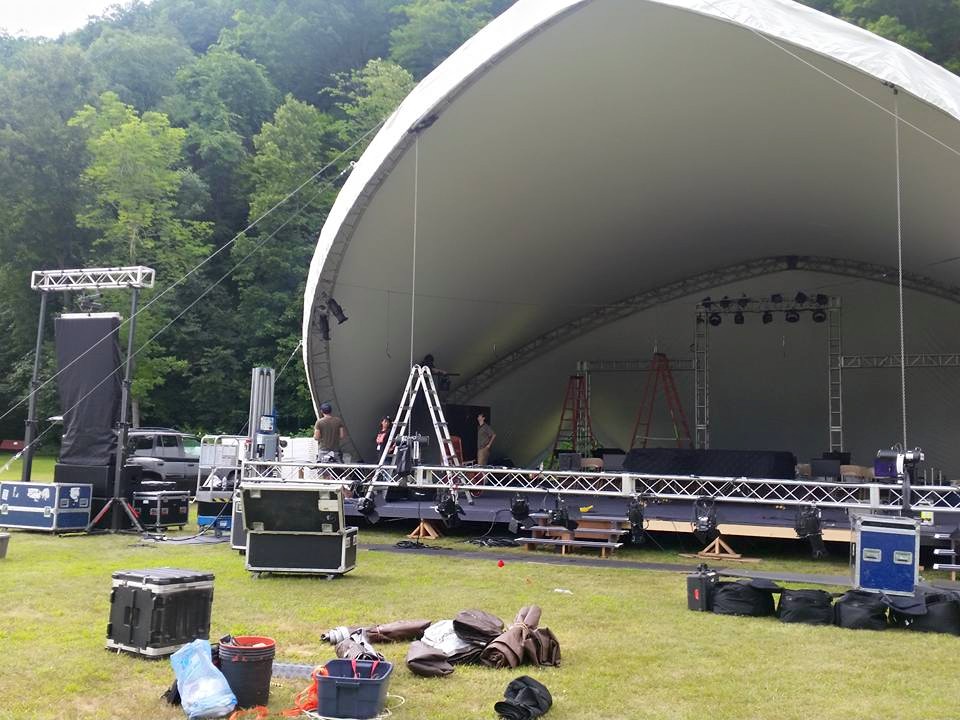 Above: The stage being set up in Parish Field. Photo via the Phoenicia International Festival of the Voice's Facebook page. 
On a Facebook post, Todaro praised the "beautiful team of wood warriors," which included retired Ulster County Undersheriff Frank Faluotico, who used his truck for the endeavor.
Delegating is only a small portion of what Todaro does. Pulling off the festival requires an all-around team effort, she said, and the 42-year-old assumes her share of the load.
On July 23, she was on her way to the airport to pick up guest artists after a long Wednesday evening rehearsal with her combined Phoenicia and Woodstock community choirs, which will have a role in the festival.
"We've been working nonstop, and people are noticing," said Todaro, a classically trained and highly credentialed mezzo-soprano. "We've been called the 'little engine that could.' This is a new form of art management, and people say we are setting an example. They are saying, 'I can't believe what you are doing with so little.'"
According to Todaro, the Festival of the Voice—one of a half dozen such festivals around the world—costs $1 million to carry out. It relies largely on benefactors who not only love the arts but see the festival's regional economic merits. Last year alone, the hamlet of Phoenicia, which has a population of 300, attracted about 5,500 people during the festival's five-day run.
Paying artists, donating food
Part of the financial burden for festival organizers was lifted late last year when the festival was awarded close to $240,000 in state grants, and plans are underway to hire a full-time development director along with other employees, Todaro said.
The grant money will enable the festival to pay guest artists for the first time, with $35,000 alone going to von Stade and another $80,000 going to the orchestra. Many of the visiting artists command up to $8,000 a night, Todaro said.
To keep costs under control, the festival holds several fundraisers throughout the year, and Todaro is not shy about getting the support of local businesses.
Food businesses, including Ulster County bakery Bread Alone, have stepped forward to donate meals for this year's event, and volunteers like Faluotico will be putting out a spread for the artists.
"All the local restaurants are pitching in," Todaro said. "After the shows, there's nowhere to go because they're closed, so places like The Emerson [Resort] and the Phoenicia Diner are donating their stuff. If we had to pay for all of this, it would be incredible."
Accessible opera
Todaro said all the hard work is worth it as organizers watch the festival blossom into a reputable institution and realize their goal of cultivating a new appreciation for opera as an art form.
"There have been many studies that have said that arts organizations will not survive if we don't broaden the perception [of opera]," Todaro said. "A lot of people are intimidated to go to an opera. We're losing all these audiences because they say it's just for the rich. It's not true. Opera touches everybody wherever they are." Todaro said that organizers noticed at last year's performance of "The Barber of Seville" that the audience was primarily "youthful" and "local."
"It's our job to make it accessible," she said. "We are investing in the community."
That includes the launch of educational and mentoring programs including a "Working with Masters" workshop for children from ages eight to 12, master classes for young professionals and programs in 20 local schools and adult workshops.
"The way we build our audience is [by] educating our audience," Todaro said. "I have three choirs encompassing 75 people. It's open to all, so anyone can join us. This choir has been an instrument of bonding and broadening our audience."
Todaro maintains a good sense of humor and congeniality even as the pace picks up before the festival. This will be the first year her famous husband, opera singer Louis Otey, is away as the festival opens.
The world-renowned baritone is performing the role of Pascoe in Ethel Smyth's three-act opera "The Wreckers" at Bard SummerScape in Annandale-on-Hudson. Todaro is fully confident that the Phoenicia festival will come together, and she's asked her team to hold her accountable year-round.
"I ask them to kick my butt if I ever turn into a monster," she said. "There's no way I could do this if it were not by God's grace. I hope and pray that I will become a model of inspiration, but that's a work in progress."
The Phoenicia International Festival of the Voice. July 29 through August 2. For a full festival lineup and ticket prices, call 845-586-3588 or go to phoeniciavoicefest.org. The Phoenicia International Festival of the Voice is a Watershed Post advertiser.