Above: Justin Behan, the owner of Green Wolf Brewing Company. Photo used with permission.
Three and a half years ago, Justin Behan was standing in an old house on his property when he had a revelation. "It dawned on me," he said, "this building has electric, and plumbing, and heating. Oh my God, I could turn it into a small brewery!"
That was the beginning of the "insane idea" that led to Green Wolf Brewing Company, which opens the doors to its new tap room in the Schoharie County village of Middleburgh on Friday, Dec. 12.
Green Wolf isn't Behan's first experiment with beer. Like many other small brewers, he began by homebrewing. The sensory aspects of the process first drew him in.
Below: Ales from the Green Wolf Brewing Company. Photo courtesy of Green Wolf.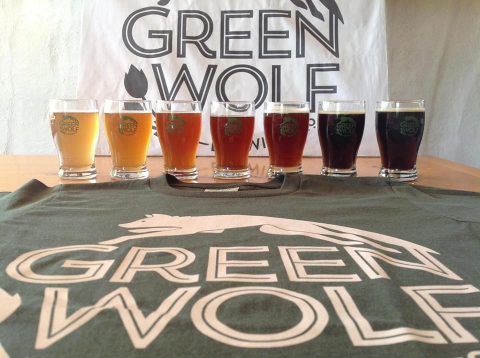 "The smells of the brew day, working with the wonderful ingredients, the aroma of the hops, the magic of it--it's pretty magical!" he said. "I still can't believe that yeast does what it does."
But it was the communal aspect of beer that kept him coming back. "I'm a little biased," he said, "but beer might be the most communal of all alcohol. It's just a warm and cozy thing."
It was this camaraderie that was most appealing to Behan as he embarked on opening Green Wolf.
"Early on," he said, "I discovered how friendly the brewing community is, and how supportive the other people who work at small breweries are. They're generous with sharing their knowledge, and sharing the process." He spent six months apprenticing at Good Nature Brewing in Hamilton, New York, an experience he calls "invaluable."
Behan is enthusiastic, but the process has not been easy. Despite having a business partner and a very supportive family, he works eight-to twelve-hour days, six days per week.
"It's definitely rigorous," he said. Red tape felt overwhelming at times, especially when Behan had to wait for federal permits during the government shutdown in 2013.
And finally, he had to jump a few unexpected hurdles, such as scouting a space. After deciding that the old house that inspired his vision was unsuitable for a brewery, it took him an entire year to find a building that fit his size, location, and price requirements.
But that year paid off when Behan found his current space on Main Street in Middleburgh—he couldn't be happier with the community.
"We have an amazing mayor in Middleburgh," he said. "The government here has been amazing. And the Schoharie County business community is thriving, and imaginative, and super supportive."
He'll be celebrating that community next Friday, Dec. 12, when the tap room opens in concert with "Miracle on Main Street," Middleburgh's annual holiday festival. There will be live music and beer tastings at Green Wolf's storefront, and a ribbon cutting at another new Main Street Middleburgh business, the Olde Corner Store at 308 Main St.
Behan hopes that Green Wolf will become a community-building establishment. Though he's unsure about how the brewery will grow, he is excited to one day offer jobs, and he's been developing a relationship with SUNY Cobleskill's new brewing program.
The tap room itself will be a family-friendly environment, offering board games and books, and visitors will be welcome to bring food from local restaurants to enjoy alongside Green Wolf beers and homemade sodas.
The opening of the brewery satisfies the desire to be "fearless" that Behan has long felt. "Who knows how long we have on this Earth, and who knows what happens afterwards?" he said. "I just want to do something that's exciting, and meaningful, and fun."
Ribbon cuttings at Middleburgh's Miracle on Main Street. Friday, Dec. 12, 3 p.m. at the Olde Corner Store at 308 Main St. and 4 p.m. at Green Wolf Brewing Co. at 315 Main St. Middleburgh. 
Previous coverage:
Green Wolf Brewing Co. hops onto Middleburgh Main
Green Wolf at bay: Local microbrewery on hold while shutdown drags on