Love and marriage. Horse and carriage. Coffee and beer.
Yes, in a small Sullivan County café coffee and beer go together like a marriage made in marketing heaven.
Brew, just off Route 17 at exit 109, has lived up to its motto – coffee by day, beer by night – so well that the Rock Hill hot spot is celebrating its first anniversary this week.
On Saturday, June 20, its First Birthday BBQ is a customer appreciation bash starting at 1 p.m. with free coffee, beer tastings, barbecue food specials, giveaways from beer glasses to T-shirts and live music by Paul Kean and Will Hoppey.
"What better way can was say thank you to all those who supported us over this year," said co-owner Randy Resnick. "Three local breweries — Catskill Brewery, Roscoe Beer Company and Newburgh Brewery — are giving free samples and bringing stuff to give away. It should be a lot of fun."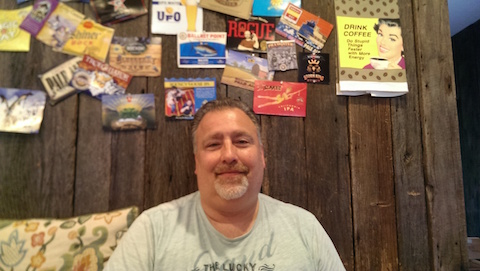 Above: Randy Resnick, one of the co-owners of Brew in Rock Hill. Photo by Janel Bladow.
Over the last 12 months, Brew has morphed into what it is today: a drive-through, eat-in coffee-and-bagel shop by morning and a burger-and-beer joint, sometimes with live music, at night.
"Brew changed a lot over the year," Resnick said. "It took us a while to figure out the correct formula."
Coffee in the morning
Brew started as a place where Resnick and his partners could roast, package and sell their own coffee. Then the concept grew.
Steve Vegliante, Brew's chief operating officer, was in Ithaca visiting his daughter at college when he saw a brewery and bagels place. He brought the idea back to Randy and his brother Butch Resnick, who is also his business partner.
"The coffee was the catalyst," Randy Resnick said. "Then we made a few tweaks."
That might be the understatement of the whole year. The coffee and bagel business flourished in the mornings. They added daily store-made cream cheese spreads and salads: egg salad and whitefish salad are a few.
Then they added the beer, installing taps for as many as 10 brews and putting in shelves that hold 300 different craft and imported beers. The barn wood paneling created a comfortable open kitchen, deli and counter spot.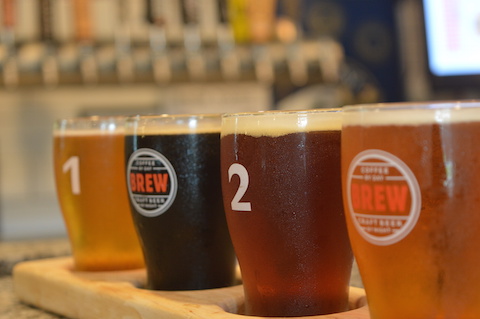 Above: A flight of beers at Brew. Photo courtsey of Brew. 
The lunch and dinner menu expanded to include a variety of grilled cheese and panini sandwiches, salads and burgers.
The menu evolved and took on a more "home-cooking style" and outdoor tables were added in back.
"We were counter service originally," Resnick said. "Then we added outside seating. Our customers are not the fast food types. They're not looking for the cheapest coffee on the block but the best coffee on the block."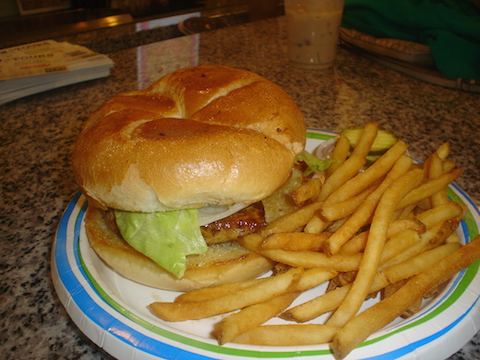 Above: A chicken sandwich at Brew. Photo by Janel Bladow. 
Deep roots in the Catskills
The Resnicks, restaurants and coffee go back a long way in the Catskills.
"Our mom has been roasting her own coffee for more than 30 years," Resnick said. Their parents, Fran and Herb Glaubman, own the Coffee Factory in Mountaindale.
Resnick proudly says that he was born and raised here.
"It's just home," he said of why he returned to the area after graduating from Johnson & Wales University, which specializes in the hospitality trades. He's been in the restaurant business in Sullivan County since 1992.
The brothers also own nearby Rock Hill restaurants — Crust Italian Eatery and Bernie's Holiday Restaurant — and the Sullivan Hotel across the street.
And Resnick admits it's a tough business.
"You need the right concept and it's all about location, location, location. When the hotel is busy, everything is busy," said Resnick. "The hotel is the core of this campus."
Engaging their customers
Concept is key but quality keeps bringing customers back.
"The drive-through is an important part of our coffee business," Resnick said. "America doesn't eat at tables any more but at the dashboard. We want to feed people where it's convenient for them."
But to draw in the customer who stays and sits to eat and drink, Brew's owners have come up with a few fun ideas.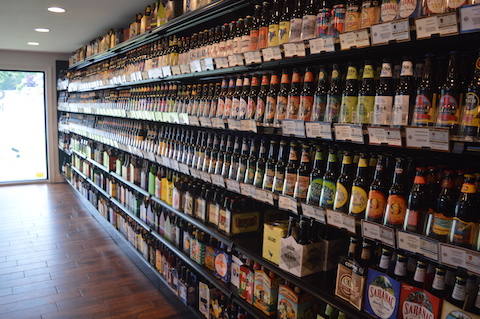 Above: A wall of beer at Brew. Photo courtsey of Brew. 
Every other Friday, they host a "Tap Takeover" where they turn over three of their 10 taps to a featured brewery. The brewery's reps come in, talk about their beer varieties, offer up tastes and give away items like key chains and glasses. Last week, the featured brewery was Stone Brewery of San Diego, California.
"We have live music and hope that customers hang out here and have something to eat," Resnick said.
On Thursday, July 2, from 5 p.m. to 8 p.m., Brew hosts "Pints for Paws," a bash to benefit The Catskill Animal Rescue with music by the Rock Ridge Band Unplugged.
"We really do have a local crowd that comes in," Resnick said of how the business has changed and grown over the first year. "After the summer we're thinking of having poetry nights. That's something that goes well with the coffee and brew thing."
Brew's Birthday BBQ. Saturday, June 20, 1 p.m. to 4 p.m. Brew, 280 Rock Hill Drive, Rock Hill. 845-796-2222. brewrockhill.com. facebook.com/brewrockhill.