Above: The Catskill Brewery on January 25, as workers were finishing up the welding and starting on the outside walls. Photo by Suzanne BeVier. Used with permission.
Breweries and distilleries are popping up like mushrooms all over the Sullivan County Catskills this year. (We think it has something to do with Governor Andrew Cuomo's helpful pro-craft-brewery legislation, which he signed into law last summer.)
One town in Sullivan County -- Rockland -- has three new breweries and distilleries. We were tipped off to the trend by the 2013 Livingston Manor & Roscoe Visitors Guide, which came out last month with an article profiling all three booze businesses. (The guide is print-only, but you can see a browsable version of it online by clicking here. The article is on page 21.)
There's the Roscoe Brewing Company, slated to offer a "Trout Town American Amber Ale" this spring from a former firehouse near the hamlet of Roscoe in Rockland.
Then there's the Prohibition Distillery, which relocated from the town of Gardiner to another former firehouse in Rockland -- this one smack dab in the center of Roscoe's downtown -- in 2012. Prohibition makes "Bootlegger21 NY Vodka" and has plans to develop gin this spring, according to the Visitors' Guide.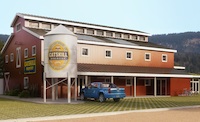 Finally, there's the Catskill Brewery, which is under construction just outside the village of Livingston Manor as we speak. (See above for a photo of the brewery in progress, and left for a rendering of the finished brewery.)
Ramsay Adams, one of the three partners involved in the Catskill Brewery, says that he hopes to open his doors this spring to sell locally-brewed beer.
Adams is also the founder and executive director of the Catskill Mountainkeeper, an environmental advocacy organization. In keeping with his day job, he's making sure that the new brewery building is as environmentally-friendly as possible, with geothermal heating and LEED-certified building standards.
"We believe that we can build a sustainable business that will survive and increase tourism and recognition for this beautiful region," Adams told the Watershed Post last week.
And these are just the brand-new booze businesses. The Catskill Distilling Company, based in the Sullivan County town of Bethel, got its start in 2009, and has been getting accolades for its "Peace Vodka," "Most Righteous Bourbon," "Wicked White Whiskey," and "Curious Gin" ever since.
There's so much buzz about brewing that the Sullivan County Chamber of Commerce is getting into the act. Today, the Chamber suggested on its Facebook page that "Sullivan County could become the Micro-Brew Capital of the Northeast:" 
If SUNY Sullivan offered courses (everything from growing hops to managing a microbrewery) would you want to start your own Microbrewery or do you know anyone who would? Let's start something great!
More info on Sullivan County's brewing boom:
Prohibition Distillery on Facebook
Roscoe Brewing Company on Facebook
Catskill Distilling Company on Facebook
Livingston Manor and Roscoe Visitors Guide article, "Browsing the Brewshed"
Cuomo bill would create "farm breweries" license, Watershed Post, March 2012