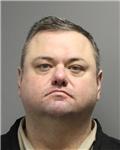 A 44-year-old Pennsylvania man has been charged with embezzling over $50,000 from Masonic lodges in Sullivan County, where he was an officer for the fraternal organization. 
Milford resident John Wells was arrested by Liberty state troopers on Tuesday, Jan. 21 and charged with second-degree grand larceny, according to a news release from New York State Police. The arrest was made after an investigation by state police and the Sullivan County District Attorney's office.
Wells was arraigned in Liberty village court and released after posting $15,000 bond.