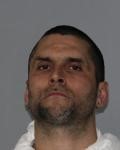 The New York State Police at SP Ellenville announce the arrest of Joshua K. Stuart, age 40 of Kerhonkson, for Robbery in the First Degree (a Class B Felony) in connection with an armed robbery that occurred the morning of August 16, 2016.
At approximately 9:25am, August 16, 2016, the Ulster County 911 Center received a report of an armed robbery that occurred at the Catskill Pharmacy located at 6401 State Route 209 in Kerhonkson. The initial investigation revealed that a single male subject wearing a mask and brandishing a weapon entered the pharmacy demanding prescription medications and money. Further investigation revealed that this male suspect was armed with a pistol and held the pharmacist at gunpoint demanding the medication. Following an intensive investigation, Joshua Stuart of Kerhonkson was arrested in connection with the armed robbery.
Joshua Stuart was arrested and charged with Robbery in the First Degree and arraigned in the Town of Wawarsing Court before Town Justice Charles Dechon. Stuart was remanded to the Ulster County Jail without bail pending a future court appearance.