Saturday, May 27, 2017 -

1:00pm

to

3:00pm
Location
Mt. Tremper ,
NY
United States
42° 2' 29.7492" N, 74° 16' 51.8664" W
New York US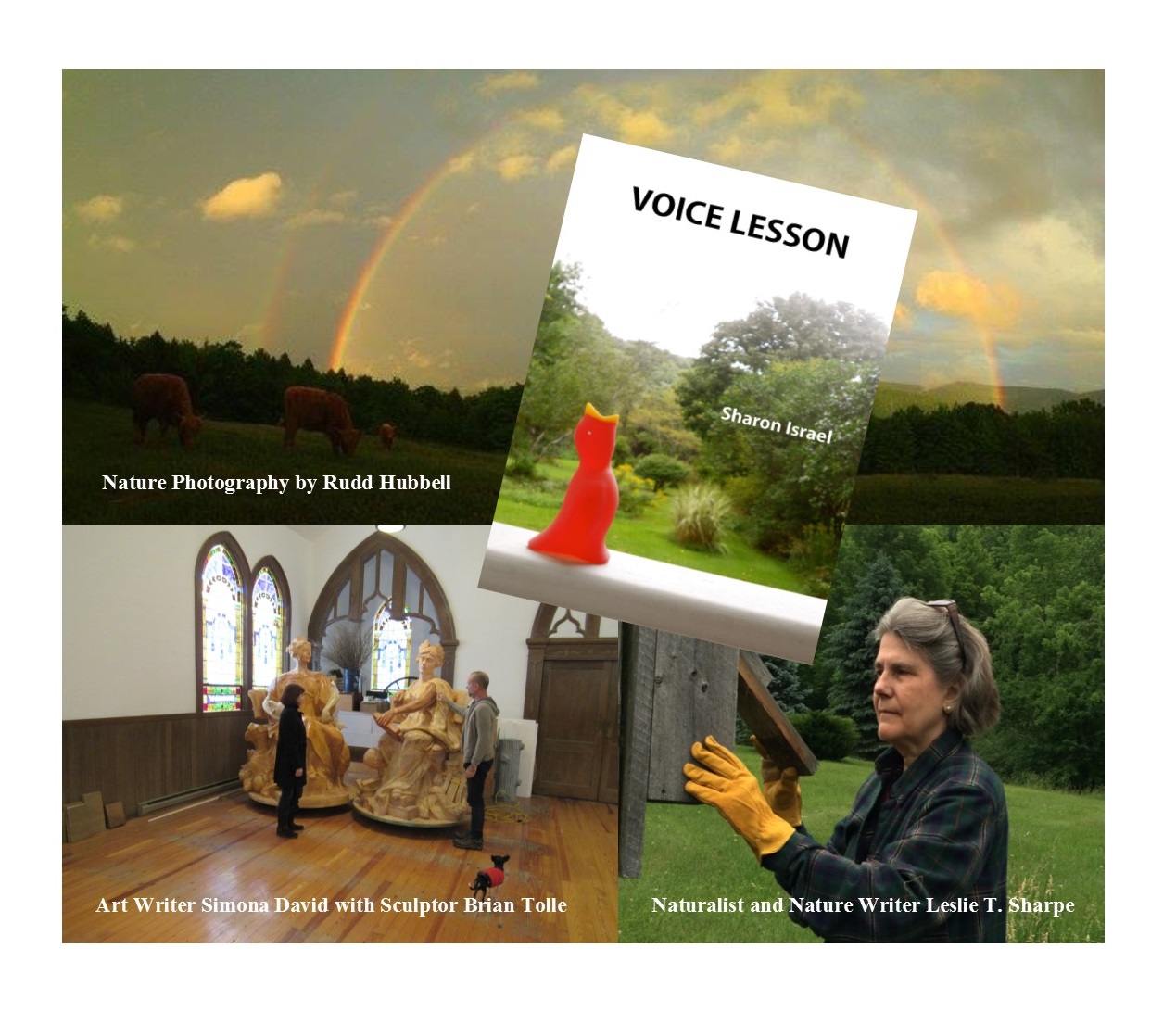 WRITERS IN THE MOUNTAINS (WIM)
PRESENTS
ARTIST – WRITER TALK SERIES
MUTUAL MUSES IN THE CATSKILLS
"THE ARTS CONVERGE"
THE MAURICE D. HINCHEY CATSKILL INTERPRETIVE CENTER
MT. TREMPER, NY
SATURDAY, MAY 27 AT 1pm
Painters Margaret Leveson and Lisbeth Firmin, Printmaker/Ceramicist Peter Yamaoka and Textile Artist Tabitha Gilmore-Barnes in Conversation with Art Writer Simona David
Art writer Simona David will discuss her latest book, How Art Is Made: In the Catskills (2017), and share the stage with several acclaimed artists who live and work in the Catskill Mountains: painters Margaret Leveson and Lisbeth Firmin, ceramicist and printmaker Peter Yamaoka and textile artist Tabitha Gilmore-Barnes. How Art Is Made: In the Catskills pays homage to the place where American art was born through a series of conversations with creatives who live and work in the Catskills. Recent works will also be exhibited.
SATURDAY, AUGUST 12 AT 1pm
Composer Robert Cucinotta in Performance and Conversation with Poet Sharon Israel
Composer Robert Cucinotta and poet and soprano Sharon Israel will discuss their unique roles as each other's muses. Cucinotta will play electronic works inspired by Israel's poems, feature the poet's voice, or both. Israel will read from her new chapbook Voice Lesson, including poems set to music by Cucinotta or inspired by his compositions.
Israel is the host of Planet Poet–Words in Space, an edition of The Writer's Voice on WIOX 91.3 FM in Roxbury, NY. Her debut chapbook Voice Lesson was published by Post Traumatic Press earlier this year, and her work has appeared in Per Contra, SPANK the CARP, 5:2 Crime Poetry Weekly, Medical Literary Messenger, and Spry Literary Journal. In 2016, Israel appeared as a panelist at the Massachusetts Poetry Festival in Salem, MA.
Born in Brooklyn, Cucinotta studied composition and electronic music at the Conservatory of Music at Brooklyn College with Jacob Druckman, Robert Starer and Charles Dodge. His work MASQUE: the Tempest was premiered at the 2015 Phoenicia International Festival of the Voice by mezzo-soprano Maria Todaro, bass Bradley Smoak and pianist Doug Martin. Recent recordings include Divertimento For Mr. Brooks (2013), Koool Kitchen (2013), Dracula: Harker's Journal (2014) and Life On The Screen (2016).
SATURDAY, SEPTEMBER 23 AT 1pm
Photographer Rudd Hubbell in Conversation with Nature Writer Leslie T. Sharpe
Photographer Rudd Hubbell, who's been documenting the natural beauty of the Catskills since the 1970s, will be in conversation with nature writer Leslie T. Sharpe.
A descendent of the area's first settlers, Hubbell has captured thousands of photographs of our spectacular wilderness. He enjoys looking closer than the broad view, and always tries to focus on the things most of us overlook or take for granted. "Every scene is constantly changing and transforming, and I strive to capture that," Hubbell says.
Sharpe is a writer, editor and educator. A member of PEN American Center, she is the author of Editing Fact and Fiction: A Concise Guide to Book Editing (Cambridge University Press, 1994), which is regarded as a "modern editing classic" and "On Writing Smart: Tips and Tidbits," featured in The Business of Writing (Allworth, 2012). Her new book, The Quarry Fox and Other Critters of the Wild Catskills (The Overlook Press, 2017), is a lyric narrative look at the wild animals of the Catskill Mountains. Sharpe will read from this work and discuss the genre of nature writing as it relates to the Catskills.
Writers in the Mountains is a 501(c)(3) not-for-profit organization with a mission to provide a nurturing environment for the practice, appreciation and sharing of creative writing. For more information, visit writersinthemountains.org.
The Maurice D. Hinchey Catskill Interpretive Center is a partnership between the Catskill Center and the New York State Department of Environmental Conservation, with generous financial support by the New York City Department of Environmental Protection and Catskill Watershed Corporation and generous staff and volunteer support from Catskill Mountainkeeper, Catskill Mountain Club, Catskill 3500 Club, and the New York-New Jersey Trail Conference. To learn more, visit catskillinterpretivecenter.org.
The Catskill Center has been promoting the Catskill Mountain Region through regional advocacy, environmental education, arts and culture programming, invasive species management, and land protection for over 45 years. The Center stimulates, conducts, and supports integrated actions to protect vital ecosystems and unique landscapes, to enhance economic opportunities for all the region's residents, to preserve cultural and historic assets and to further a regional vision and spirit. For more information about the Catskill Center visit catskillcenter.org.