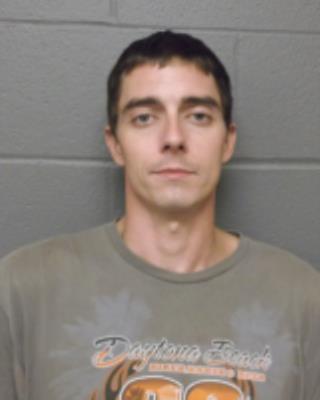 A Deposit man driving a tow truck knocked over a utility pole and fled the scene while intoxicated on Monday in the Delaware County town of Tompkins, police say.
Above: Adam K. Buteau. Photo via the Delaware County Sheriff's Office. 
Thirty-year-old Adam K. Buteau was driving a 2002 International Harvester flatbed tow truck owned by Buteau's Economy Auto of Deposit when he rammed into a wooden utility pole on County Road 47 on Monday evening, July 11, according to a press release from the Delaware County Sheriff's Office.
The impact severed the pole, which fell across the road and blocked traffic, police say.
Buteau fled the scene in the truck, and then abandoned the vehicle and was found walking along the road about three miles from the crash scene, according to the press release.
He was arrested by Sheriff's Deputies and was charged with misdemeanor driving while intoxicated, failure to keep right and leaving the scene of a property damage automobile accident, police say. He was arraigned in the town of Sidney Court and was remanded to the Delaware County Correctional Facility in lieu of $1500 cash bail.