A national debate on how to respond to bigotry and hate speech has suddenly become a pressing local issue in Schoharie County, after the appearance of swastikas throughout the tiny village of Esperance on New Year's Day.
State police arrested a 13-year-old on Jan. 5 after an investigation into the vandalism, which left swastikas emblazoned on local businesses, traffic signs and a church. The teenager, who has not been named, is charged with ten counts of making graffiti and one count of burglary in the third degree, and is scheduled to appear in family court at a future date.
Police say that the teenager acted alone, and was not motivated by any ethnic or racial hatred, but by a familiarity with the symbol through video games. According to a police statement, the teen chose the swastika to spray-paint because it was easy to draw.
Community worked together to clean vandalism
Esperance deputy mayor Kelly Shelffo first learned of the incident when state troopers knocked on her front door Sunday morning to notify her of the vandalism. In an interview with the Watershed Post, she said that after she opened her front door, "I could see three swastikas from my house."
"I was sick to my stomach," said Shelffo.
Shelffo then sat down her two school-aged children to have a conversation about what the swastikas represented and why they were bad, after which she and her two children went out with cleaning supplies to remove the anti-Semitic symbols as best they could.
Members of the community assisted in the cleanup and hung signs declaring "Love not Hate" over the spray-painted swastikas.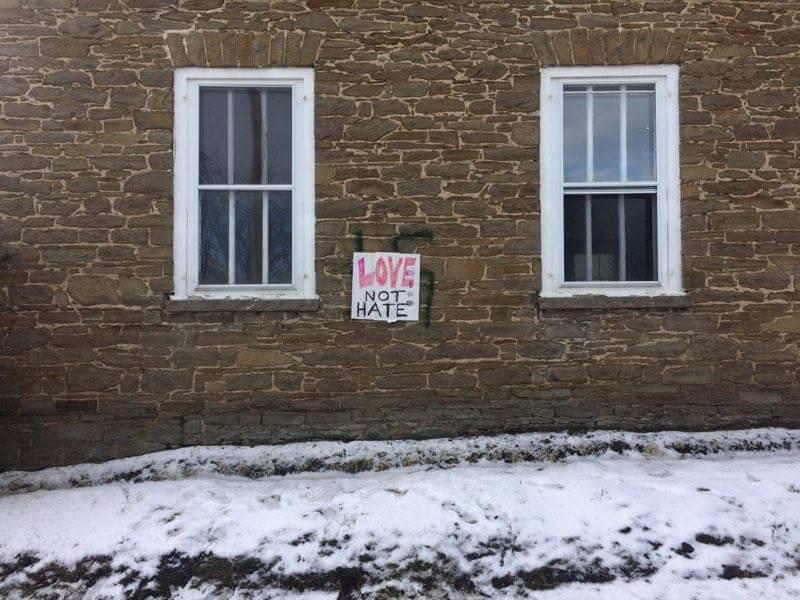 A sign covers up a swastika spray-painted on the Esperance Old Stone Presbyterian Church. The church was built in 1824, is the site of a New York Historic Marker, and is on the Register of Historic Reformed and Presbyterian Sites. Photo courtesy of Kelly Shelffo. 
Shelffo was thankful for the community's help in removing the hateful symbols. "I think things like this bring the community together," she said.
Among the many locations vandalized was CeCe's Wool Farm Store on Main Street. Called by a friend early on Sunday morning, owner Cecilia Tkaczyk found her shop's sign marked by a green swastika, which they were able to remove with WD-40 within 30 minutes.
"This is not what Schoharie County should be known for," added Tkaczyk, a former state senator who represented New York State's 46th district from 2013 to 2015.
Schoharie town supervisor Chris Tague condemned the vandalism, telling the Watershed Post that he feels sorry for the ignorance of those responsible, and that he feels it is apparent they need a history lesson.
As of Wednesday evening, all swastikas were successfully removed from the village.
Inclusion and respect resolution back on table
Perhaps occurring at a politically inconvenient time for the local political climate, the vandalism took place just two weeks after the Schoharie County Board of Supervisors tabled a resolution calling for inclusion and respect because it was allegedly too political, the Cobleskill Times Journal reported.
Crafted by a Schoharie resident who was concerned by local reports of bullying and discrimination following the election of president-elect Donald Trump, the resolution was sponsored by Schoharie supervisor Tague.
According to the Times Journal, a group of mostly Republican supervisors on the county board opposed the resolution's wording because it attributed the rise of hateful statements and bullying to recent national political campaigns, which they interpreted as an attack on Trump.
Blenheim supervisor Shawn Smith, a Democrat, told the Watershed Post that he opposed the resolution as submitted because, "the problem with the resolution was that it was too politicized. It sounded like something Hillary Clinton would say about Trump during the campaign."
Ironically enough, the resolution's legislative sponsor, Tague, served as one of three 19th congressional district alternates for Donald Trump's presidential campaign at this past summer's Republican National Convention in Cleveland. 
Tague told the Watershed Post he did not feel the resolution was partisan. "I didn't look at it as a political statement but more of a statement of respect for fellow human beings," he said. "I think it's safe to say no one on the board condones hateful speech or behavior that promotes racism or bigotry."
The resolution is currently undergoing changes to its wording and it will be resubmitted to the Rules Committee. Tague believes it will have more support when reconsidered by the whole board.
Conesville supervisor Bill Federice, who opposed the original resolution for similar reasons to Smith, said that if the political reference is removed, he would support the resolution. "I will gladly vote for the resolution, as I am confident most, if not all, of us will do likewise," he said. "Something as important as this resolution should be bipartisan, which, frankly, it was not."