Saturday, November 5, 2016 -

2:00pm

to

4:00pm
Location
Mount Tremper,
NY
United States
42° 1' 37.7904" N, 74° 16' 19.9956" W
New York US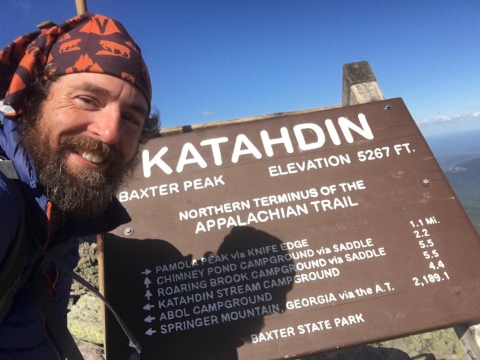 Join Appalachian Trail Thru Hiker and Catskills supporter Moe Lemire at the Catskill Interpretive Center for a presentation and discussion about his 2016 hike of the entire Appalachian Trail.

After 168 days, 2189.10 miles, 14 states, and three pairs of boots, Moe Lemire successfully completed his thru hike of the Appalachian Trail. Simply put, he walked from Georgia to Maine. 

Moe has said that it was both the most difficult thing he has ever attempted and one of the most rewarding experiences he has ever had. It is not an exaggeration to say that the trip changed his life. On my journey Moe met amazing people, experienced trail magic and tested and expanded his horizons. Moe created an online community (Moe hikes the Appalachian Trail) where he was able to bring family, friends and even complete strangers along on his hike with stories, videos and photos from the journey in real time. He also helped protect his home and the region he loves, the Catskills as part of his trip by raising awareness and supporting the Catskill Center's work to preserve and protect the Catskill Park. 

Moe will be recounting my Appalachian Trail thru hike through my photos, stories, and videos. Moe will also have much of his gear from his hike to show you what a thru hiker carries. Moe is also happy to answer questions..
Maurice D. Hinchey Catskill Interpretive Center - 5096 Route 28 - Mount Tremper, NY